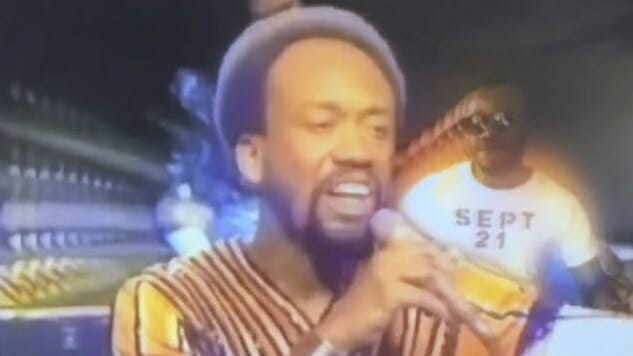 There's nothing we here at Paste love more than videos. If it's got multiple frames per second, we're a total fiend for it. Funny videos? Oh boy—just thinking about 'em makes us ache with anticipation. After all, comedy is better when it moves. That's why each month we scour the internet and bring you our favorite funny videos. September was a particularly fruitful month for them on the internet, so if you haven't checked these out yet, this is your shot. Don't blow it.
Jeremy Levick and Rajat Suresh — "SNL Must Not Hire Rajat"
SNL must not hire Rajat pic.twitter.com/cvHlVl59Bu

— JEREMY (@jeremylevick) September 13, 2019
The only silver lining to SNL's Shane Gillis catastrophe was this video from Jeremy Levick and Rajat Suresh, parodying the meandering, derogatory pointlessness of Gillis' podcast. Only this time, their big problem with Chinatown is that there are doors everywhere. Also they don't know what doors are.
---
Demi Adejuyigbe — "September"
Every year on September 21st, Demi Adejuyigbe makes a video set to Earth, Wind & Fire's "September" to announce the day. It started off relatively small, and it's only gotten more elaborate as time has gone on. This year was a massive leap forward in terms of elaborateness, building to a climax I dare you to predict.
---
Charlie Hankin — "Napkin Begs to Be Eaten"
New short NAPKIN BEGS TO BE EATEN written voiced and animated by me, sound design by Jay Culliton pic.twitter.com/FbgJ4YCRiG

— Charlie Hankin (@mecharliehankin) September 16, 2019
In this kinetic cartoon from Charlie Hankin (The New Yorker, Good Cop Great Cop), a napkin really, really, really wants to get eaten. But the best laid plans oft go awry! And so it goes for the napkin. Bad for the napkin, good for us.
---
Mary Houlihan — "The Docks"
dating apps r too confusing pic.twitter.com/s7MQsOmz6P

— mary houlihan (@maryhoulie) September 19, 2019
Dating is hard, but Mary Houlihan is here to make it a little easier in this commercial for an app that pairs potential lovers and life partners by having them meet at the alligator-infested docks to see what happens. You never know what might happen down at the docks!
---
Jack and Melissa — "Real Footage of NYC Park Parents"
Real Footage of NYC Park Parents #jackandmelissacomedypic.twitter.com/1pqORTEmOV

— Melissa Aquiles (@MelissaAquiles) September 6, 2019
These parents are familiar to anyone walking past a park in downtown Manhattan (or Williamsburg, or definitely Park Slope). Melissa Aquiles and Jack Frederick nail these millennial yuppies right down to the rattle of their water bottles. "Now how am I supposed to scare my cat? Fireworks?"
---
@clemmie — "The Social Network But It's About the Jeremy Renner App"
the social network but it's about the jeremy renner app pic.twitter.com/qquHIeg5qj

— clementine (@cIemmie) September 6, 2019
Taking cues from a tweet from Russell Goldman, @clemmie recreates every well-known snippet from The Social Network in the context of Jeremy Renner's bizarre app that burned too bright for this world. This video is pretty harsh to Jeremy but everyone basically agrees he kind of deserves it.
---
@realchoppedliva — "A Teenage Girl Who Turns Into A Mermaid If A Drop of Water Touches Ur Skin"
when ur a teenage girl who turns into a mermaid if a drop of water touches ur skin pic.twitter.com/oDPVa9qKQF

— chopped liva (@realchoppedliva) September 3, 2019
@realchoppedliva has been an extremely reliable source of great Twitter videos recently, kicking off the month with this one about a paranoid high schooler with a biiiig secret. It personifies a trope that you didn't even know had registered in your brain as a trope, so it's a big mental relief to finally see this video out in the world.
---
Andrew Farmer — "British, Gay Music Manager"
Here's that British, gay music manager who was the villain in every movie this past year. pic.twitter.com/96dUDas2lB

— Andrew Farmer (@thatsajellyfish) September 5, 2019
I love Crispin St. Gay-Panic, Andrew Farmer's take on the queer-coded British man who seems to be the designated corrupting influence in every boring musical biopic of the last few years. "I don't think you need the rest of the band," he sneers. "They're straight and nice and I'm gay and bad."
---
Brittany Broski — "Love Island"
Love Island Pt 2 @LoveIsland u ask and I shall deliver pic.twitter.com/Zcz27Hy2h4

— brittany (@Brittany_broski) September 2, 2019
Brittany Broski (best known as the originator of that kombucha meme) has a simply fantastic British reality show accent that she deploys like an airstrike in her second parody of Love Island. It's arguably more mesmerizing and compelling than the actual show. I'm sorry.
---
Sarah Dooley — "The Moff"
yes I made a cockney version of The Moth and yes it is called The Moff and yeah I need help for sure pic.twitter.com/qHsCAOarIv

— Sarah Dooley (@unruliestdooley) September 11, 2019
We round out the 'British Triad' section of this list with Sarah Dooley, who rolled out a series of videos on the British version of The Moth—appropriately titled 'The Moff.' Like The Moth, The Moff features tearful stories of narratively and thematically convenient interactions, just with a heavy, harsh cockney accent. It all builds up to chimney-sweeps, as it should.
---
Graham Techler's writing has been featured by McSweeney's and The New Yorker, and he performs at the Upright Citizens Brigade Theatre in New York. You'd be doing him a real solid by following him on Twitter @gr8h8m_t3chl3r.