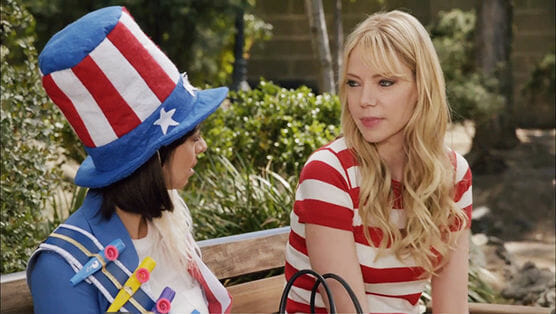 Well, friends, this is it: the final episode of Garfunkel & Oates' inaugural season is upon us. The finale, titled "Maturity," picks up right where last week left off. Kate, still working on her Peter Pan Syndrome, continues to seek guidance from Francine (Artemis Pebdani), but things eventually sour when Kate is encouraged to find a date who shares her "emotional maturity level." Meanwhile, Riki gears up for the extraction of her eggs, but not before rekindling a failed relationship with her ex-boyfriend. It's an episode that continues to play with darker themes of aging and insecurities, but offers a charming and honorable finale for the show's first season.
Let us start with Kate. After discovering that her relationship history is quite underwhelming, Francine suggests that Kate try dating in an effort to gain maturity. Kate is doubtful that she'll find someone compatible: she shares that a previous dating profile (featuring interests like "frogs, clowns, puppets, trains, kazoo parades, hackey sacks and The Wire") turned up no matches. But when she alters her age preferences per Francine's suggestion, she lands a match: a teenage jazz enthusiast named Braden. Clearly not the biggest purveyor of common sense, Kate decides to take the leap and sets up a date with the high schooler – but not before burning her upper lip while using a home hair removal chemical. In a pretty large flub, Kate meets Braden at a diner where her hideous burn mysterious vanishes, only to reappear in the parking lot later. When Braden asks how Kate got the burn, she responds: "Oh, I'm Italian."
Riki, on the other hand, is still running on hormone injections. Desperate for sex, she disregards Vivian (Natasha Leggero) and Kate's advice and reaches out to her ex-boyfriend. His name is Jason, and as the story goes, he thrice broke Riki's heart. Although deemed a jerk by Kate and Vivian, he seems perfectly gentlemanly when spending time with Riki. It doesn't take long before they've resurrected their relationship, going to so far as to embark on "their Saturday," a mish-mash of activities that, at some point, defined their romance. Of course, it can't last. When he walks in on Riki giving herself injections, he offers her an ultimatum: it's either him or the hormones. She chooses to freeze her eggs over settling down with him, and the door is closed on their relationship for a fourth time.
Meanwhile, Kate and Braden arrive as each other's date to a high school party. Kate is over fifteen years older than the other guests, but still proves to be the most childlike, aloof patron in the room. They eventually ditch the party after Braden's jazz bandmate insults Kate, and that's when things get (even more) awkward. By the time they're back at Kate's apartment, Braden looks silly carrying two, nearly overflowing glasses of white wine into Kate's bedroom, while Kate looks downright creepy wearing a rocket ship onesy. They have sex, but it's not good, and Kate's morale is lessened when Braden remarks that she's sexually immature. That said, this let down pails in comparison to the realization, later, that the "Kazoo Parade" Kate's been organizing is misconstrued by a gang of old men as a public celebration of a lewd sexual fetish.
There isn't much of a happy ending in "Maturity," and perhaps that's the point. Despite her commitment to the hormone treatment, Riki's egg retrieval proves unsuccessful. Kate, freshly dumped by a teenager, is left without a boyfriend or kazoo parade. Regardless, both of the women do their share of growing up in "Maturity,"—not to mention, their momentary let downs introduce one of the greatest tracks Garfunkel and Oates has offered all season. "Such a Loser," an animated and gently empowering anthem for down-on-their-luck people, is the perfect accompaniment to the episode. While it's not the type of track that promises to go viral, it's easy to imagine it being a popular download—and recyclable morale booster—for Garfunkel and Oates fans.
Upon finishing "Maturity," I was struck by its sitcom feel, and enjoyed the more condensed storyline that featured recurring characters and plot lines. It will be interesting to see how Kate and Riki's world develops in Season 2, but I can only hope that it includes the return of Leggero's Vivian, Phillips' Karen, or any of the other slew of semi-recurring characters that give the series extra heart (that it sometimes really needs). All things considered, Garfunkel and Oates' first season finale is respectable and charming: it's a send off that feels nostalgic, despite the relatively short season, and will leave its fans pining for new episodes. For now, of course, there's always the band's YouTube back catalog to get you through the break.