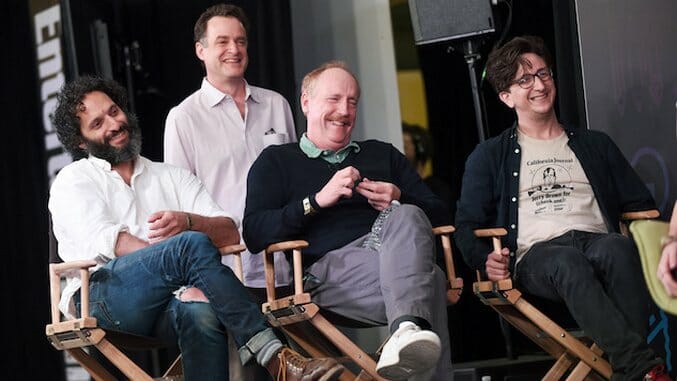 There existed—from around 2009 to 2011, I think—a podcast that provided complete recordings of each week's ASSSSCAT 3000, the Upright Citizen's Brigade's long-running flagship show. Eventually, however, the podcast not only stopped running, but ceased to be available altogether. If you wanted to see an ASSSCAT for free, you'd have to wait for a few hours in a line on W. 26th street.
Comedy podcasts have long been dominated by UCB alumni and performers, but all things considered, there aren't a ton of podcasts that do scenic improv. You have Superego and Spontaneanation (both excellent), but both are more polished approaches. You don't have that ASSSSCAT quality of getting to see masters of the form gleefully mess around and throw each other under the bus.
UCB co-founder Matt Besser has filled that vacancy in the podcast landscape effortlessly with improv4humans, an exercise in rapid, absurd escalation (usually spurred by Besser cutting to a montage or scene painting cinematically) featuring a revolving door of L.A.'s best improvisers. i4h cross breeds Besser's ASSSSCAT expertise in following the fun with the casual radio setting of Comedy Bang! Bang! (also on the Earwolf Network). The slate of guests is absurdly consistent, and what follows is improv at its most intimate, insane, and id- driven. Besser also infuses the proceedings with a punk radio sensibility, basing scenes not only on one-word suggestions from Twitter, but also on segments like "Crap on YouTube," arguments with callers, and breakdowns of songs performed live by his favorite alternative musicians.
However, since guests rotate, repeat, and overlap so much, episodes tend to blend together over time—though Besser does compile excellent and regular "Best-Of" episodes that serve as the most consistent entry points for new fans. But you still can't beat four (or more, or fewer) improvisers in a room tying together scenes for each other's benefit over ninety minutes. So we dove though hundreds of i4h episodes to find the best of the best! We did this for you, humons! Enjoy!
14. #13: "Ego vs. Nature" (Ben Schwartz, Jill Donnelly and Charlie Sanders)
There is a reason Ben Schwartz keeps cropping up as a guest everywhere these days and it's that he's affable and delightful. However, because of that, we had no way of knowing that Schwartz is even more fun when reticent and uncomfortable. In this episode, Besser builds on an earlier episode that established Schwartz's extreme discomfort with confrontation as inspiration for scenes that put him through the ringer to see when he'll snap. Ben hates it and it's wonderful. More shows should put his unflappable disposition to the test.
13. #29: "No Joking Around!" (Adam McKay and Chris Gethard)
Adam McKay obviously looms large over the past two decades of comedy, but because he sticks to behind-the-scenes work, many people who love his movies don't necessarily have a face (or voice) to put to the name. Luckily, Besser has him the studio to pal around with Chris Gethard, and you rarely see improv this relaxed and effortless. McKay pops up elsewhere on the show, but he really shines best here, when it's just the three of them performing really chill scenes about the Avengers.
12. #136: "Hallelujah the Hills" (Hallelujah the Hills, Lauren Lapkus, Mike Still and Jeff Hiller)
Wild Horses' Lauren Lapkus may be the show's MVP at the end of the day—there's a reasons she's about to become super famous any second now. And she's the MVP of this episode as well, stealing the show with her portrayal of an impatient answering machine that insists the caller press five. But this all builds on Besser's ability to mine inspiration from his musical guests, and this episode sees him at his best with indie rock band Hallelujah the Hills, who also treats us to a really amazing acoustic rendition of their song "I Stand Corrected."
11. #189 "Apes Will Fight If We Must" (Will Hines, Mike Still, and Joe Wengert)
Will Hines is a renowned improv teacher and L.A. podcast regular, whose book How To Be the Greatest Improviser on Earth is already a must-read for students of the form. He practices everything he preaches in this episode. Scenes including a realistic human response to Caesar's speech in Dawn of the Planet of the Apes, a hacky action- omedy trailer for a movie about the Bible and a truly special shitting-your-pants story are series highlights, as is an edition of "Cased Closed" that sheds some light on Besser's thoughts on discord within the improv community, a side of him we rarely get to see.
10. #283: "Brick of Coffee: LIVE from SXSW" (Jason Mantzoukas, Sasheer Zamata, Noel Wells, Horatio Sanz and Dan Deacon)
I'll admit this list has already been short on—and will continue to be short on, sorry—live episodes and musical episodes, two of the best things about the show, but this recent episode probably represents the best of both. Not only does it give two criminally underutilized Saturday Night Live Players (Noel Wells and Sasheer Zamata, who we'll miss) a chance to thrive, but it also features Besser favorite Dan Deacon (already the subject of his own excellent episode) working through technical difficulties without anyone noticing. No other episodes of the show take this kind of advantage of a musical guest. It's beautiful.
9. #284: "Amherst Fighting Whittier Johnny Poets" (Andy Daly and Will Hines)
The best part of this episode isn't even a scene, though one including an off-brand Goofy going rogue in Disneyworld is a treat. No, it's an unusually long interstitial segment where Besser breaks down the new school mascots nominated by students at Amherst, and why they piss him off so much. This would be plenty of fun if it was just Besser ranting away, but Will Hines relishes the opportunity to get into it too.
8. #7: "Battleship Strap-On" (Brian Huskey, Ian Roberts and Matt Walsh)
Early episodes of the show are packed with Besser's most frequent collaborators, in this case fellow UCB co-founders Ian Roberts and Matt Walsh. The improv is fantastic throughout (Brian Huskey is also as original a UCB figure as you can be), but the episode's final sequence elevates it to real greatness. Besser reads a bizarre letter about a high school wrestling match that he found with his late father's possessions. When a scene is initiated, Roberts makes a vocal choice in the style of the letter's stiff prose, and everyone loses it. Even after so many years of performing together, this group can still surprise each other.
7. #95: "Hands in the Air" (Paul Rust, John Gemberling, Lauren Lapkus and Brandon Johnson)
Broad City's John Gemberling angered more than a few people on the Earwolf forums due to his 'controversial' statements in previous episodes regarding when bestiality might be okay. But only one listener was willing to call in to argue the issue with him, and he does so in the most bizarre way. Gemberling's debate with Donald, from Pace University, forms the centerpiece of this episode. Neither of them looks good, in between Gemberling referencing a "rich history" of bestiality and Donald immediately ceding that bestiality might be okay if you have your hands in the air. In a few short moments, i4h's best reoccurring joke is crystallized, and no one will ever let Gemberling forget it.
6. #201: "Surrounded by Passwords" (Jon Gabrus, Joe Wengert and Will McLaughlin)
It may be a companion piece of sorts to the title scene from "Hallelujah the Hills," and basically features the same game from that episode, but it still features the best freakout in the show's history—from someone other than Besser—thanks to a password scene so enraging you feel it in your bones. This is also as good a time as any to extol the virtues of Jon Gabrus, who, between his great monologue skills and peerless ability to get weird while staying grounded, is one of the best examples of the kind of improviser that really thrives within Besser's format.
5. #160: "Funky Kong" (Paul Rust, Pamela Murphy and Dan Lippert)
Paul Rust loves this show and Besser loves him. In each episode he appears, there's a palpable sense of his excitement at being able to improvise with one of his heroes. He's equally great in the revolting "Porta-Potty Sushi" episode, but I have to give the edge to his dual appearances here, as a kid who doesn't know how concerts or darkness works and a video game addiction counselor who loses control of his hospital to a boy obsessed with a rapping monkey.
4. #120: "Wild Horses" (Lauren Lapkus, Stephanie Allynne, Mary Holland and Erin Whitehead)
Wild Horses, the team that includes each of this episode's guests, is so goddamn good they should be doing their own improv podcast. And indeed, they return several times as a group for follow-up episodes with Besser. But there's something special about this first episode, and Besser, without saying much, can tell. While he's famously a tough guy to impress, he's clearly blown away by how cohesive this group is.
3. #132; "Buttholes at the Reststop" (Zach Woods, Casey Feigh and Ronnie Adrian)
If this season of Silicon Valley has proven anything, it's that Zach Woods can do whatever you ask him to do. He quietly steals the episode with his earnest commitment to the plights of men with a faulty invisible dick, or a son losing his father but taking on the tenets of his Hall and Oates-based religion. He also modestly sets up half the episode for success with incredibly specific monologues, and is able to wrap the whole thing up at the last second with one perfect button: "It's Loggins and Messina!"
2. #165/166/168: "OkStupid," "Deranged Penguin," "These Fat Crackers: The Final Battle" (Jon Gabrus, Betsy Sodaro, Eugene Cordero, Stephanie Allynne, Colton Dunn and Charlie Sanders)
It may be cheating to include all three of these episodes at once, but credit has to be given where credit is due, and this trilogy of episodes is by far the most ambitious thing improv4humans has ever attempted. A powerhouse lineup, including the always welcome voice of Betsy Sodaro and Wild Horse Stephanie Allynne, explores narrative connections between characters that all live in the same apartment building. The payoff is fantastic, and for a show that often succeeds on its ability to pick up and throw away ideas freely, it's exciting to see Besser and Co. really swing for the fences.
1. #126: "Their Name Is Korn" (David Bazan, Brian Huskey, Horatio Sanz, John Gemberling and Michael Delaney)
In an episode packed with extra improvisers and excellent scenes, the most exciting and interesting addition to the usual crew is legendary New York improviser and teacher Michael Delaney. Two energies in particular blend together to produce one of the shows most rewarding scenes, as Horatio Sanz's fantastic scene-arsonist tendencies combines with Delaney's stoic craftsmanship to take the group directly from a road rage follow-up to a fleshed out version of Atlantis. There's little better than when i4h reaches these kinds of highs.
---
Graham Techler is a New York-based writer and actor. Follow him at @grahamt
echler.