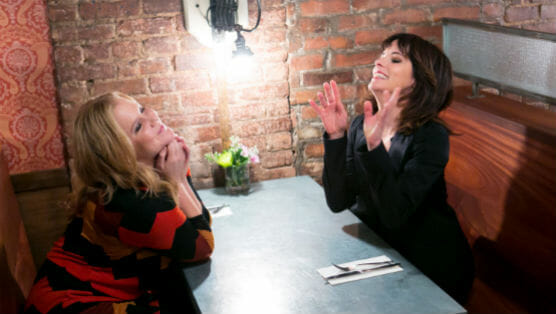 This week' s Inside Amy Schumer was a powerhouse. The episode was chockfull of undeniable laugh-out-loud moments. If this were a textual conversation instead of an online review, I might even be laughing to hard to type "lol."
The episode is named after its best sketch, "Allergic to Nuts." In this scene, Parker Posey and Schumer run the insane emotional range usually only available in a controversial experimental film. Their gentle, almost sedated waiter, Devon, attempts to take their order when they tear into him about Schumer's nut allergy. Tension mounts during a near miss with some nut-laden bread, "What did we just say Devon is this fucking Memento?" Then, of course, in the end, their worst fears are realized. They push a common scenario to its hyperbolic conclusion taking it from the hack to hysteria—in both senses of the word. By heightening the moment to a surreal level, the sketch directs its commentary toward two annoying groups: whining customers and lobotomized servers. It's an enjoyable take with which I happen to agree: "Why can't everyone be wrong?"
Similarly, in the opening a group of women self-righteously pity and backhandedly insult a group of female strippers and then begin their exercise class with a man screaming at them, "Alright bitches welcome to body pole pump class! Whores! Whores! You're all a bunch of whores!" Taking a very recognizable situation—these women speak in the top-drawer version of privileged cliché—and magnifying it to a surreal extreme strengthens the humor and social commentary of these sketches.
The other sketches were also fantastic. Kyle Dunnigan played an amateur close-up magician who seduces Schumer. His tricks include folding and unfolding a piece of paper and throwing an object up into his hand. Dunnigan's delivery nails the scene. Particularly enjoyable is the way he narrates his terrible moves as if they are astonishing while a guy in the background whispers, "Are these even tricks?" Also, Scott Adsit played Dr. Ron Hopkins, head surgeon, in a commercial for his deranged one-stop plastic surgery practice, "Cut to the Chase Plastic Solutions."
The stand-up and interview segments also were solid. The "Amy Goes Deep" comedian round table with Jim Florentine, Bobby Kelly, Keith Robinson, Rachel Feinstein and Jim Norton was interesting to watch, though not actually funny. It would have felt less out of place with more time, but that's the blessing of too much great content. All three non-sketch elements seemed a tad rushed, because the program is only twenty-two minutes. It's twenty-two minutes well spent, though, and definitely worth the watch.
Some Highlights
1. "Yeah that's right. That pole is the pony you never got. Go!" — Body Pole Pump Class Instructor
2. The woman doing Dr. Ron Hopkins, head surgeon's third testimonial is now just a cat.
?Dr. Ron's practice promises "five divorces worth of surgery" in one operation.
3. Parker Posey shrieking at the waiter about Schumer's nut allergy: "She will lose oxygen! Have you seen Gravity?"
4. Schumer shrieking at the waiter about her nut allergy: "You'll have to go to my mother's door with a folded America flag and say, "Thank you for your service. I'm your daughter's killer!"