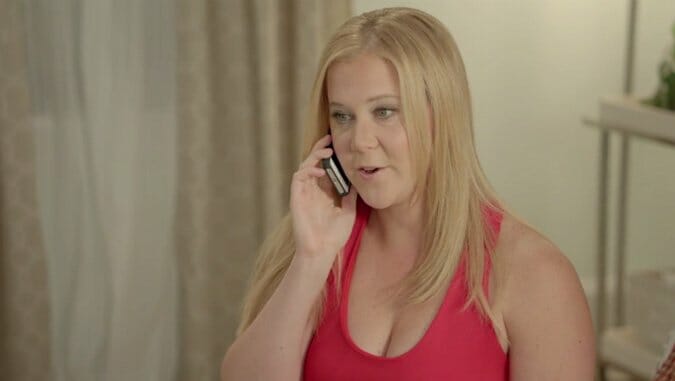 Despite its name, "Boner Doctor" is the one episode of Inside Amy Schumer you might actually feel okay watching with your parents. Schumer and crew dial down the sex jokes for the week and instead focus on body image, portraying the variety of ways a woman can feel shitty about herself over the course of a day.
Where the show's stand-up segments typically serve as quick bumps between sketches, here they provide a more substantive narrative through line, as Schumer recalls a recent stay at the trendy W hotel in Miami. Shaming herself against the city's everyone's-an-11 crowd, Schumer hilariously describes the front desk clerk, Jordana, as young, skinny and sexy—a microphone stand with perfect tits—while she wishes for a burka to cover up her own body on the beach. Schumer laments how women like Jordana chip away at her self-esteem with their effortless beauty, until she finally escapes Miami for Tennessee where, to her delight, "I'm Jordana." These stand-up bits are longer than usual (pre-empting the regular man-on-the-street Q&As), but it's a smart move given the strength and polish of the material.
Throughout the episode, the W routine spins off into a solid batch of sketches based in that same theme of comparison. There's always someone prettier, someone skinnier—whether it's a friend, someone famous or even an imagined version of yourself. At the W-like hotel "The U," Schumer checks in with clerk Rachel Dratch, who fawns over her guest to a near-reverential degree. ("I love rolling this bag around. Because it's yours.") Simply by being a guest in this hallowed hotel, where the toilets have an orgasm every time you flush, Schumer is somehow more worthy of love; even the mirrors literally make her look like a better person. It's a funny concept elevated further by Dratch, who perfectly captures the slightly creepy element to such overly devoted customer service, contrasted by the brusk about-face when Schumer checks out and goes back to being treated like regular everyday trash.
Schumer again gets kicked down a peg in a sketch where she and her boyfriend go to a couples counselor who turns out to be supermodel Chrissy Teigen. Not just played by Chrissy Teigen, the therapist isChrissy Teigen, who we learn has given up modeling to pursue social work, because now she'd rather just ride horses naked on the beach for fun, not for the camera. Schumer's boyfriend is suddenly way more interested in counseling and a lot less interested in Schumer, who's already pulling in her stomach and trying desperately to freshen up her lips with some Chapstick. If Teigen's done any acting before, I'm not familiar with it, but she hits her lines well here, and she's even game to acknowledge that she's also known as Mrs. John Legend. (You may have heard on the radio a few times that he's given her aaaaall of him.) Schumer expertly plays the straight man and again demonstrates how she doesn't need all of the punchlines to get most of the laughs.
The show has touched before on the idea that women are subjected to unrealistic images of how they're supposed to look, but the writers smartly point out how women share some blame in perpetuating that delusion. Hence we see Schumer at a boutique called New Body, where she's shopping for the skinny clothes she'll need after losing weight from her new fitness plan of switching to Diet Snapple and buying a tiny house trampoline. But first, is there somewhere she can sit to eat this muffin? We've all been there: tempted to buy something a size smaller as "motivation" to fit into it, bemoaning the fact that we can't fit into it now, then washing down our sadness with a mocha and marble loaf from the Starbucks in the food court. We get it. Schumer gets it. Schumer gets us.
The episode wraps up with "Gym Bummers," a pretty standard "Don't you hate it when…?" series of observations about annoying people at the gym made better by a spot-on cameo from the always reliable Patrick Warburton. This week's "Amy Goes Deep," with a weed delivery boy, is the first non-sex-themed interview of the season and consequently the least compelling. But throughout the rest of "Boner Doctor," Schumer proves that her humor is rooted in more than just shock value, and that critics who categorize her solely as a "girl who says dirty words" are selling her short. She may not think she has the sexiest body on the beach in Miami, but for fans of smart, relatable, just-plain-funny comedy, Amy Schumer is our Jordana.