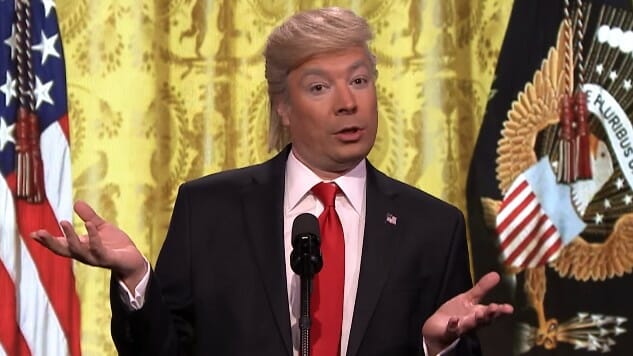 Well, after Trump's disastrously entertaining press conference yesterday, we were bound to see a litany of parodies and sketches skewering the insanity of our current reality. SNL will surely drag Alec Baldwin out of his cage on top of Rockefeller Center to perform his Trump dance at the other end of a spear tip, but until that fateful hour, we'll make due with Jimmy Fallon. Last night on The Tonight Show, the typically good-natured and overly friendly host made an attempt to reenact the absolute craziness of Trump's press conference to a slightly amusing effect.
Honestly, it's not as funny as it probably sounded in the writers room. Maybe it wasn't funny then, either. We could jump to Fallon's side and argue that he was pressed for time. Sure, that could work. They only had a few hours to put this together. Yet, there's something deeper here. He seems to be backpedaling, grasping for the ratings that continue to slip through his fingers and go to Colbert. That has to be tough. But that's what happens when you tousle the hair of someone who deserves to be grilled on tough issues.
That's not to say that this bit is completely devoid of humor. There's a good moment where he talks about his "inherited mess" that's so big that "not even a giant Roomba could clean it up. Which we are working on with Elon Musk. It's top secret. Confidential. And I'm going to leak it in about 15 minutes." There's also a pretty good gag with some small hands.
All in all, it's worth watching to see how Fallon might be trying to change his game. All of this is relatively harmless, but it could portend a change in Fallon's approach to how he deals with relevant and topical issues. He might even employ some weight and seriousness in the future.
Check out the embedded sketch above, and the press conference from yesterday below. You know, for reference or for the masochists out there. You know who you are.