Jo Koy Can't Wait
Just For Laughs' Comedian of the Year Discusses His New Special and Animated Sitcom
Photos courtesy of Netflix
Comedy
Features
Jo Koy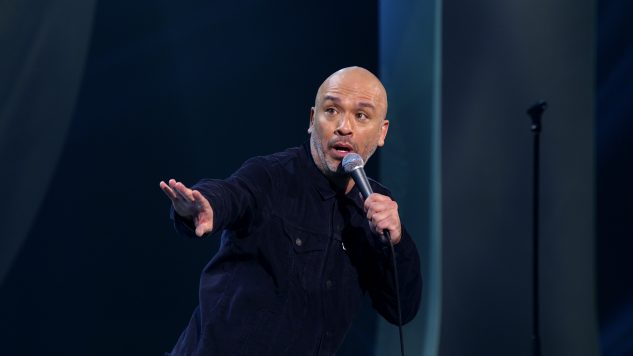 There is both nothing and everything to say by way of introducing Jo Koy. If you're reading Paste Comedy, you are probably already a huge fan of one of the definitive comedians of this generation. If you stumbled upon this article via a secondary source, it's also possible that Koy exists a slight degree beyond your purview. Few comics in history have occupied this space. Within comedy, Jo Koy is omnipresent. He was on Chelsea Handler's talk show almost as many times as Chelsea Handler was. He's maintained what feels like a baker's dozen long-running podcasts almost simultaneously. When he does a comedy special, it's always in front of a sold-out stadium full of fans.
But there's this slight half-step that eludes Jo Koy. Much lesser comedic voices have found themselves with mainstream stardom via platforms in TV and hit films. Koy has repeatedly hit every stepping stone that should have launched him into that realm of Household Name—or, at the very least, being That Guy From That Thing. So where does that disconnect come from? Honestly, I don't know. But what is obvious is that in 2019 Jo Koy is determined to reach that next level that he should've occupied for the last decade. And phase one of that attack is his new Netflix special Coming In Hot, which came out earlier this month. Here's our conversation with him about that new special and so much else.
Paste: So first things first, congratulations on being named Stand-Up Comedian of the Year at Just For Laughs. How does that feel, and what has your journey been like getting here?
Jo Koy: That was a special moment, man. If you don't know stand-up comedy, that's the jam. That's kind of like our World Series, and all of the players are there. To get that award in front of everybody… it put a tear in my eye, I started crying, man. It was 30 years of hard work finally getting recognized. It felt good, man. Now I've got that thing in my house and my son gets to see it. At least he knows that if you follow your dreams, things happen.
Paste: Where is it on display within your house?
Koy: On top of my dining room table. I didn't know where to put it, man. It's right on the dining room table.
Paste: Jo, you have all of these awards and TV shows and podcasts and specials. On behalf of the people, I have to ask: when are you going to leave something for the rest of us?
Koy: I can't stop working! I always remember Nordstrom Rack where I used to be a shoe salesman. I hated that job, and I don't ever want to go back, so I've got to keep working, bro. I've got to just keep going.
Paste: So you're not angling for that Nordstrom Rack sponsorship in this interview?
Koy: Yeah, exactly.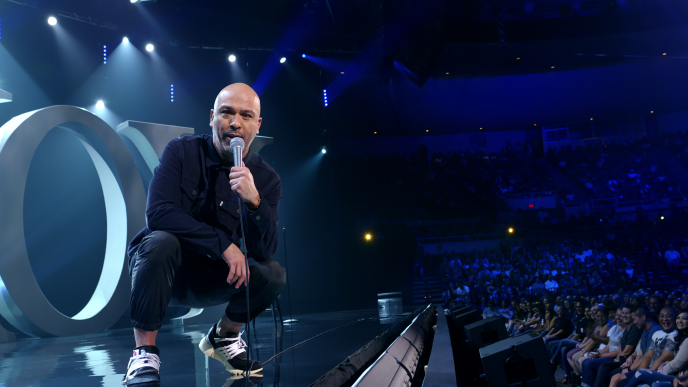 Paste: You have, over a 30 year career, really accomplished everything. When you get out of bed in the morning, what mountain is there left to climb, that motivates you to keep going?
Koy: I just don't want to stop, man. Especially right now, I love where I'm at right now. You see other people doing big things and that's inspirational. I see the big venues that Adam Sandler's playing right now and I'm like, "Okay, I can do that." Everything is possible. You've just got to put those horse flaps onto your eyes and keep going.
Paste: Why film in Hawaii?
Koy: Hawaii is kind of special to me because when I first played in Hawaii, that was like 13 years ago. I was practically begging people to come to the show. I was out in the street handing out free tickets, every store I went to I was handing out tickets, and no one was coming. It was a slow build and a slow process, but eventually it just took off. Next thing you know, I broke that record. I sold out shows at the Blaisdell Arena and four arenas in a row. They gave me my own day there: Jo Koy Day. I got humble beginnings there, and a loyal fanbase. It really is ground up.
Paste: How long did you tour and work this material before you did this recording?
Koy: It's so funny, because the Live From Seattle special—I had to shoot that one. The reason why is because my son was getting older, you know what I mean? My son's going to be 17, and the jokes were about him being 11 and riding on a hoverboard. I was like, "Come on." That's why I had to shoot that one. For the next one, I had to get it out ASAP because my son is just getting older. So that second special after Live From Seattle was literally about a year after. I'll say two years, max, is what I had on that special.
Paste: Always a fan of The Comedian's Lie, which is like, "You won't believe this thing that happened last week. So anyway, Obama was president…" and you're like, "Hold up, this probably wasn't last week."
Koy: Yeah, that was last week of last year. [Laughter]
Paste: At one point in your special, you reveal the secret to making rice and indicate on your finger the ancient secret to getting the right amount of water to put in. Maybe the biggest laugh in the special is when you indicate the point on your finger, which everyone in that room knew what it was, and nothing in my life has ever made me feel whiter than that moment.
Koy: That's good, that means the special is educational. It's more than just jokes, man. I'm teaching. Please tell me you're going to make your rice now like that. I really hope you make it like that now.
Paste: How does your Filipino heritage influence your comedy beyond jokes about growing up?
Koy: It's so crazy; my mom and dad divorced when I was 11, and my fondest memories are in the Philippines and being raised by my mom. It's such a big part of my life. A lot of people ask why I don't talk about my dad and I want to, I just don't have that many stories. When he moved out, he moved to a different state, so it was just my mom and I. I embraced that culture so much. It's a really big part of my life, that's why I'm so proud to talk about it. Whenever I talk about my culture, I want to shine a light on it. Even though I'm having fun, I want to make sure it's uplifting. I'm proud of it, and that's always been the foundation of my jokes.
Paste: How hard it is to be Filipino, but also have that experience of switching back and forth between the Philippines and the States, and the difficulty of surviving in both worlds at the same time? Do you have stuff that you feel was extra hard because of your background?
Koy: I mean, it's hard in general. I would get roles outside of the box, I could never go into the box for just being me. Yeah, the struggle is always like that, but I think now we're living in a time when there's a lot more brown people on TV, man. There's a lot more people that my son can look up to and get inspired by. I would jump when any Asian was on TV. It was a representation of my mom, so it was like, "Oh shit, so we can make it in Hollywood!" Who didn't love Pat Morita in The Karate Kid? You just embrace it. When I found out that Lou Diamond Phillips is part Filipino, my brain exploded. If you could go back in time to 1985 when there's no internet or YouTube, what you saw, you saw for the first time with everybody else. I jumped out of my seat yelling "Raspberry bibingka" when [Rob] Schneider had it in his movie. He's Filipino? I had no idea. I literally yelled out in the theater, "Raspberry bibingka!" Those were the moments that motivated me to continue in this business.
Paste: How has your voice and style changed from 2009's Don't Make Him Angry to now?
Koy: That was the beginning stages of me talking about my son. He was a newborn, it was a new life. To see that special all the way to now, what a completely different voice, you know what I mean? You could actually see the struggle of dadhood, and see my son grow in my eyes. I had more of a voice and an opinion, whereas before, I couldn't figure out exactly who I was. This last special, I'm just so comfortable with being onstage.
Paste: TruTV has picked up 10 episodes of your animated show This Functional Family, which is based on your material, your life story, and your family. In reading the logline, it sounds like what would've been a traditional camera sitcom, but it's animated. Is that because you had so many dates on the road that you couldn't possibly shoot a sitcom, or is there something you guys are doing with animation that makes it truly special?
Koy: We went animated because the project, initially—I really wanted to go animated with it. It was a passion project, I've always been a fan of animation. I feel like you can get away with a lot more with animation. That was the whole reasoning behind it, but you're so right, man. So many times that I've pitched that show as a multi-camera. Eventually we'll leave that option open, because I do want a multi-camera sitcom with that premise.
Paste: In August you're kicking off your Just Kidding World Tour. Where are you excited to go? What material are you excited to test?
Koy: I can't wait to let people see it, I've been working on it ever since I got done with the last special you just saw. I go back to Hawaii for the taping. We already sold out the arena, twice. I can't wait to just embrace that island, man. It'll be my way of saying thank you for letting me shoot my special there. Seriously, I can't wait.
---
Coming In Hot is available on Netflix.
Brock Wilbur is a writer and comedian from Los Angeles who lives with his wife Vivian Kane and their cat, Cat. He is the co-author (with Nathan Rabin) of the forthcoming book Postal for the Boss Fight Books series.