Judd Apatow Doesn't Downplay His Success in His New Netflix Stand-up Special
Photos courtesy of Netflix
Comedy
Reviews
Judd Apatow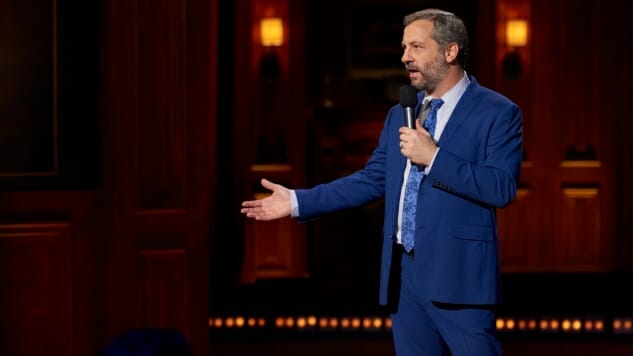 It seems only right that Judd Apatow would film The Return, his first stand-up special, in Montreal, given all the Canadian talent (Jay Baruchel, Seth Rogen, Evan Goldberg and Michael Cera, to name a few) that he helped foster into a new breed of movie star. It makes sense that he would release a special, having recently delved back into his personal history with comedy for his book Sick in the Head. And yet it's still totally bizarre that Judd Apatow has a Netflix special, having not performed stand-up since his early days as an influential comedy writer for shows like The Larry Sanders Show and The Critic.
This lends a sense of excitement to the proceedings but also has its fair share of drawbacks. In the interim, Apatow has become perhaps the most successful comedy director since Mel Brooks, and that's the life he has to joke about. The most successful material is the stuff that both has nothing to do with Apatow's career and feels pleasantly nostalgic for the kinds of comedic discoveries Apatow would make as a younger man (noting that when a man has an orgasm he's "succeeding and failing at the same time"). There's also a healthy helping of the Apatowian themes you'd expect from 2017 Judd—how anxiety fuels dysfunction which fuels family is, of course, present, with the Apatow family gathering around supercuts of Jennifer Aniston's nipples as a new yule log. He is reliably astute when it comes to identifying how your aging affects your kids as much as yourself (he can't get high with his daughters, he'd freak out and tell them "you used to live in my balls"), but also gives us glimpses of insight into the source of that anxiety, giving a reading of a depressing poem he wrote about his parent's divorce as a teenager. "Don't be sad," he tells the audience, when they tense up, "I'm rich, I'm very rich."
And that, unfortunately, seems to be the secondary theme of the special, though not intentionally or maliciously. There are whole bits revolving around criticisms of his show Love and many, many photos of him with the Mets and Paul McCartney and Adam Sandler and Jim Carrey and Obama. It's always in service of the joke, but it's still distracting to have the special revolve so heavily around Apatow's unique celebrity status as a visible writer-director. The dad energy can overwhelm, too, as if the whole special is an opportunity to vent to a sympathetic crowd about his daughter's risqué beach Instagrams. And yet, by the end of the special, he does somehow position himself (one of the highest-status men in the country) as the lovable low-status pal we'd like him to be. Sure, he's had a few movies to help him work out the material on the road, but right down to The Return's abrupt and thoroughly charming ending, it works.
---
Graham Techler is a New York-based writer and actor. Follow him at @grahamtechler.