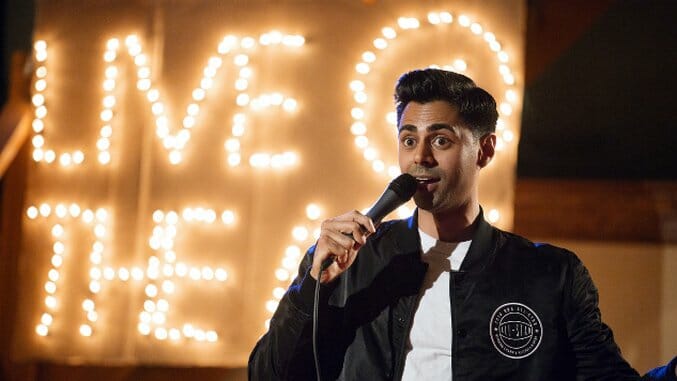 Standing in the kitchen of a large loft apartment in East Williamsburg, comedian Mark Normand has just arrived to do his set.
"Did anyone do a porn joke yet?" he leans over to ask before host Kenny DeForest calls him to the "stage," a slightly raised platform at the back of the loft with all the makings of a woman's bedroom, because, well it is one.
Three years after friends and comedy fans Drew Miller, Nick Cherneff and Dan Hurwitz started hosting live comedy shows in Miller's East Village apartment, Live @ The Apt has grown, moved to Brooklyn, and become one of the most unique monthly concept shows in New York. After the last couple years of inviting friends and strangers via an email list to watch stand-up in Miller's bedroom in Williamsburg, he started using AirBnB to find bigger and better spaces for the night, or sometimes even car wash parking lots.
"We've done over 50 shows, and we kind of move wherever I live to do the show, so when I got kicked out of the East Village apartment, we went to Brooklyn," Miller said. It's not hard to understand why neighbors would be less-than-thrilled with regular shows in the same building, but the apartment setting is actually just intimate and unconventional enough to make it a perfect alt comedy venue. It's not a glitzy club, but it's not the dirty back-end of a bar, either.
This night's venue was provided by Above Average, who was recording the sets for a six-episode Live @ The Apt web series premiering on June 9. The producers had used this loft off the L train for sketch shoots before, and it held about 70 people comfortably ("I don't really like performing in this apartment because it's way better than mine," comedian Monroe Martin quipped).
"This is the PG version," Miller said of the taping. "We've done shows in massive loft spaces in Chinatown where we'd have 150 people packed in, line out the door, police coming in to trying to kick us out—people peeing in the shower—it was like a really big party. It was chaos."
The lineup for the taping included current New York standards like Normand, Martin, Phoebe Robinson, Sean Patton, The Daily Show's Hasan Minhaj, and LA-based comics Beth Stelling and Brandon Wardell. Most of the comics had performed on one or more Live @ The Apt shows before.
"When I first moved to New York about two years ago," Minhaj remembered in the hallway after this set. "It was in Brooklyn. I had to go up this elevator to a loft, and there was a bed right there, the audience was, like, in the kitchen."
"It's just a fun show," Minhaj continued. "I think it's cool that they're taking comedy to new and interesting places. And it just shows that people are down to laugh and have a good time and it doesn't have to have a two-drink minimum."
"It felt like an anti-comedy club, in a cool way," Robinson said later. "It's low-stakes, everyone's having fun, and it's just a bunch of people who like comedy." She previously performed at one of the early East Village shows and loved how the environment of the stranger's apartment lets comics play with what's around them and surprise the audience.
"Like tonight, I didn't plan to get on that girl's bed and roll around on it," she said, noting that the audience responded to good energy as well as solid jokes.
During her set, Stelling joked that she's far too much of a germaphobe to let a comedy show happen in her apartment ("I'd be very upset," she deadpanned). But despite the single bathroom, free beer and crowded environment, people were respectful, if not even more so because it's someone's home.
"You know, Williamsburg used to be like this all the time. This is what it used to be," photographer Mindy Tucker said while shooting the show. "It's really fun to see that still happening in any kind of way."
The web series will be a somewhat new direction for Above Average, which has hosted live stand-up shows before but primarily only produces sketch comedy and originals like Mike O'Brien's 7 Minutes In Heaven. The episodes each feature a set from the taping, and will be released every other Thursday.
As for the future of the live show, Miller will continue to seek interesting spaces in Brooklyn and beyond. They've previously done shows in Vancouver (Miller is Canadian), LA and Chicago.
"We're trying to travel a bit, and expand with the goal of introducing up-and-coming comedians in every city around the country," Miller said. "That's what we're always trying to do, and obviously New York is the best place for that."
As the taping wraps up, people throw out their red Solo cups (DeForest joked that the room looked like a country music video, but full of hipsters) and exit the now-toasty apartment to return to their own. Some comics and audience members discuss where the after-party is, while others head to the L train to go find the next set, the next drink, or a bed.
"The show is a lot of fun. Beers, hip Brooklyn kids and good comics," Normand said. "Also, it's just fun being in a New York apartment that's actually fit for a human being."
---
Katla McGlynn is a freelance writer on the comedy beat in New York City. You can find more of her writing here