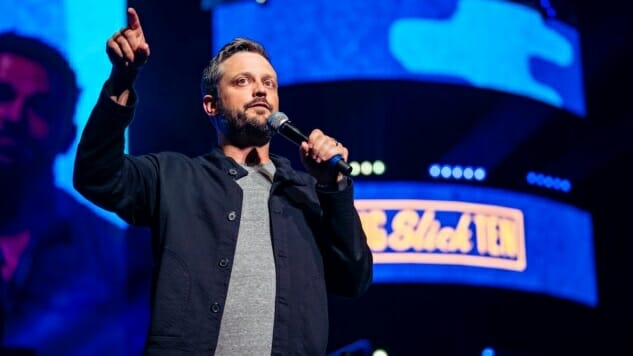 Describing Nate Bargatze on paper, you may think that he's a comedian from a bygone era. He's married, religious and eschews sex jokes and swearing in his sets. You'd be hard-pressed to find many hilarious comedians with mainstream success in 2019 who tick all those boxes, yet there Bargatze is, standing nonchalantly on stage. He's one of the freshest voices in comedy, with his meandering observations generating more laughs than your run-of-the-mill dick joke. He's never trying to make a particular point, but instead purely aims for everyone in the audience to have a good time. Onstage, you're never quite sure what his destination is, but you don't mind because the journey is so damn enjoyable. His latest Netflix stand-up special, The Tennessee Kid, amassed positive reviews, including a spot on Paste's list of the best specials of 2019 so far.
Recently, Bargatze has worked to parlay his stand-up success into a multicam sitcom. He filmed a pilot of the currently untitled show, which follows his family's move from California back to his home state of Tennessee. The project is fairly close to his real life, with one of the only major changes being that his TV wife (played by Katie Aselton) is from California rather than his actual spouse's home state of Alabama. Bargatze envisions the show itself as a combination of Seinfeld and Everybody Loves Raymond, considering that he's the central figure—both a comic and a family man.
Most exciting for sitcom fans, perhaps, is that Debra Jo Rupp and Kurtwood Smith (aka Kitty and Red from That '70s Show) will be playing his mother and magician father.
"They were the two best that we saw for the parents. And it just happened to be that, yes, they were already married on another show," Bargatze says. "We felt like they are very different. Their characters are different—their characters are almost a kind of flip on this one. It was a concern at first to think… is it going to be too similar? But it's completely different. And they're just pros and they're just so funny."
As a novice in the acting world, Bargatze found their presence and the guidance of skilled showrunner Danielle Sanchez-Witzel (New Girl, The Carmichael Show) to be invaluable. He also had to navigate the tricky transition from the more solitary practice of writing for stand-up to a collaborative writers room.
"[Comedians] tend to write joke-joke-joke-joke, and you need like a writer, 'cause if you just write jokes in a show it would be unwatchable," he explains. Bargatze also had to get comfortable using other people's bits and writing for other characters' voices, but he says that "once you learn to trust everybody, it's great, but you have to trust it."
Now, though, he's in "the worst part," which is the undefined waiting period ("could be soon, could be three, four more months") until they hear if the pilot is picked up. In the meantime, Bargatze has been touring with a new hour—as we speak he's just arrived home in Nashville after a show in Charlotte, N.C. It was his first time touring on a bus, and he explains the vehicle was a bit worse for wear, including a door that wouldn't completely shut. "For part of the trip it was banging the whole time," he says.
Beat-up bus or no, Bargatze will also be making a pit stop headlining the New York Comedy Festival on Nov. 9. Despite being from Tennessee, he is in many ways a New York comedian at heart. He came up with Pete Holmes and used to pass out flyers outside the legendary Boston Comedy Club. Bargatze remembers going with Dan Soder to see Bill Burr play Town Hall years ago, and now the prospect of setting foot on the same stage as a headliner is "unreal."
Bargatze jokes that the spot he's most looking forward to revisiting in the Big Apple is the "Applebee's in Times Square…I'm a chain guy from the middle of the country, so I go to Applebees. That's our mecca right there. Right in the middle of it and living it up." Truthfully, though, he enjoys just a greasy slice of pizza on the go and the general hustle and bustle of the city.
"I love the running around, you know. You go do all the shows—I mean, I'll just be doing Town Hall this time—but every time you go back to New York you do spots and run around and you just hop in a cab, go to the next show, and all that stuff," he tells me, "It's very fun."
When asked if he has any parting words for Paste readers, he ends with perhaps the most Bargatzean sentiment: "Come to my shows and be nice."
---
Clare Martin writes about comedy, music and more for Paste.