John Mulaney and Nick Kroll Talk About Oh, Hello
Gil Faizon and George St. Geegland Are Finally on Netflix
Photos via Netflix
Comedy
Features
Oh, Hello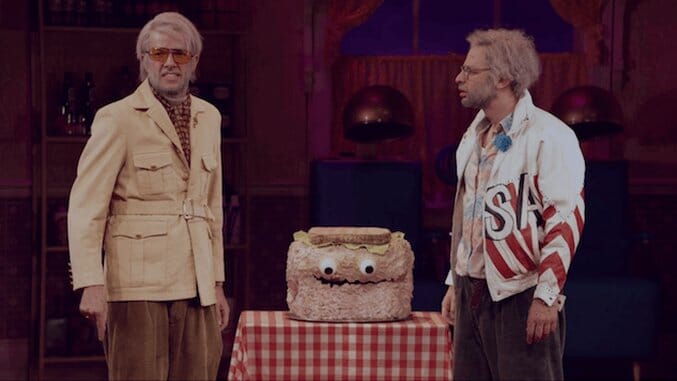 By now the origin story is canonical. Gil Faizon and George St. Geegland were born in the Strand Bookstore more than ten years ago, when Nick Kroll and John Mulaney witnessed a pair of elderly best friends buy their own copies of the same book. As Kroll told The Hollywood Reporter in 2015: "We saw these two guys buying individual copies of Never Have Your Dog Stuffed, Alan Alda's autobiography, at the Strand back in 2005. We followed them around for a bit and just fell in love." Faizon and St. Geegland, an unsuccessful actor and a hack writer, respectively, grew up over the intervening decade in alternative comedy rooms and on television. They gained texture and backstory—they live in a rent-controlled Upper East Side apartment, they met while dodging the draft during the Vietnam War, Gil used to be married—and ballooning fame, though in form and substance they're still the terrible men they were in those earliest performances. And now they're on Netflix.
"They've changed in so many ways," Mulaney said of Faizon and St. Geegland, known together as "Oh, Hello," in an interview. "And yet they have not changed at all since the first time we did them." The most apparent change is probably in production value, which increased as the characters moved gradually from comedy clubs, like the now-shuttered Rififi, to Comedy Central (in Kroll's Kroll Show), Off-Broadway, Broadway and finally Netflix. In the beginning they didn't even wear wigs. "We used to do it every Thursday at Rififi," Kroll said, "and we would just sort of do our version of a combover. It was just our hair and glasses, but Gil's shirt has been sticking out of his pants from, I think, the first time we did the show." Certain jokes have remained more or less constant as well. "The first show, we said we loved comedy and we loved Jim Belushi, who died from cocaine," recalled Mulaney, pronouncing it cuh-caine; Faizon and St. Geegland have a habit of stressing traditionally unstressed syllables. "That was in the setup of the very first time we were onstage. And that's not that different from what was on Broadway."
As comedy specials go, Oh, Hello on Broadway is an unusual delight, a joke-dense, gingerly shot 70 minutes that feels as buoyant and satisfying as a tightly produced sketch. A skeletal plot serves mostly as a platform for riffs, monologues and shorter sketch-like scenes: Evicted from their rent-controlled apartment, Faizon and St. Geegland write and perform the story of their lives. It's filled with laser-precise references to show business and New York life that would seem to make Oh, Hello inaccessible to broader audiences, but as usual it's that specificity that makes the show so painfully funny. These characters are not good people; they're grossly exaggerated caricatures of a privileged liberal class, one that feigns progressivism but really has nothing to offer but entitlement and outright bigotry, like St. Geegland's clear disdain for women. They're also inseparable, co-dependent best friends, an external sweetness that makes every ugly punchline hit much harder.
Kroll and Mulaney lean heavily on improv, which means they discover some of the show's funniest jokes in the same moment we do. This also adds an element of risk, given that Faizon and St. Geegland are thoroughly disgusting people. Asked if they ever worried about crossing a line, Kroll said that they were never afraid to ditch a bad joke. "We both felt the same way, where we could say things that were, in character, sort of racist or misogynist or intolerant, and we kind of very quickly would try 'em out and see how they felt," he said. "And both of us would be like, 'Hey, are you comfortable with that?' And we're like, 'Not really.' There's an ick factor that we felt internally—they're ugly or they're not fun or you're not getting the laugh for the right reasons." As Mulaney chimed in, "Some things are just ugly."
Oh, Hello, thankfully, is the opposite. Whereas many theatre recordings are staid three-camera affairs, the Netflix special, produced with Radical Media (Hamilton's America), is beautifully dynamic. With cameras onstage and in the audience, director Michael John Warren elegantly translates the live magic of Oh, Hello's comedy as well as its deeper emotional arc. It was essential to Kroll and Mulaney that the recording capture the show as they experienced it. "We wanted some of these angles where, like, I'm sitting and I'm watching Gil," Mulaney said. "There's one scene where he's hit by blue light—his awful head in silhouette. I was like, that's a beautiful look only I can see; when we film this, we should get the camera there." Later, in editing, he was also able to discover moments he had never seen before. "There'd be moments where I'd be talking and there'd be organic laughter and I was like, everyone loves me," he said. "And then I realized, 'Oh, right, snow started falling. It looks funny."
Is Oh, Hello on Broadway the most Gil Faizon and George St. Geegland we'll ever get in one sitting? Perhaps. Kroll and Mulaney suggest their beloved characters will someday return, though it's hard to tell if they're joking. "We're thinking of doing a sort of Yiddish musical of The Godfather," Mulaney said. "I always wanted to be a godfather. That's my first line." Kroll hinted at a possible followup on Broadway, "or just a followup appointment—like at a doctor's office." Though we may not see them again soon, it seems pretty certain we'll see them again eventually, and until then we'll always have Netflix. "This is now a classic play, Kroll said, grinning his usual wry grin. "This is gonna go down in the annals. Arthur Miller, George St. Geegland: These are some of the greatest playwrights in history."
---
Oh, Hello on Broadway is now streaming on Netflix.
Seth Simons is Paste's assistant comedy editor. Follow him on Twitter.