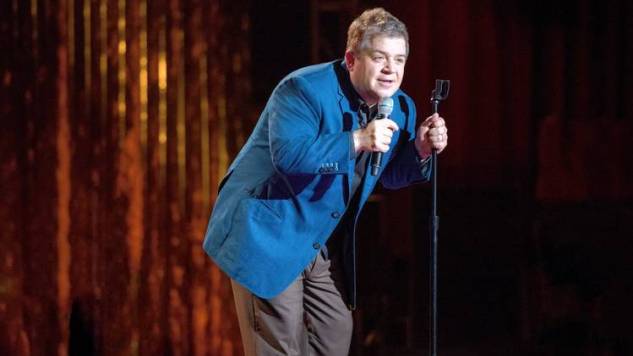 The release of Patton Oswalt's latest stand-up special Talking For Clapping should have just another notch in the belt of this veteran comic, writer, and actor. He was already set up to have another fantastic year with his voice in the much-talked about animated film Nerdland, a significant role opposite Tom Hanks in the forthcoming adaptation of the Dave Eggers book The Circle, and, from what I'm reading, an appearance on the new season of Veep as well. Another hour of insightful, self-deprecating, and cutting stand-up? Icing on the cake.
But in the hours after the release of Talking on Netflix, news broke that Oswalt's wife of 11 years Michelle McNamara had passed away suddenly in her sleep. I didn't hear about it until well after I had screened the hourlong special, yet it has cast an unfortunate pall over my memory of the hour. All the material about his relationship with his daughter feels too heartbreaking to consider. McNamara's passing will also surely bring additional poignancy to any future viewings of it even though she is only mentioned in a passing throughout the special.
For the purposes of this review, the key point is that I will watch this special again and soon. Oswalt is still working at the top of his game these days and is taking some chances he might not have in the past. In one particularly nimble segment, he walks a very thin tightrope by suggesting that the fight for marriage equality and rights for transsexuals is a far cry from the darkest days of the civil rights movement of the '50s and '60s. Or, as he puts it, "Are people opposed to gay marriage because they're, like, 'I don't want to see a couple of gays wearing chinos and Izod shirts in my hardware store arguing about hinges the way me and my dumpy wife are.'" He knows he's going to offend someone with that, just as he surely did piss some viewers off with his frustration that he can't keep up with the nomenclature of the LGBT community. It's a simplification of much more complex issues, for sure, but…that's comedy, folks.
It's that confidence that Oswalt has that is the biggest takeaway from this special. He knows how good he is at his job. Good enough to thread those bits of sociopolitical commentary in among other material about his failings as the man of the house and a pitch perfect closer that tells of the worst birthday clown of all time. He's also smart enough to point the gun at himself throughout, telling us of his worst stand-up show and going off book to mock his propensity for perspiration.
How, though, will that confidence be shaken as he mourns the death of his wife? You want to hope that he will come back stronger than ever, in the way that his friend Tig Notaro did after dealing with the passing of her mother and her breast cancer diagnosis. But unlike her, I don't see him trying to hit a comedy club stage to turn this horror into a triumph. I also wouldn't question him if he decided to walk away from the business for a decade or more (or completely) to concentrate on raising his daughter.
That's what makes Talking For Clapping as bittersweet as it is: the mere notion that this could be the last time we see Oswalt perform stand-up. He remains one of the best in the business and has cemented his place in the firmament from here until the end of time, as this special proves handily. If this does mark the end, we've got a wealth of amazing material like Talking to enjoy in the wake of his career. And if he does return after some time, his new special guarantees that he'll surely blow the doors off whatever venue he chooses.
Robert Ham is a Portland-based freelance writer and regular contributor to Paste. Follow him on Twitter.