Patton Oswalt Offers His Solution for Coping With Trump's Presidency on The Late Show
Images via CBS/YouTube
Comedy
Video
Patton Oswalt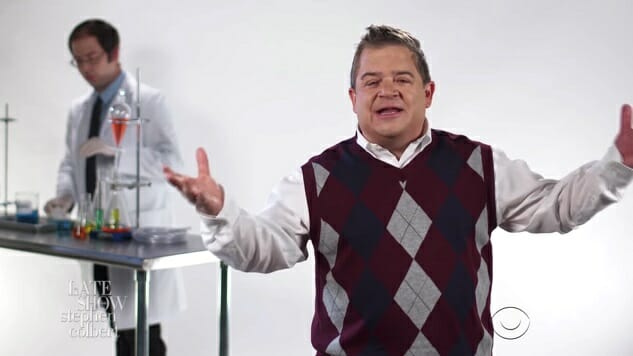 If you're having difficulty dealing with the reality of a Trump presidency, you're not alone. In fact, there are enough people filled with anguish about it that Stephen Colbert and Patton Oswalt have created a handy product to help you deal with it. A fake ad starring Oswalt opened The Late Show last night, one that introduced the world to Choke It Down.
Choke It Down is a bundled-up sock that can be stuffed in your mouth to absorb your anguish. "You're probably feeling uncontrollable rage," Oswalt says in the ad. "Well, now you can swallow the bitter results with Choke It Down. Choke It Down's patented fiber bundle technology absorbs your screams of anguish and locks them away, so you can live a normal life."
The ad then shows us how Choke It Down can lead to a more manageable life, preventing you from driving everyone away with your screams. Oswalt keeps it together for most of the ad, but he eventually loses his cool. "I'm sorry, I'm sorry," Oswalt says, gearing up for a profanity-laced tirade. "We're the beacon for rationality and intelligence! Fuck this! All of it!"
Check out the video above to see rage in its purest form.