Rejoice: Adult Swim Just Ordered an Insane 70 More Episodes of Rick & Morty
Photo via Adult Swim
Comedy
News
Rick and Morty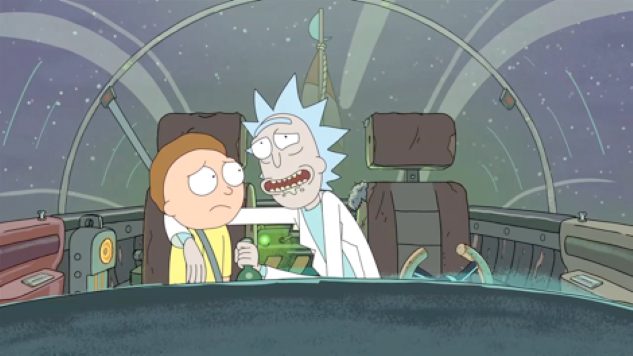 Woah, woah, woah. Out of left field this Thursday afternoon comes the news that legions of geeks and comedy fans have been waiting for: We're getting more Rick and Morty. And not only that, we're getting a lot more of the show. As in, a 70 EPISODE COMMITMENT, although there's no confirmation of when any new episodes would arrive. The news arrives today both from Adult Swim, who hosts the spacetime-faring comedy, and from dual R&M voiceover artist Justin Roiland, who posted the following on Twitter.
More Rick and Morty coming. Looking forward to all the tweets asking where it is! #theydrawingitpic.twitter.com/KZild3B9rP

— Justin Roiland (@JustinRoiland) May 10, 2018
Adult Swim, meanwhile, says the following in their release:
Fans all over the multiverse can rest easy tonight, as show creators Dan Harmon and Justin Roiland announced while taking a shower this morning on Instagram, that they are heading back to work on their hit animated series, Rick and Morty. Adult Swim has made a long-term deal with the creators that will include 70 new episodes of the critically acclaimed series that follows a sociopathic genius scientist who drags his inherently timid grandson on insanely dangerous adventures across the universe.
In celebration of the deal, fans can look forward to the return of the highly successful country-wide tour of the Rickmobile, which hits the road on May 17th starting in Atlanta, GA. The one-of-a-kind mobile pop-up shop will be offering new exclusive, custom-designed show collectibles at more than 50 stops, including San Diego Comic Con in July.
When we last left our pals Rick and Morty—in a series that only has 31 episodes to date, by the way—the Smith family had reunited, making a satirical promise that things would now "be a lot like they were in season 1." Rick was fuming at losing his place of prominence and respect within the family dynamic, but everyone else's spirits seemed pretty high. No real news on Mr. Poopy Butthole though, I'm afraid.
Considering that each Rick & Morty season has been 10 episodes so far, does this mean we'll be seeing seven more seasons of this show? At its current pace, that would imply Rick & Morty is going to be on the air for like … another 15 years at least. One would assume that series creator Dan Harmon and writer/star Justin Roiland would have to VASTLY pick up the pace of their writing and production in order to get through another 70 episodes in a reasonable time frame. It's such a crazy number that we keep expecting either Adult Swim, Dan Harmon or Justin Roiland to say that it's all a hoax.
And my god—can you even imagine what kinds of adventures that Rick and Morty might be tackling, another 50 episodes down the line? This show has already explored the psyches of these characters to extremes that might previously have been thought impossible on an animated television series. Can Harmon and Roiland possibly have enough ideas in their heads to make 70 more Rick and Morty classics? Or are several of the seasons just going to be extended montages of inter-dimensional cable?
Actually, you know what? We'll take that.