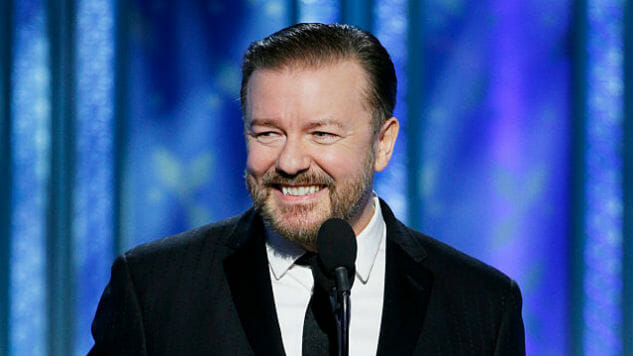 The full cast for Ricky Gervais' new Netflix comedy series After Life has been confirmed, according to Deadline.
Gervais will direct and star in the series alongside Penelope Wilton (Doctor Who, Downton Abbey), David Bradley (Harry Potter, Game of Thrones) and Ashley Jenson (Extras).
In addition, After Life boasts a wealth of other British actors who have worked with Gervais in the past. "This cast combines the best of the new breed of great British comedy talent with some of the wonderful alumni of my previous shows," said Gervais in a statement.
Gervais is set to play Tony, whose perfect life is upended when his wife dies suddenly. Rather than committing suicide, he decides to live however he likes from this point, regardless of those around him. While Tony chooses not to care about anyone else—or himself, for that matter—his friends are determined to save the kind man they used to know.
As of now, Netflix has green-lit six half-hour episodes of the series. After Life isn't Gervais' first collaboration with the streaming giant; Netflix released Gervais' standup special Humanity earlier this year, with a confirmed second special in the works, as well as the Netflix original film Special Correspondents.
Production on the comedy series is already underway in London. Check back for further updates on After Life.