Sacha Baron Cohen Says Who Is America? Was a Direct Response to Donald Trump's Presidency
Images via Gavin Bond/Showtime, Showtime
Comedy
News
Sacha Baron Cohen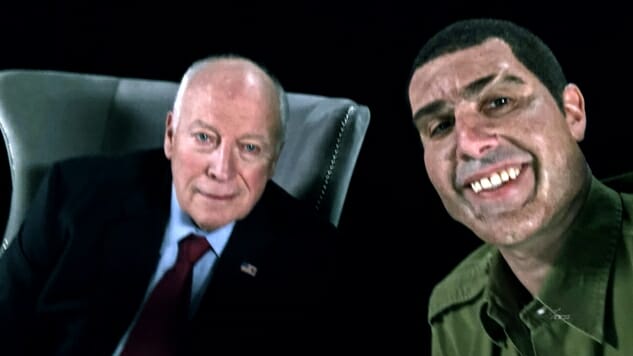 In Showtime's Who Is America?, Sacha Baron Cohen exposed politicians and real people alike using a collection of undercover guises. Most recently, the televised sensation earned Baron Cohen a Golden Globe nomination for "Best Actor In A TV Comedy Or Musical," for the six different characters he appeared as in the show's seven episodes.
Throughout the series, Baron Cohen led numerous people, including infamous public figures like Dick Cheney, Sarah Palin and O.J. Simpson, to reveal closeted racist, anti-Semitic, anti-immigrant or homophobic attitudes. Who Is America? provides an appalling look at today's America and the divisions that have only grown since Donald Trump came into power.
It's no surprise that the series is related to the T word, but in a new interview, Baron Cohen says so explicitly.
Deadline's Mike Fleming Jr. asked the comedian:
I'd watch each episode and then read dismissive words like pranks and gags used in reviews. I thought some reviewers missed the point. You were duping current and former politicians, and people we've seen as staples on TV news shows, speaking credibly on important issues like mass shootings, gun control, and racism. It seemed important they revealed themselves on Who Is America? to be hateful imbeciles. What for you made it important enough to put so much time into pulling it off?
Baron Cohen answered with a two-word sentence—"Donald Trump"—before adding:
I haven't done this style of comedy for many years. My last attempt at it was the movie, Bruno. Donald Trump got elected and like many people, I started emailing my friends, and sharing articles and they were sharing stuff with me, and that was how we were dealing with upset and uneasiness at having this man take over. Then I realized, I have to do something else to deal with this kind of anger and upset, and total disgust at what was going on. So, purely for myself, I realized I had to go undercover again. As difficult as it was, as unpleasant as I knew it would be, I felt it was time to create new characters that were designed to expose people and expose politicians and those in power.
The political satire has continued to make news in regards to a lawsuit filed by the politician Roy Moore. Most recently, on Dec. 12, Moore's legal team issued an opposition to a motion by Cohen, Showtime and CBS to have the matter dismissed. In the filing, Moore's legal team contended that he was "fraudulently induced" to appear on the show, per Deadline.
Find Paste's picks for the four funniest Who Is America? bits here.