Exclusive: Watch the Trailer for Sam Jay's First HBO Special Salute Me or Shoot Me
Photo courtesy of HBO
Comedy
News
Sam Jay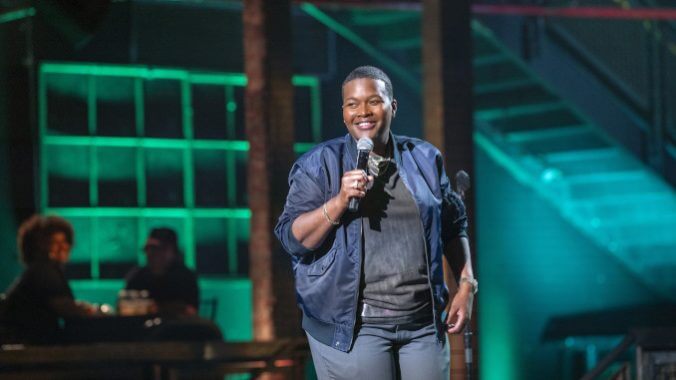 Comedian and Saturday Night Live writer Sam Jay makes her HBO comedy special debut at the end of the month with her bitingly honest new hour Salute Me or Shoot Me.
The special, directed by Linda Mendoza (Black-ish, Brooklyn Nine-Nine, and many other gems), sees Jay tackle her engagement, trash day, the nuances of relationship dynamics, and much more from the Brooklyn Steel stage. Salute Me or Shoot Me premieres on HBO at 10pm ET/PT on September 23 and will be streaming on Max (still can't get used to writing that).
We here at Paste are thrilled to give you an exclusive first look at the trailer for Salute Me or Shoot Me. Jay's in peak form here, lamenting about the struggles of impending married life ("It's hard to care every day") and the impracticalities of Spanx. She manages to come across as both laid back and highly energized, a quality that makes her comedy a joy to watch.
"Sam is an incredible talent who achieves that delicate balance between being brutally honest and insanely funny. She's a daring performer and a gifted writer who evokes such a natural effortlessness onstage that it feels like you're having a conversation with a close (and really funny) friend. We absolutely love working with her—she is a true original," says Nina Rosenstein, HBO's EVP of Late Night & Specials Programming.
While Salute Me or Shoot Me is Jay's debut HBO comedy special, this is certainly not her first hour. She previously released 3 in the Morning on Netflix, which touched on white feminism, her relationship (pre-engagement), the Me Too movement, and much more. Candid and confident, there's a reason that 3 in the Morning placed fifth on our list of the best comedy specials of 2020.
The Emmy nominee has kept busy since the release of 3 in the Morning. In the years following, she's written for That Damn Michael Che and created and starred in Pause with Sam Jay and Bust Down. The latter series was so promising—it made our list of the funniest TV shows of 2022—but since the tragic death of co-star and co-creator Jak Knight it seems doubtful there will be a second season.