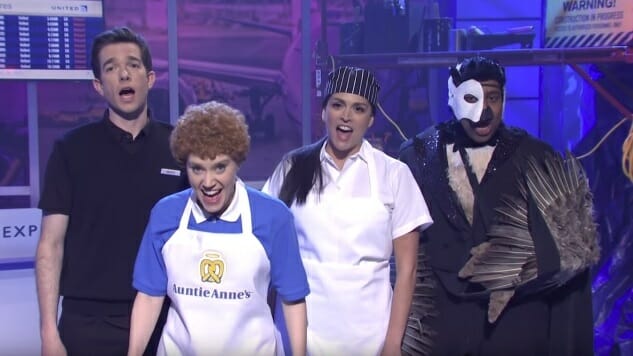 Well, how about this: Saturday Night Live just did another sketch that obviously follows in the footsteps of "Diner Lobster," the consensus pick for SNL's best sketch of 2018. If you forget, or never saw it, and don't feel like watching it, "Diner Lobster" took a fairly nondescript opening, with a guy ordering the lobster off one of those ridiculously all-encompassing Greek diner menus, and turned it into an epic riff on Les Misérables, with Kenan Thompson playing Jean Valjean as the lobster about to be boiled alive. It earned every bit of its praise.
Roughly a year later Mulaney hosted the show for the second time, and followed up "Diner Lobster" with "Bodega Bathroom." It's a clear attempt to recapture the vibe of the original, only instead of Pete Davidson ordering something off a menu that nobody ever actually orders, Pete Davidson asks to use the bathroom that nobody ever uses at a bodega. The same deal happens: Kenan plays a creature (this time a cockroach) whose routine is being disturbed, an increasingly absurd roster of characters come out one by one, and they all sing songs from Broadway musicals rewritten to be about a guy using a bathroom at a bodega. Unlike "Diner Lobster," though, it doesn't focus on a single musical, which makes it feel just a little bit clunkier. All in all it couldn't come close to matching the original, but was still funny in its own right.
Mulaney returned again this past weekend, so of course it was time for another twist on this same premise. This time Mulaney played a cashier at an airport newsstand, where Pete Davidson does the unthinkable and buys a package of sushi to eat on the plane. "Airport Sushi" follows the road map to a T, with Kenan playing the first character to come out singing, and then various others taking their turn, including the episode's musical guest David Byrne and a surprise appearance from Mulaney's Sack Lunch Bunch buddy Jake Gyllenhaal. Again, what it loses in terms of familiarity and a scattershot approach to Broadway (multiple musicals get roped into this one) it almost makes up for in general absurdity. Plus Gyllenhaal, working again with the manic pitch he brought as Mr. Music in Sack Lunch Bunch, just makes a tremendously unhinged oddball.
If you missed it on Saturday, check it out below.