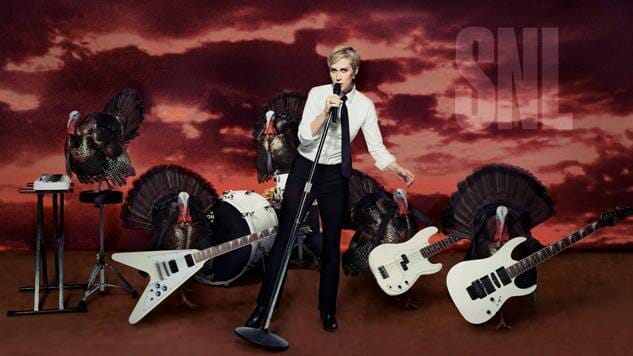 Now in its 42nd season, NBC's live broadcast sketch comedy show ebbs and flows in terms of quality of writers, performers, and guest hosts, musical guests, and cultural relevance. Sometimes it's obvious: things are going well. Other times, most times, the show shambles along, never quite arriving. But If you're asking if Saturday Night Live is funny again, you're asking the wrong question. What makes the show worth watching is the struggle, the attempt to win every single week.
So far, SNL42 is winning…every single week. (Yeah… it's funny again.) So much so that this week's solid Kristen Wiig-hosted attempt comes up considerably shorter than any of the six episodes that have preceded it. Perhaps it is the return of Wiig herself—which properly calls for a return to a couple of "classic" bits, "Secret Word" and "Surprise Lady"—that serves to press pause on the show's developing new direction under co-head writers Chris Kelly and Sarah Schneider. An alumni-led episode—even one as beloved as Wiig (with cameos by Jason Sudeikis, Will Forte and Steve Martin)—is simply not needed to bring the show back to good. The show's success this season has raised so high a bar for winning this episode comes off like a well intended, but ultimately dutiful distraction, a placeholder on the way to better things.
The evening's strongest outing is pre-tape "The Bubble," an infomercial-style offer for young white progressives to migrate to gentrified Brooklyn for the coming Trump years. SNL is pulling no punches when it comes to mocking the outrage of those blindsided by Clinton's loss in the general election—more specifically, wealthy white progressives who've defined themselves and their politics with a particular strain of curated consumption. Saturday Night Live damns our preference for cultural isolation over integration in way that makes it hard to laugh—but even harder to deny.
Many were surprised by Trump's election win—none more so than Trump himself. Or so goes the premise of "Donald Trump Prepares Cold Open" which sees the return of Alec Baldwin as Trump (and Sudeikis as Mitt Romney) after a no-show last week. The piece is funny enough, and provides a hint of what may be to come as SNL takes on the daily reality of President Trump. The idea that Trump doesn't really want to be President, that he knows he's clueless about how to do the job, and really has no guiding principles as to what he will or won't do may prove to be too convenient a pose. The guy has accomplished an astounding, unprecedented feat. He is quite capable—no matter that his muse is himself. Still, Saturday Night Live's political comedy team is pretty impressive, too. The next four years may actually be fun to watch.
"Thanksgiving Monologue," "Secret Word," and "Surprise Lady: Thanksgiving" are all solid sketches that reintroduce us to the particular cracked genius of former cast member, now second-time guest host Kristen Wiig. Though Kate McKinnon has come close (as did Molly Shannon before her), no SNL cast member—male or female—has ever given the show the kind of spark Wiig did in her seven seasons. She has become the new prototypical Saturday Night Live star—replacing Will Farrell in that role. Indeed, every new SNL cast member hopes to be and is hoped to be the new Kristen Wiig. We see this played out in "QVC Auditions" where Cecily Strong and Wiig are desperate housewives who'd rather be QVC hosts. The sketch itself is fairly pointless, but this isn't really about the plot or premise. This is about Cecily Strong going toe-to-toe with Kristen Wiig…testing her mettle. Can she keep her character simmering, stammering, breaking in time with Wiig's? Can she find Wiig's rhythm and match it? Can she live up to Wiig's staggering legacy? (Ultimately, yes she does.)
The xx turns in solid performances of two new songs ("Hold On" and "I Dare You") from their upcoming album I See You. Dreamy electronica is tricky to pull off on SNL's rock and roll stage, but the band makes it work. SNL42's musical guests have not only been musically diverse, there have been noticeable efforts to improve staging, art direction, and directing of musical performances. Yet more proof that the show is firing on all cylinders this year.
Saturday Night Live heads into its second hiatus week of the current season with plans to return early next month with La La Land star Emma Stone as guest host. This pairing—the perfect-for-8H Stone and current SNL42 creative team—has all the makings of a best-of-season episode.
SNL returns December 3 with guest host Emma Stone and musical guest Shawn Mendes. NBC broadcasts a Best-Of SNL Thanksgiving special Wednesday, November 23.
Chris White writes and directs independent feature films. His latest is Unbecoming, an award-winning, southern gothic comedy starring Patti D'Arbanville and Michael Forest. Follow Chris on Twitter.