Comedy Central's South Side Finds Comedy Where Others See Tragedy
All photos courtesy of Comedy Central; photo of Chandra Russell by Jeff Schear
Comedy
Features
South Side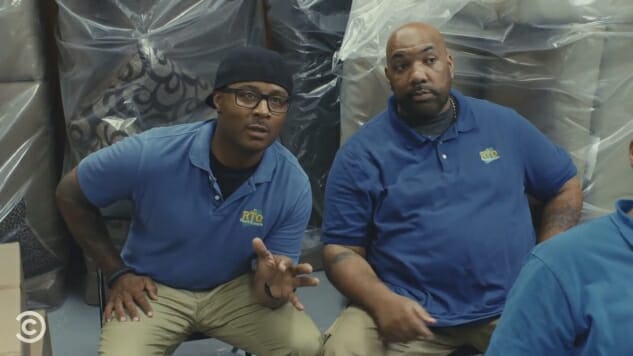 The city of Chicago is a favorite for television programs looking to discuss inequality, violence or gentrification.
Usually these projects take a more somber approach. Recent years have seen the documentary America to Me, director Steve James' fascinating Starz miniseries that discusses the systemic problems in public education, as well as one-hour dramas like the Lena Waithe-created Showtime series The Chi or Caitlin Parrish and Erica Weiss's CBS miniseries The Red Line—both of which use rash killings of innocent Black people and mistaken identities as launching points.
And then there's South Side. The new Comedy Central series created by Chicago native Bashir Salahuddin and his writing partner Diallo Riddle (both of TBS's The Last OG and IFC's upcoming Sherman's Showcase) does all of that while also trying to find the humor in it—and wastes no time doing so. The first episode opens as the show's main characters Simon James and Kareem "K" Odom (played, respectively, by Bashir Salahuddin's brother, Sultan Salahuddin, and Kareme Young) crash a newscaster's attempt to report on another nameless homicide. Ignoring the yellow police tape in the background, they brag to folks at home that they just earned their community college degrees while still wearing their caps and gowns.
That both these characters seem to be destined to have careers working at the brilliantly named Rent-T-own, a parody of a certain other furniture and appliance shop known for its stringent leasing agreements, should not be ignored. This is despite the duo's side hustles and near-attempts to break free.
"The DNA of Chicago is you've got to find a funny way to deal with tough stuff," Bashir Salahuddin tells Paste at a Los Angeles-based press event. He references decidedly Chicago movie comedies like 1980's The Blues Brothers, which includes a Nazi assembly and premiered only a few years after the Supreme Court case National Socialist Party of America v. Village of Skokie, which debated whether the neo-Nazi group had a right to march in the Chicago suburb known for its large Jewish population.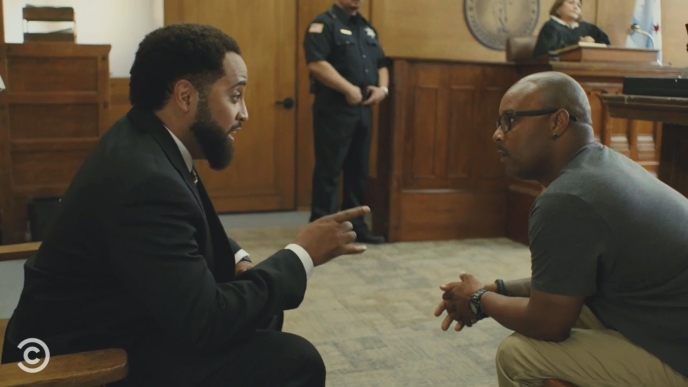 Riddle points out that its also literally in their own DNA as well; his father was "a painter with a very strong social commentary," while the Salahuddins grew up with one who was both a community leader and an imam.
"There's no way that we could ever do anything that didn't carry a little bit of our point of view about the world around us," Riddle says, adding that one of his favorite lines from the show is when a character says that there's nothing more expensive than being poor.
The trick, he says, is finding a way to show this without making the audience feel like "well, here comes the homework."
"The one thing that we always try to avoid is being at all preachy [or] at all, sort of like polemic," Riddle says. "If anything, we feel like you can take something that's serious and you can wrap a lot of jokes around that."
South Side also makes a point of hiring locals both in front of and behind the cameras. As much as the creators would like you to think all jokes are on account of their brilliance, they also have a touch of pride in that some improvised lines and ad-libs did make it onto film. A secret weapon may be Quincy Young, who is Kareme Young's brother both in real life and on the show. He's plays the leads' boss at Rent-T-own and actually did work at a Rent-A-Center, so he was a fountain of information when it came to filling in backstories and adding authenticity.
Guest stars include noted Chicago comedians like Lil Rel Howery. This is also important.
"Historically, when you think of Chicago comedy, you think of John Hughes movies like Ferris Bueller's Day Off and The Breakfast Club," Bashir Salahuddin says, adding that these are great films but that they only tell part of the story. "Historically, we have great people. We have [comedians like] Robin Harris, we have Bernie Mac; there's so many wonderful voices from the South Side. And we were like, let's make sure that the world now understands that all the city is great and all the city is funny—especially the South Side."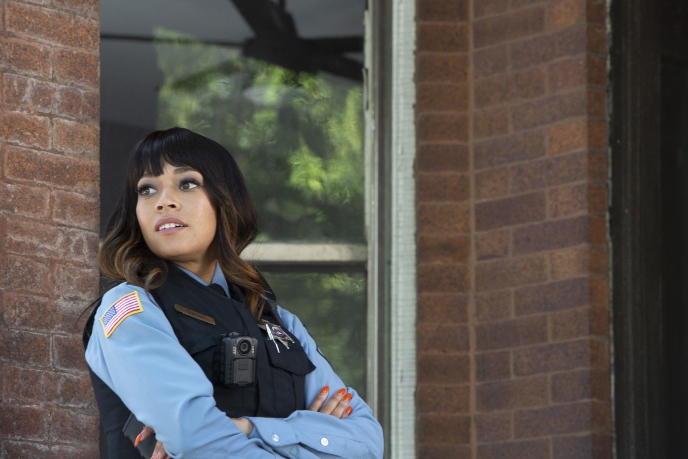 This shouldn't suggest that everything in South Side is peachy or that there is no need for law enforcement. Bashir Salahuddin plays Officer Goodnight, a well-meaning guy trying to do right by his family who was fast-tracked for success until an impulse decision knocked him down a few rungs. And Chicago-bred actress Chandra Russell plays Sergeant Turner, a police officer always looking for upward mobility both in business (she impulsively plays the real estate market like she has money to burn) and her love life (she flags down a prospective paramour from the squad car, but only after making sure her wig is straight).
"I based her off of people that I knew who are complex and who are a lot of things at one time," Russell, who also wrote on the series, explains. "I feel like a lot of people in the hood who get ghettoized by media. There are people who are some of the most brilliant people in the world who, if given the proper access, would be running this country."
Russell wrote the sixth episode of South Side, titled "Mongolian Curly," which comes from a personal place both because she says it's an ode to her (and so many other women of colors') struggles with her hair, and because she got to cast her actual friends from high school as extras. The episode, like the rest of the show, incorporates local slang that Russell says "maybe if you're not from there, you might not catch [beyond thinking] 'oh that's different' [while], you know, people at home are like, that's accurate."
Yes, but will all of this be too inside baseball for anyone outside the Windy City to appreciate? The cast and creators are interested to find out.
"I, personally, just look forward to the new conversations that are going to happen out of the show, especially when you're traveling in and out of the state of Illinois," Sultan Salahuddin says. "When I go to other parts of the country, people are like 'oh, you're from Chicago. How did you make it out? You're still alive?' You know, like I'm a Vietnam veteran. Now, I look forward to the conversation of 'what y'all did last night? Oh my God, it made me laugh until I cried. I shared it with my cousins in Detroit.'"
---
South Side premieres on Comedy Central on July 24 at 10:30 p.m. ET/PT.
Whitney Friedlander is an entertainment journalist with, what some may argue, an unhealthy love affair with her TV. A former staff writer at both Los Angeles Times and Variety, her writing has also appeared in Cosmopolitan, Vulture, The Washington Post and others. She lives in Los Angeles with her husband, son and very photogenic cat.