Justice Anthony Kennedy Is Retiring and Stephen Colbert Thinks We're All "Supremely Screwed"
"If you're on a low-carb diet, you're in luck. 'Cause ain't no way to sugar-coat this"
Images via CBS/YouTube
Comedy
News
Stephen Colbert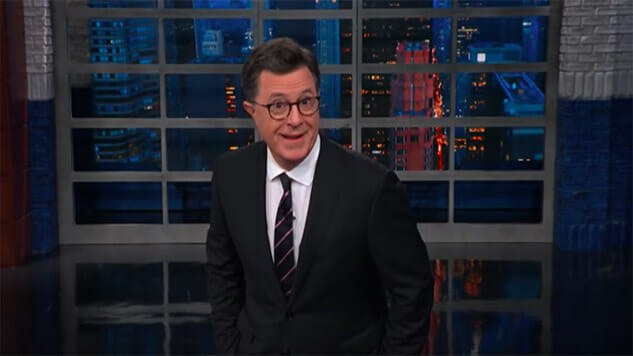 Supreme Court Justice Anthony Kennedy is retiring after 30 years in the position, and as Stephen Colbert pointed out in Wednesday night's episode of The Late Show, "we are supremely screwed."
Kennedy's retirement means that Donald Trump will have the opportunity to appoint someone to replace Kennedy and it will likely be a conservative justice. The appointment will fundamentally change the course of the Supreme Court and if you're anything like the Late Show host, you don't even trust Trump to "fundamentally change the dessert course."
Kennedy will be retiring on July 31, an occurrence that Colbert rightfully described as a "seismic political event." He added that everyone should "enjoy your gay marriage because on August 1, you're back to being roommates."
Trump will likely try to make an appointment quickly and Senate Majority Leader Mitch McConnell will try to have a vote on the nominee by the fall, ahead of the upcoming midterm elections. This doesn't surprise Colbert, because of course they'd want it done before the midterms, "just like you want to eat all the weed before the cop gets to the driver's side window."
In his monologue, Colbert made sure not to forget about McConnell, noting that in 2016 he delayed the vote on Merrick Garland, Barack Obama's SCOTUS nominee, insisting that because there was an election approaching, the nomination should be held until after the presidential vote. The delay upset a lot of people, namely in the Democratic faction, but McConnell is "willing to take the high road, and forget he ever did it," says Colbert.
But there's some good political news to soften the blow this week, as well: A federal judge ordered the Trump administration to reunite separated families. That's a win for the good guys who aren't so big on baby jails. But as Colbert points out, this type of news is only so "good" when you consider that "good news used to be, 'We got Bin Laden!' and now it's, 'We got Trump to release the kidnapped children and there's a chance he might do it.'"
Watch Colbert lament the madness to come in the full segment below.