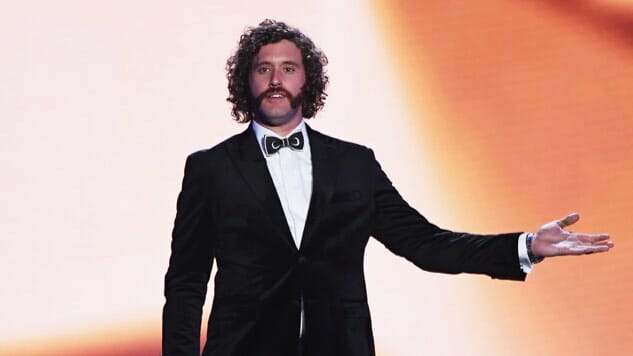 The newest man in the long line of men accused of sexual misconduct has arrived. Silicon Valley's T.J. Miller has been accused of sexual assault by a former college friend.
The Daily Beast reports that an anonymous woman that did improv comedy with Miller in the early 2000s has come forward with an extremely detailed account of an assault at the hands of Miller. Sarah (as she's called in the piece) states that she had started a consensual relationship with Miller while she took classes at George Washington University in 2001, but that it turned violent on multiple occasions after parties. Sarah says that she has vivid memories of Miller performing violent sex acts on her without telling her beforehand or waiting for consent.
Be warned, the details are somewhat graphic—Sarah says that Miller repeatedly choked her, penetrated her anally, penetrated her with a beer bottle, shook her violently and punched her in the mouth. Sarah's housemates at the time confirm that there were loud, violent noises from the bedroom that night, and when Sarah emerged, she had multiple bruises. They also confirm that Sarah told them that day that Miller had hit her. Sarah said "T.J. said it was a 'trust thing' … and that he thought I was into it."
These allegations were apparently well-known to Miller's inner circle. Sarah told a student court at GW what happened, but GW has kept its records on the matter sealed. Miller, meanwhile, has been saying for years that the allegations are unfounded, and a malicious attempt to hurt his career. He has even joked about being violent toward a woman in his past, and for this reason, The Daily Beast reports that multiple female comedians have declined to work with him.
Miller has several friends vouching for his character, basing their judgments on their perception of him as a "generous" guy with respect for women, saying that a guy like that could never do what Sarah claims he did. Sarah says she stopped doing comedy because she kept having to see Miller's name popping up on billboards and at comedy events. She says she does not plan to press criminal charges.