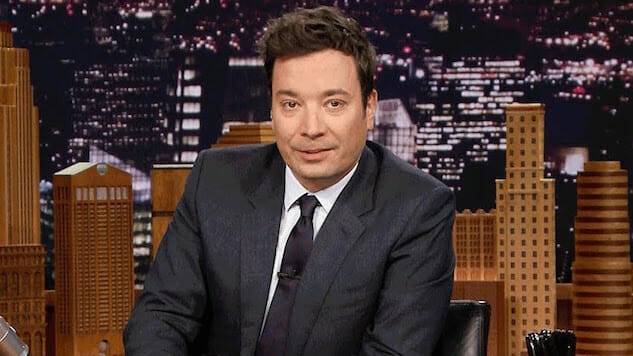 The Tonight Show Starring Jimmy Fallon returned to the air on Monday night, after taking a week off—Fallon had lost his mother, Gloria Fallon, and took the time off to grieve and prepare arrangements. Fallon began the show as normal, with a comedic monologue, but took the time to pay tribute to his mother (in the video above).
Fallon struggled to hold back tears as he recounted a habit that he shared with his mother since childhood: "When we were little, my mom would walk us to the store—me and my sister—and we would hold hands. And she would squeeze my hand three times and say, 'I love you,' and I would squeeze back, 'I love you, too.' Last week I was in the hospital, at her side, and I grabbed her hand and I squeezed, 'I love you,' and I just knew we were in trouble."
The episode also contained a surprise performance from Taylor Swift, who debuted a new single titled "New Year's Day." Most curiously, the song contained a lyric that seemed to mirror Fallon's anecdote: "You squeeze my hand three times in the back of the taxi." Unsurprisingly, the performance brought the late-night host to tears. According to bandleader Questlove, the lyric's connection to Fallon was a happy coincidence.
I'm just realizing Taylor didn't readjust the song's lyrics for tonight's performance. But the narrative literally applies to the words Jimmy spoke of his mother. Wow. You can't plan these things @taylorswift13@FallonTonight

— Questlove Gomez (@questlove) November 14, 2017
This isn't the first time late-night audiences have witnessed a talk-show host baring their emotions publicly; similarly, Stephen Colbert gave a eulogy to his mother back in 2013. One of former Late Late Show host Craig Ferguson's most famous monologues was a eulogy to his father in 2006, which earned the host his first Emmy nomination. Jimmy Kimmel especially has delivered emotional monologues, one in particular mourning the loss of his Uncle Frank, a regular on his show, and a more recent example being his recollection of his baby son's survival of a rare heart condition.
Like all of these hosts before him, Fallon made a promise to his audience that the show will go on. "We're going to continue to work really hard to bring some light and some laughter into the world. Thank you for watching," he said. "Thank you for helping me and my family recover from this loss. Mom, I'll never stop trying to make you laugh. I love you."