Watch Triumph the Insult Comic Dog Tell Ted Cruz that Trump "Neutered" Him
The segment ran during Monday night's The Late Show with Stephen Colbert
Images via CBS/YouTube, Frederick M. Brown/Getty
Comedy
News
Triumph the Insult Comic Dog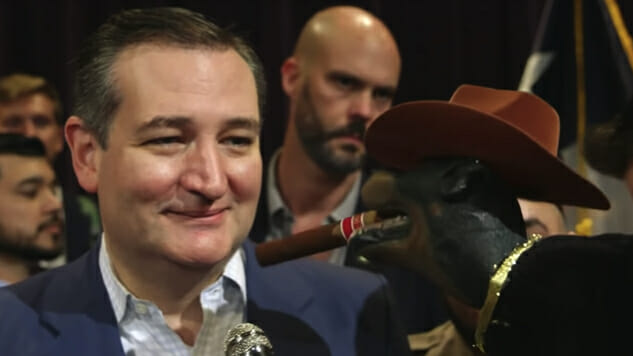 Triumph the Insult Comic Dog mocked Ted Cruz to his face at a recent rally, telling the Texas senator that Trump had effectively "neutered" him.
The segment appeared during The Late Show on Monday night, when Stephen Colbert introduced Triumph, who is played by Colbert's former colleague and long-time Conan acolyte Robert Smigel, as an on-scene reporter for the Texas midterm election, covering rallies for both Cruz and Democratic candidate Beto O'Rourke.
Triumph talked with Cruz after his campaign rally, telling him that he has "a pre-existing condition that makes me vomit out of my eyes when I see you." After Cruz made a joke regarding Triumph getting "fixed" by Democrats, the dog puppet responds by saying, "I support spaying and neutering, just like President Trump did to you."
Other highlights include: "You can't ignore me, Ted! I'm not overwhelming scientific evidence of global warming!" and "Ted, is it true you will defend the Constitution at all costs, except for when Donald Trump calls it ugly on Twitter?" You can actually see the remains of Cruz's soul leaving his body.
Triumph ends the segment by leading a crowd of Cruz supporters in a chant of "Lion of the Senate" that slowly transforms into "Lyin' Ted."
Watch the entire segment below—unless you have yet to vote, in which case, probably go do that—and see who else joins Cruz on our list of the worst Republicans who may actually lose tonight here.