Exclusive Dark Horse Preview: Black Dog: The Dreams of Paul Nash Reaffirms Dave McKean as the Master of Surrealist Beauty
Comics
Features
Beauty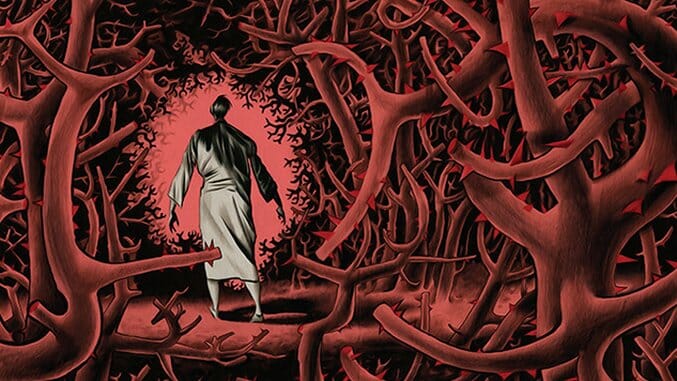 The art of Dave McKean is unmistakable. Characterized by dynamic lighting, hyper-realistic textures and exaggerated linework, the mixed-media legend seizes viewers into twilight realities of ethereal colors and Sisyphean detail. These hypnotic visions gained the most attention on the 76 covers of the original Sandman run written by Neil Gaiman. The artist would go on to produce a litany of additional graphic novels with Gaiman—The Tragical Comedy or Comical Tragedy of Mr. Punch is a personal Paste favorite—in addition to his sterling solo work on Cages and directing the feature film MirrorMask. The last long-form graphic novel McKean wrote and illustrated was Celluloid, an erotic fantasy that pulled from Victorian opulence and Henry Fusceli's iconic painting The Nightmare, for one of our favorite comics of 2011.
For his next graphic novel, Black Dog: The Dreams of Paul Nash, McKean dissects the life of another surrealist—Paul Nash. Also an illustrator, photographer and designer, Nash channeled his experiences in the trenches of World War I into striking landscapes of vivid despair and regrowth. After breaking a rib during active duty (an event McKean captures below), Nash returned to his birthplace of London where he produced artwork off the sketches created in the muddy hell of the battlefields. He served as an official war artist in both England and France. Even if you're unfamiliar with Nash's art, this pairing feels innately natural, and the book will articulate the painter's journey to show how his output reflected a war that depleted continents and lives.
McKean and publisher Dark Horse will release Black Dog on October 5th. Check out an exclusive preview of the ambitious project below.
Official description courtesy of Dark Horse:
Best known for his collaborations with Neil Gaiman, McKean defied expectations with his stunning debut as writer and artist in Cages, winner of multiple awards for Best Graphic Album. Dark Horse proudly presents a new original graphic novel by the legendary artist based on the life of Paul Nash, a surrealist painter during World War 1. The Dreams of Paul Nash deals with real soldier's memoirs, and all the stories will add up to be a moving piece about how war and extreme situations change us, how we deal with that pain, and, in Nash's case, by turning his landscapes into powerful and fantastical psycho-scapes.