Cliff Chiang Spins Up Our Favorite Eight-Eyed Bounty Hunter, The Stalk, in this Exclusive Saga Book 2 Pin-Up Preview
Main Art by Cliff Chiang
Comics
News
Cliff Chiang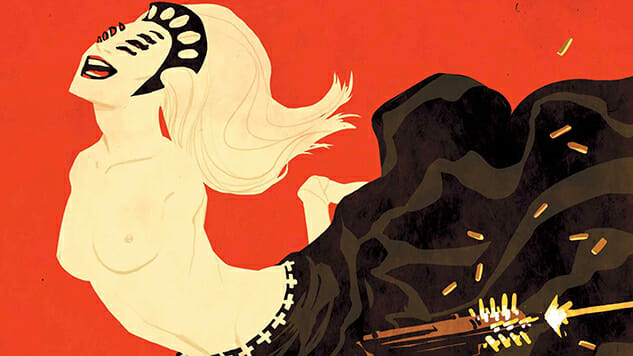 The Stalk is a free spirit in more ways than one. Brian K. Vaughan and Fiona Staples' snarky arachnid bounty hunter has left a trail of broken hearts and dead bodies throughout Saga, a comic that punctuates many of Paste's best-of-the-year lists and was the honor of our first comics cover story. The creators first introduced the character as an ex-lover of The Will, still hurting from The Stalk's web of, um, alternate lovers. She debuted in the second issue before receiving a fatal blow through the chest three issues later, joining a graveyard of characters who lived all-too-brief lives under Vaughan's pen.
Despite her truncated mortality, The Stalk still makes cameos as a specter who haunts the psyche of The Will, who's increasingly become unhinged throughout the series' 42 issues to date. She also apparently haunts artist Cliff Chiang, the illustrator behind the nostalgic '80s sci-fi adventure Paper Girls, also written by Vaughan. For Saga's second hardcover book, collecting issues #19-36, Chiang has provided a gloriously carefree pin-up of the The Stalk in all of her sociopathic, sexual grandeur. Paste has an exclusive preview of the art, courtesy Image Comics, as well as a Q&A between Vaughan and Chiang.
Saga: Book Two hits comic stores this week and book stores next, and should be owned by anyone who likes amazing sci-fi and fantasy fiction with characters more nuanced than your immediate family. The tome also includes pin-up art from Todd McFarlane, Pia Guerra, Faith Erin Hicks, Karl Kerschl, Jason Latour, Sean Gordon Murphy and Steve Skroce.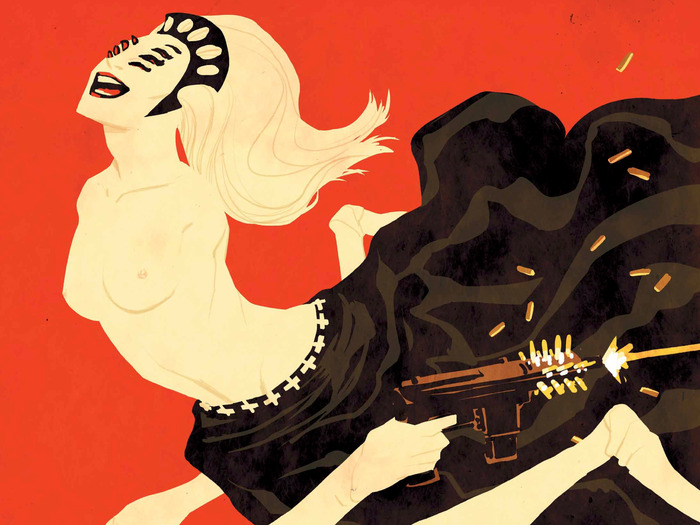 Below is a Q&A between Brian K. Vaughan and Cliff Chiang included in Saga Book Two.
The world-renowned Cliff Chiang and I first worked together on a short Swamp Thing comic way back in the 20th Century, and I loved his crystalline storytelling so much that I vowed to collaborate with him again. It only took 15 years for our stars to realign, but I'm so happy to be working with him on Paper Girls, a sci-fi adventure about nostalgia from our pals at Image Comics.
It's very different from Saga, but I want all of you to buy it anyway because I am proud of it and I like the color of your money. Brian K. Vaughan
Brian K. Vaughan: Thanks so much for being part of this Saga gallery! May we ask, why did you choose the character you did?
Cliff Chiang: Fiona's design for The Stalk is so brilliantly beautiful and creepy. Why wouldn't you choose to draw the sexy spider assassin?
Vaughan: If you were a sentient slice of pizza, what kind of pizza would you be?
Chiang: Elio's frozen pizza.
Vaughan: Which work of yours—past, present and/or future—do you think readers of Saga might dig?
Chiang: Wonder Woman, Paper Girls or whatever comes next!
Vaughan: What is the definition of a good parent?
Chiang: Unconditionally loving yet preemptively sneaky.
Vaughan: Just curious, is there a particular genre you haven't really drawn yet that you'd still love to tackle someday?
Chiang: Fin de siècle magical realism. Or giant robots.