Exclusive: BOOM! Announces Comic About Vinyl-Loving Teen Vigilantes, Hi-Fi Fight Club by Carly Usdin & Nina Vakueva
Art by Nina Vakueva
Comics
Features
Hi-Fi Fight Club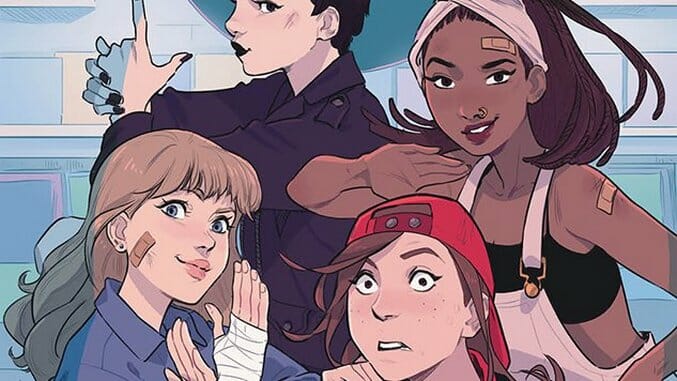 The '90s carry a nice hagiography of insubordinate saints breaking away from the mainstream vacuum. Books including Generation Ecstasy and Rebels on the Backlot choreographed bands and visionaries who broke from corporate systems to make commercial art outside of a commercial infrastructure. After all, this was the era that gifted us with Sleater-Kinney, Richard Linklater, Pavement, Bikini Kill and Sofia Coppola.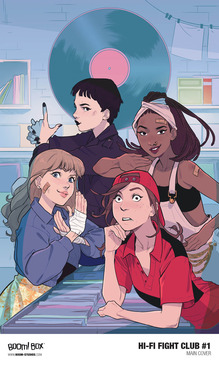 It's no surprise that millennials hold a candle for the nonconformist blueprint that Gen X laid for us, with '90s nostalgia running pretty high at the moment. Former ad producer and current feature filmmaker Carly Usdin taps deep into this well for her new four-issue comic miniseries, Hi-Fi Fight Club, illustrated by Russian cartoonist Nina Vakueva and published by BOOM! Studios with an August launch date. The book revolves around a group of female vinyl store employees à la Empire Records, who transform into "patriarch-crushing vigilantes" come sundown. When newcomer Chris realizes that her favorite rocker, Rory Gory, has gone missing, she and her co-workers embrace their inner Riot Grrrls to solve the mystery.
Usdin draws on her youth in New Jersey, where she'd fantasize about working in a record store to be surrounded by the music that helped inform her burgeoning identity. The book benefits from Moscow native Vakueva's svelte linework and rich colors, which can be seen in her fantasy webcomic Lilith's Word and should add a load of personality to the denizens of the Garden State at the end of the Grunge era. Usdin and Vakueva exchanged emails with Paste to discuss the metaphorical and physical hits behind Hifi Fight Club.


Paste: Carly, a large portion of your career has focused on advertising, consulting and production. Hi-Fi Fight Club and your new film, Suicide Kale, turn to more personal genre narratives. What attracted you to this story and why is comics the right medium for its articulation?
Carly Usdin: The first decade of my career has really been about learning, and for me it's all been very trial by fire, just jumping in and figuring it out as I went along. I've gained so much experience, which has given me the confidence to branch out creatively into writing and creating the content I wish existed in the world. Telling female stories, telling queer stories, pushing new voices and perspectives out into popular culture, these are the biggest priorities for me currently. So, I'm allowing myself to explore more personal narratives. We'll see how that goes!
I grew up reading comics and have always dreamt of having my own comic, and this story just seemed perfect for the medium. But I don't think I was ready to take on something like this even a few years ago.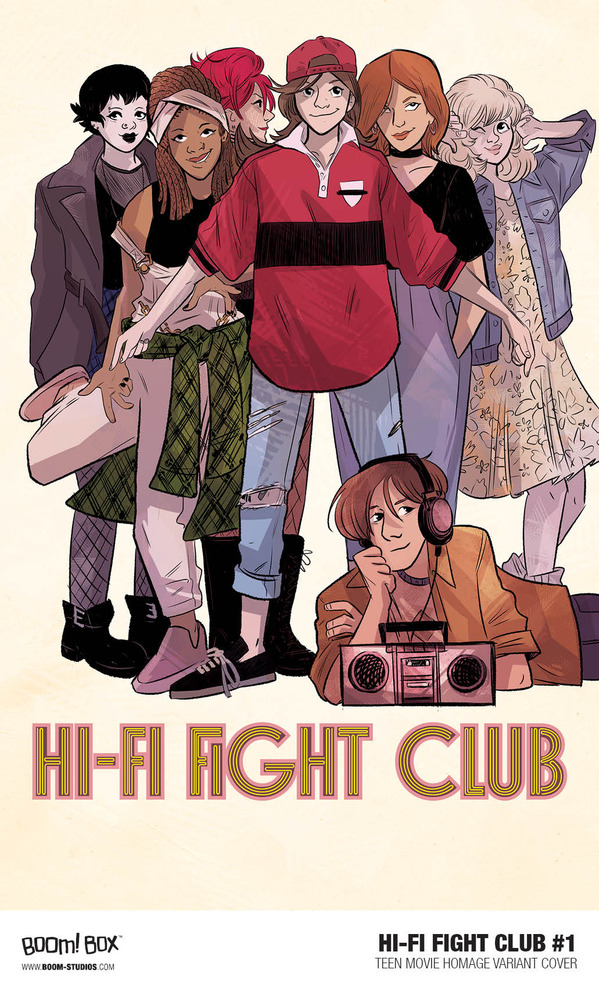 Hi-Fi Fight Club Teen Movie Homage Subscription Cover Art by Brooke Allen
Paste: This comic is about a teen girl vigilante fight club. Should we be thinking of this as an homage to a hybrid of Chuck Palahniuk and Nick Hornby's respective novels? Or something else entirely? I'm also getting an early Kevin Smith/Richard Linklater vibe from the covers alone.
Usdin: I think I'm going for something else with Hi-Fi Fight Club, something a bit more female-focused. Teen girls weren't frequently seen having this type of agency and strength in much of the pop culture I consumed back then (aside from films like The Craft, et al.), so I think that's also why it took me this long to want to tell this story. The inspiration for the book is equal parts Empire Records, Sailor Moon and The Baby-Sitters Club, with a little D.E.B.S., Scott Pilgrim and Lumberjanes in there as well. I do enjoy the Kevin Smith comparison—I grew up a few towns over from where his films take place.
Paste: Nina, what attracted you to this project? Aesthetically, how are you approaching the urban streets of late '90s New Jersey compared to the lush vistas of your webcomic, Lilith's Word?
Nina Vakueva: My first comic job was a comic about a police major, and of course it was full of big men with guns, car chases and all the other action components. After that, I wanted to try drawing for a YA project, not only for a change, but also because I thought it might suit me better. The '90s setting of Hi-Fi Fight Club was a nice bonus. I definitely had a fun time browsing through fashion photos of that time, and listening to songs by Depeche Mode and Garbage.
I studied architecture when I was in university, so I don't feel out of place working on urban backgrounds. Aesthetically, it's as pleasing to me as "lush vistas" are for other people. Of course, it's a little difficult to picture the town authentically since I've never been to New Jersey—and of course, not in the '90s—but thankfully, things like Google Street View exists. I hope by doing enough research, it will help me depict the right atmosphere.
Paste: Five of the biggest albums of 1998 were The Miseducation of Lauryn Hill, Hello Nasty by the Beastie Boys, the Titanic soundtrack, Mechanical Animals by Marilyn Manson and Mezzanine by Massive Attack. Which one encapsulates that era, and why?
Usdin: I mean honestly, they all do. Each represents such iconic artists and moments in music. Like, no one cares about movie soundtracks anymore, but they were such a big deal in the '90s. The Batman Forever soundtrack is so good—don't @ me—and was also the thing that introduced me to Massive Attack.
Vakueva: Well, it's hard for me to answer this question, not only because I live in Russia, but mostly because I was six years old back then. We were listening mostly to local music, but I remember quite a few foreign songs. I'm not sure where I could have heard them; it's still a mystery to me.
Of those albums you listed, I'd say it was the Titanic soundtrack that resonated with me. Everyone knew the theme song, "My Heart Will Go On," and it seemed that everyone could recall the lyrics from the chorus. I'd give second place to the Beastie Boys because I heard from my mom their album bombed in Russia, but I learned that many years after the album was released.
Paste: The comic takes place in a vinyl store, so I'm expecting some deep cut music snobbery. If you had to pick five songs that mirror this miniseries, what would they be?
Usdin: My music snobbery of this era is mostly limited to female-fronted rock and punk bands, though the series will touch on all genres of music that high school kids loved in the late '90s. These five are all on the playlist I listen to when I'm working on the book, and are some of my favorites:
1. "Volcano Girls," Veruca Salt
2. "Collect 'Em All," Tilt
3. "Supervixen," Garbage
4. "Not What You Want," Sleater-Kinney
5. "Sunday Morning," No Doubt
6. "Another World," Poe (I couldn't just do five!)