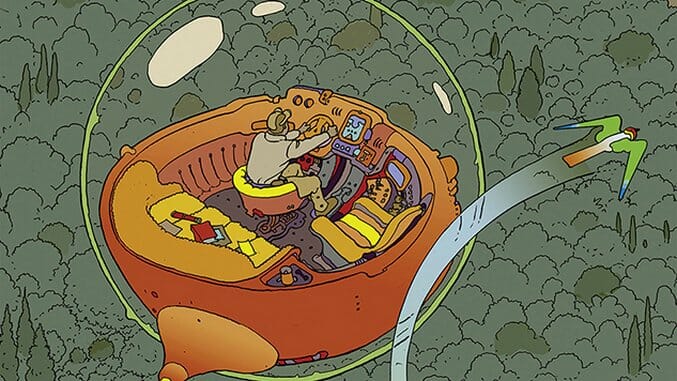 The State of European Comics in the United States
Generally speaking, three geographic markets rule comics: the United States, France/Belgium and Japan. Though each of these markets features a diverse spectrum of style and stories, each also has its own unique dominant modes of distribution and dissemination, and follows and reflects a unique aesthetic tradition. America usually publishes comics in 8-by-11-inch pamphlets while Japan uses huge manga magazines sometimes collected into 5-by-7-inch books. In the Franco-Belgian territory, though, comics are typically released in albums—8.4-by-11.6-inch bound books that tend to run approximately 50 pages. Each of these formats helps to shape certain visual traditions and expectations of the media. The fact that Eiichiro Oda's best-selling manga One Piece comes out in cheap magazines on a weekly basis means it can occupy 250 pages with a single fight; the glacial pace at which American comics are sometimes released may preclude that indulgence. In France, however, it's not uncommon for only one album to be released every year; sometimes, series would only see one album every several years, as its author or authors became busy with another character, series or story.
Moebius, the subject of Dark Horse Comics' most recent Library series of career-encapsulating hardcovers, represents the apotheosis of Franco-Belgian comics. When he died in 2012, Moebius (born Jean Giraud) left behind a body of work that spans nearly 60 years. He produced humor comics, autobiographical comics and, most famously, was responsible for some of the most influential science fiction and western comics of all time. His thin, complex lines, imaginative vision, and versatility as an artist and storyteller have been praised by the likes of George Lucas and Federico Fellini, and he exerted an incredible influence on comics, cartoons and film around the world, including pop culture touchstones like Akira and Blade Runner.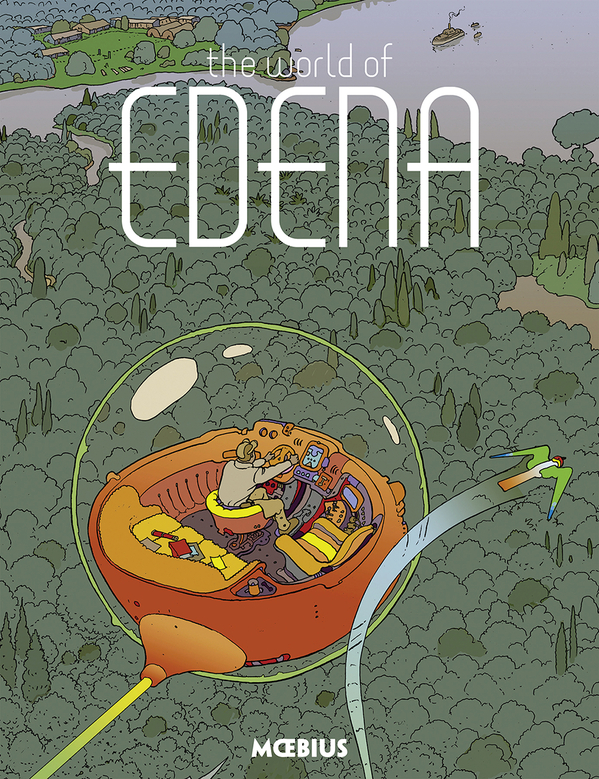 ;
The World of Edena Cover Art by Moebius
Other European cartoonists have proven similarly influential, including Italians like eroticists Guido Crepax and Milo Manara and serial adventurist Hugo Pratt, as well as Spanish artists including Jordi Bernet. But while these European titans have inspired American cartoonists for years, the availability of their work has proven spotty (at best).
Beginning in the late '70s and continuing into '80s, outlets like Heavy Metal (an American version of Moebius' French magazine, Metal Hurlant) translated the work of Philippe Druillet, Philippe Caza, Tanino Liberatore and others. Raw magazine, edited by Art Spiegelman and Françoise Mouly, made similar attempts, translating the more avant-garde works of creators like Joost Swarte, Jacques Tardi and Lorenzo Mattotti. Marvel, through its '80s creator-owned Epic line, even began The Collected Fantasies of Jean Giraud, an 11-volume set attempting to collect Moebius' oeuvre.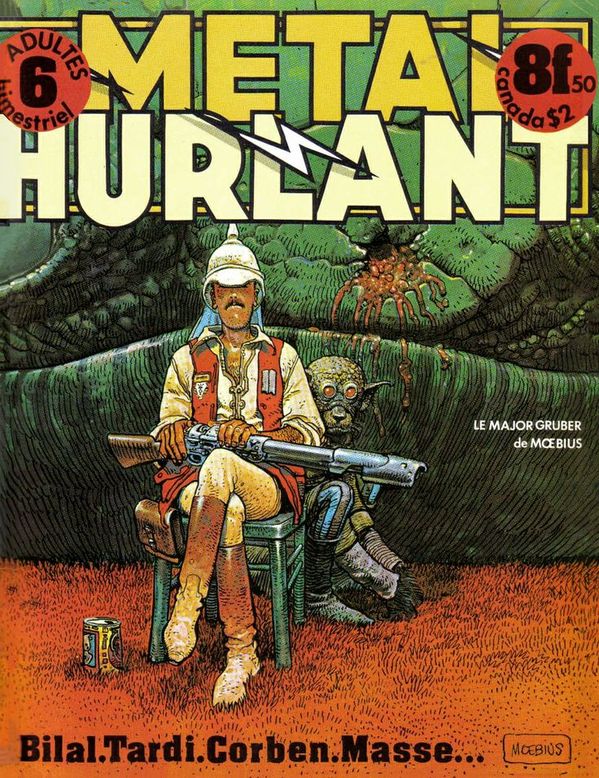 Metal Hurlant Cover Art by Moebius
But the changing marketplace and marketplace demands eventually caught up with European comics: After just three years of publication, Heavy Metal slowly reduced its number of translated works, and by 1980 was devoting large portions of each issue to prose, news and reviews; Raw shuttered in 1986, re-opened in 1989, and then, apparently, shuttered again in 1991. The large-scale importation attempts were effectively halted. French publisher Darguad even attempted to translate and re-publish their own catalog, but, as Delcourt publisher Guy Delcourt told Paste last year:
I was with Dargaud in the early '80s and they tried [publishing in the US]. They even opened an office in New York. But they failed—completely…I think they were kind of arrogant. They thought, "Hey, French comics are the best, so now we're coming."…that didn't work.
Also, French comics in print have met with major difficulty in comic book shops. Our books, because of their format, don't fit into the racks, so they were always put into some corner—a "foreign corner"—and that's doomsday…
A Brief History of Sequential Art in Europe
Since the mid-'90s, smaller publishers like NBM have intermittently translated work, but French, Spanish and Italian tomes came in at a mere trickle for more than a decade. As a result, a generation of readers was cut off from a rich wellspring. But that's begun to change; thanks to the ascendance of publishers like Humanoids, efforts by smaller publishers like Uncivilized Books, New York Review Comics and IDW, which launched a EuroComics imprint specifically to import classics like Hugo Pratt's Corto Maltese and Jose Munoz and Carlos Sampayo's Alack Sinner, some of the finest comics ever produced are poised to become more accessible.
A comprehensive or in-depth history of comics in Europe has yet to be written——or at least, it has yet to be translated into English. As it stands, learning anything about the art's origins and development is difficult. What we do know is that The Adventures of Mr. Obadiah Oldbuck by the Swiss cartoonist Rodolphe Töpffer is, according to Scott McCloud in Understanding Comics: The Invisible Art, one of the first modern comics, and as a result, the history of comics finds a foothold on the European continent. It should be noted, however, that because of the size of its market, the Franco-Belgian comics scene dominates the history of European comics, attracting an incredible number and caliber of cartoonists. This focus on France is especially prevalent in English-language discourse, as very little history of Spanish, Italian or German comics scenes is available in English. Similarly, comic creators including Emma Rios, Alison Sampson and David Lafuente have all made the argument that British comics should be included in conversations about European comics, but there is a focus here on non-English-language comics for matters of expediency and simplicity.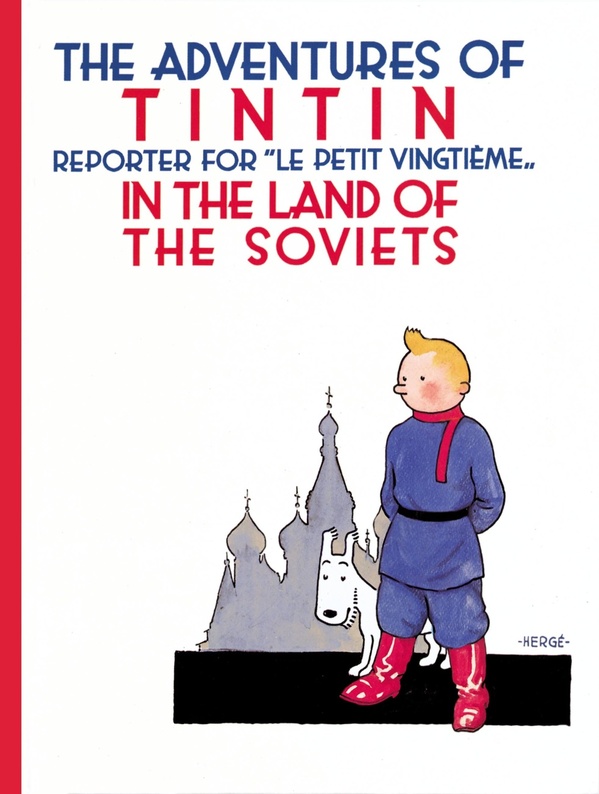 Tin Tin in the Land of the Soviets Cover Art by Hergé
Like in America, European comics began life as newspaper strips and gag cartoons. As early as the 1920s, magazines like Zonneland—entirely devoted to a crude marriage of image and text—began publication. European comics' first turning point (not dissimilar from Superman's debut in the 1938 publication of Action Comics #1 in the USA)—was the 1929 publication of Tintin in the Land of the Soviets. Authored by the Belgian cartoonist Hergé, this volume inaugurated the Tintin series, which would go on to become one of the most influential comics of all time. As was common at the time, Tintin appeared in a periodical, though it has since been collected in the common album format. One of the most famous periodicals, the still-running Spirou, was founded around this time, as well.
American comics were popular in Europe as well, but during World War II, Italy and Germany banned them, and they were scant in France during the Nazi occupation as well. Local artists responded with bootleg continuations of the series; filmmaker Federico Fellini claimed for years to have helped continue the Flash Gordon strip in fascist Italy. The war greatly influenced these cartoonists, and after the war when they were free to create their own works, they responded by birthing The Smurfs, Asterix and Gaston. During this period, things proceeded without much occasion: magazines came and went, Hergé's ligne claire (clear line) style dominated and many attempted to imitate the success of more innovative artists.
The market generally targeted children, and, aesthetically, it was rather monolithic. The industry began to mature throughout the 1960s, though it wouldn't fully take hold until the '70s and into the '80s. Around this time, more magazines for adults launched and began publishing seminal works, notably Jean-Claude Forest's Barbarella and Guy Peellaert's The Adventures of Jodelle, and, in Italy, Guido Crepax' Valentina series.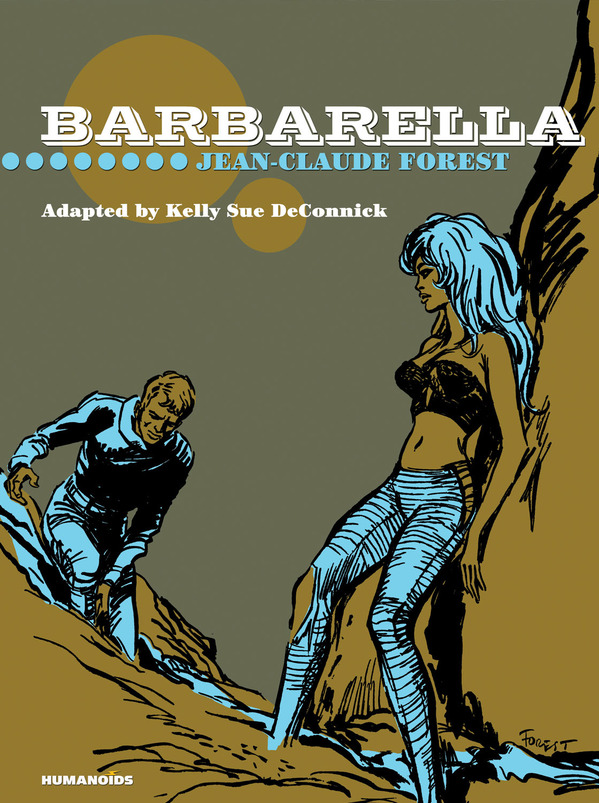 Barbarella Cover Art by Jean-Claude Forest
The mature comics trend picked up steam, culminating in the launch of the aforementioned Metal Hurlant. Founded by Moebius, Philippe Druillet and Jean-Pierre Dionnet, the magazine featured the work of its founders as well as that of Caza, Serge Clerc and even Americans like Bernie Wrightson and Richard Corben. With an emphasis on science fiction and fantasy—and an even greater emphasis on sex and violence—Metal Hurlant once again broadened the landscape and redefined how people understood comics, not just in France, but around the world.
Another big expansion arrived in the '90s, with the advent of smaller publishers like L'Association, which opened a space for cartoonists like David B., Lewis Trondheim, Marjane Satrapi and Joann Sfar. Over the course of the '90s and into the 2000s, these authors made huge names for themselves at home and abroad, and they diversified the aesthetic make-up of European comics in bold and important ways.
Names to Know in Euro Comics
Europe is a big continent, rich with an incredible number of cultures and nations each with their own artistic tradition. While smaller, the Italian comics scene has produced such masters as:
Hugo Pratt (Corto Maltese)
Sergio Toppi (The Collector, Sharaz-de: Tales From the Arabian Nights)
Guido Crepax (Valentina)
Milo Manara (The Adventures of Giuseppe Bergman)
Tanino Liberatore (RanXerox)
Spain has produced such auteurs as:
Jordi Bernet (Torpedo)
Daniel Torres (Rocco Vargas)
Alfonso Font (Tales of an Imperfect Future)
And the Franco-Belgian territory has given us:
Hergé (The Adventures of Tintin)
Moebius (The Airtight Garage, Arzach)
Hermann (Jeremiah)
Philippe Druillet (Various Lone Sloane stories)
Jean-Claude Mezieres (Valerian and Laureline)
In addition, the atomic style pioneer and Is That All There Is? author Joost Swarte hails from the Netherlands, while the mononymous Jason is Norwegian. Sometimes cartoonists from one European country produce work in another, such as the Spaniards Juan Diaz Canales and Juanjo Guarnido, whose Blacksad was originally published in French. But some of the best European comics are not even produced by Europeans; The Metabarons and Alack Sinner are actually drawn by two Argentines, Juan Gimenez and Jose Munoz, respectively.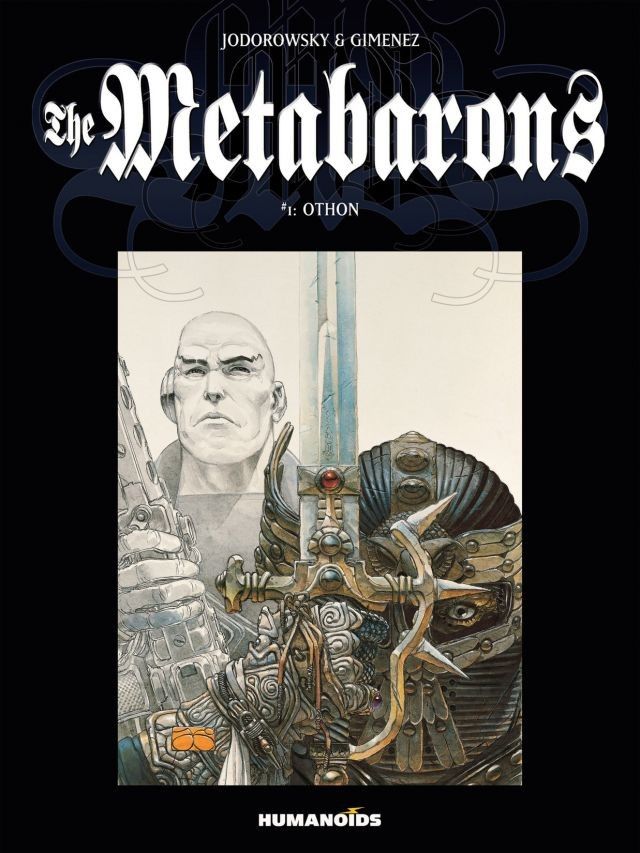 The Metabarons Cover Art by Juan Gimenez
Contemporary cartoonists to watch include David B., Blutch, Juanjo Guarnido and Jose Domingo. In Spain, a small domestic market lead a contingent of artists to publish their own work, giving rise to cartoonists like Emma Rios, David Rubin and David Aja. Online, the French cartoonist Boulet continues to deliver visually versatile webcomics that push the boundary of the form. And younger artists like Bastien Vives reflect the influence of Japanese shonen comics, evincing an artistic world that is simultaneously growing and being brought into an ever closer communion.