Get the Exclusive Scoop on Adventures of the Super Sons From Writer Peter J. Tomasi
Plus First Peeks at Super Sons #16 & Super Sons/Dynomutt Special #1
Main Art by Dan Mora
Comics
Features
Peter J. Tomasi
It's never a happy day when a comic is cancelled, but some conclusions sting more than others. The surprise announcement that fan-favorite DC Comics series Super Sons would end with issue #16 and the Super Sons/Dynomutt Special #1, both out May 30th, left readers despondent; in addition to the pure fun factor of Damian Wayne and Jon Kent's buddy adventures as Robin and Superboy, respectively, the series served as an excellent entry point to the DC universe for fans across the age spectrum. Writer Peter J. Tomasi and artists including Jorge Jiménez and Carlo Barberi nailed a tone and approach that allowed longtime DC readers to share the series with their own young wards, and Damian and Jon, for all of their spectacular skills and abilities, always felt like actual preteens—an all-too-rare trait among super-powered kid characters.
We here at Paste are thrilled, then, to confirm that Tomasi isn't done with Jon and Damian's heroic friendship just yet. Beginning August 1st, 2018, Tomasi and current Super Sons artist Carlo Barberi will reunite for Adventures of the Super Sons, a brand-new series that picks up right where Super Sons #16 leaves off. As Tomasi explains in the chat below, Adventures of the Super Sons is designed to be a seamless continuation for fans of the current title, as well as a jumping-on point for readers who haven't been following Jon and Damian's antics. The first issue introduces a group of alien troublemakers known as the Gang, who idolize Earth's villains and emulate them in their own unexpected ways. Tomasi also teases that Robin and Superboy will venture through intergalactic tour of DC's different genre comics over the course of the series, from Romance to Western and everything in between.
For more about Adventures of the Super Sons, as well as an exclusive first look at Dan Mora's first cover, Barberi's interior artwork for Super Sons #16 and Fernando Pasarin's interior artwork for the Super Sons/Dynomutt Special #1, keep reading below, and be sure to check out the new series when it debuts on August 1st.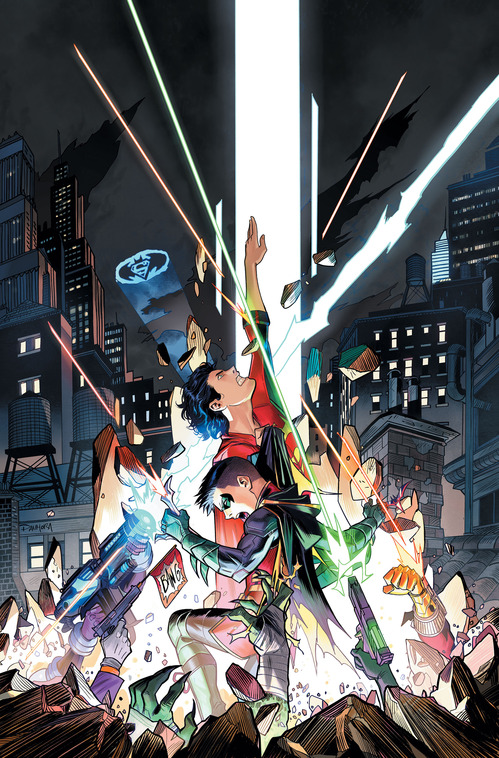 Adventures of the Super Sons #1 Cover Art by Dan Mora
Adventures of the Super Sons #1
Writer: Peter J. Tomasi
Artist: Carlo Barberi w/ Art Thibert
Cover Artist: Dan Mora
Variant Cover Artist: Jorge Jiménez
Release Date: August 1, 2018
The Super-Sons are back in an all-new miniseries written by Peter J. Tomasi! Check out the lost and secret adventures of Damian Wayne (Robin) and Jon Kent (Superboy) in this flashback miniseries that takes a deep dive into the bombastic bromance between the sons of the DC Universe's greatest heroes. It's an epic dual storyline that transcends current events, as Superboy and Robin find themselves targets of an interstellar team of young badasses called the Gang.

Paste Magazine: There was such an outpouring of disappointment online when it was announced that #16 was the final issue of the current run. Why do you think Damian and Jonathan struck such a chord with readers, especially since they're, relatively speaking, pretty new characters?
Peter Tomasi: I think they [struck a chord] because it's a fun comic and I take great pains to make sure that the kids act like kids, and that the story, the way I wanted to construct it, was sort of all-ages, eight to 80. I didn't want to put any limitations and I didn't want to dumb it down. I think people really related to having something they could have a lot of fun with, and didn't tie into a ton of continuity across the DCU.
I actually had a lot of experiences at shows over the course of the last year of a parents with their kids coming up dressed as Jon Kent and Damian, just thanking me for having a book out there that they could enjoy along with their kids, and read it and absorb it that way. So it was a real nice surprise that people have connected with it.
Paste Magazine: Super Sons is also headed for the DC Zoom line of middle-grade OGNs, but your series has never shied away from serious danger and high stakes. How do you balance writing relatable preteens in a world with murderous Amazo bots and unhinged alternate-future doppelgangers and all sorts of other threats?
Tomasi: [Laughs] With great care. You need to have some threat, obviously, to these kids. You have Jonathan Kent, who as we've progressed, has shown amazing powers. We've got Damian who, as you can't escape it, his history, his back-story, is as a trained assassin. So we have to accept those tenets and at the same time have a lot of fun with it. So some of this stuff will seem a bit foreboding, but it was really key for us to handle it writing- and art-wise is that it came across in a way that wasn't crazy scary, and continued the fun while they were handling serious stuff along the way.
Paste Magazine: Aside from Grant Morrison, you're probably the creator most associated with Damian. What keeps you coming back to his voice and dynamic—and attitude—within the DC universe?
Tomasi: Luck, for one. I've been given the book, and Grant was nice enough to—I remember at the time, I think Dan DiDio had asked him who he thought should continue with Batman & Robin and he said I should take the baton, and that was awesome. And in terms of just continuing on with Damian, he's one of those characters who, as a writer, you lock into. It happened with Guy Gardner, it happened with Batman, Superman—there're some characters that you really just gear into. Damian's voice is easy; you sort of just get out of the way. Once you start writing the scene, he takes over and the dialogue flows and the actions flow from his personality and who he is. It's one of those lucky things as a writer that you're able to plug into a character and get so invested in him. I'd be lying if I didn't say I'd love to write anything that Damian's in, but of course he's a company-wide character who's used in many books. But it is a lot of fun when I can just keep him in my own little DCU area and use him as much as possible.
Paste Magazine: Where does Adventures of the Super Sons pick up with Jon and Damian? What do new readers need to know going into this new series?
Tomasi: Our book takes place between the Superman Special #1 that just came out and Man of Steel #1. You could read Super Sons #16 and go right into Adventures and there'll be no bumps in the road. You won't have to have picked up any other book or anything. You can just open that book and it's a pure gateway, if you're enjoying Super Sons now, it's a continuation of that relationship, and at the same time, if you're a new reader, it's a perfect opportunity to join the book. It's a really big welcoming-mat first issue. We wanted to cover both bases, for the readers who've been on board and the new ones hopefully to come.
Super Sons #16 [includes] a nice call out to what comes next. [On] the first page, when people see it, somebody is reading from a book called The Adventures of the Super Sons, and that gives us a little hint of things to come. Super Sons has been an amazing opportunity to write, and as I said earlier, seeing parents and kids enjoying the book has been great. It's the kind of book that's a gateway to the DCU. It pulls in younger readers, and that's not a bad thing. All companies want younger readers and I think Super Sons has luckily done that job for DC, and they've seen that and noticed it and are responding in kind by continuing the adventures of Damian and Jon.
Paste Magazine: Carlo Barberi closed out the current run with you and is launching this new volume. What does he bring to the look and feel of Super Sons?
Tomasi: I gotta say, when Paul Kaminski, the editor, brought Carlo on board, I was so happy, because we had obviously lost Jorge Jimenez to Justice League, and when you're working with Jorge for that many issues, it's like, oh my god, how are we going to find somebody to come in and capture the fun, the simple interactions between Jon and Damian that are really the fun for me as a writer? And to see another artist come on board and jump in where Jorge left off and just kick ass on it, and do great work, is great. These characters are acting the same, they feel the same, they look the same, on the template that Jorge built for them. [Barberi] has been great with them. It was really important to me. I told Paul, hey, if we're doing this [new series], we've got to have Carlo on board, and he is, and it's a real pleasure to have him, working alongside him.
Paste Magazine: The solicit for the first issue of Adventures teases an "interstellar team of young badasses called the Gang." What can you tell readers about these new foes?
Tomasi: What can I tell them…I can tell them that these bad guys, called the Gang, are kids from another planet who really look up to the villains of our planet. They decide to, let's just say, interpret the villains that they've been admiring, and make themselves in their image and attack our two guys, Jon and Damian, Superboy and Robin.
In terms of the battle against the Gang, we'll be bringing to the stage some iconic DC characters in some incredibly strange ways. During the series, they're going to go to "genre planets," so there'll be a western planet, a war planet, a romance planet. Warped DC iconic characterizations will exist there—Western characters, Jonah Hex-types, Haunted Tank, a House of Mystery planet with weird aberrations of Cain and Abel—so there'll be some really cool adventures as they journey across these planets.
Paste Magazine: Before this new volume kicks off, you've got a Dyno-Mutt and Blue Falcon crossover special, and it's heavier than fans might be expecting. Were you a big Hanna-Barbera fan growing up? What influenced your decision to skew so serious with the characters?
Tomasi: Well, I definitely was a big Hanna-Barbera fan. I don't know how anyone growing up in the '70s and '80s can't be a Hanna-Barbera fan. Back in the day, when there were approximately eight channels on television, the Saturday-morning stuff was appointment television, without a doubt, with a nice box of Frosted Flakes and cold milk.
The theme of the story is dealing with a death, and how young kids are introduced to that, sometimes, based on family members passing away. So death is this weird, strange thing, and I wanted to approach that and see how the Super Sons would react to that scenario, and it spreads out to a big action-adventure, and explores those themes through Blue Falcon and Dyno-Mutt too. And the reason we went dark on it was because, when I was on the phone with Dan DiDio about it, when he offered me the job, he said look, you've seen the stuff we've been doing with the Hanna-Barbera stuff, so you can go dark on this and really explore some darker themes with the boys on this issue. And at the same time, we want these Hanna-Barbera characters, Blue Falcon and Dyno-Mutt, to also be explored from another angle with some darker themes. And I said all right, I'll give it a shot. I was incredibly happy with it because I think Fernando Pasarin just drew the hell out of that issue. In my mind, Fernando is one of the most underrated artists in the business. He's just a phenomenal storyteller and the amount of detail and heart he pours into each panel is just amazing. He's always funny, saying, "I don't think I did my best work here, I'm sorry I let you down," and I look at the page and think, Oh my god, this guy is insanely talented. He's bringing his A-game to every line in the book.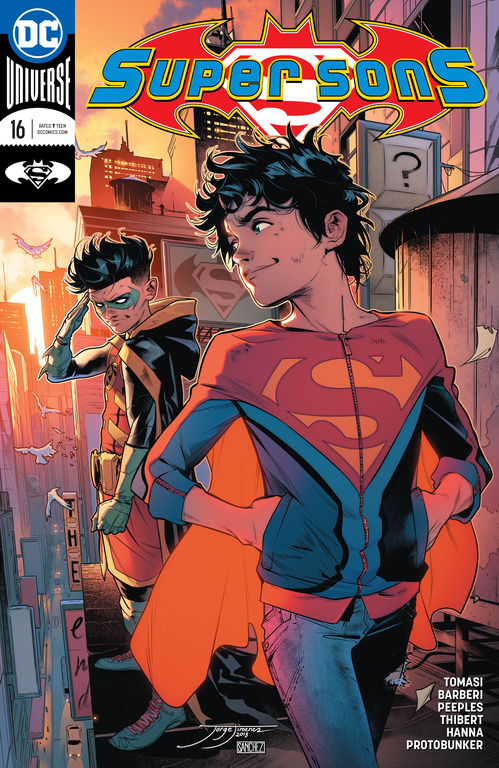 Super Sons #16 Cover Art by Jorge Jiménez & Alejandro Sanchez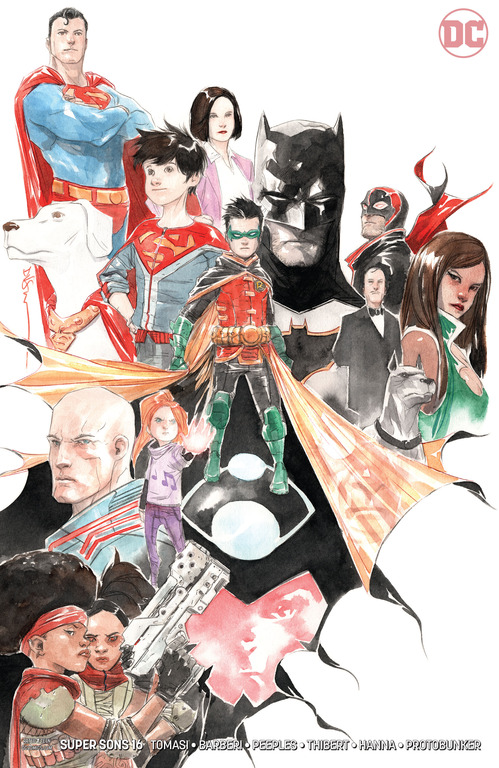 Super Sons #16 Variant Cover Art by Dustin Nguyen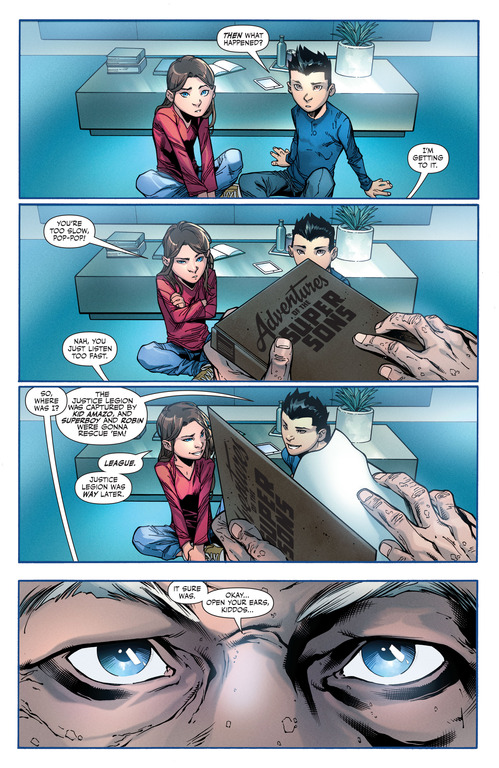 Super Sons #16 Interior Art by Carlo Barberi, Brent Peeples, Art Thibert, Scott Hanna, Protobunker & Rob Leigh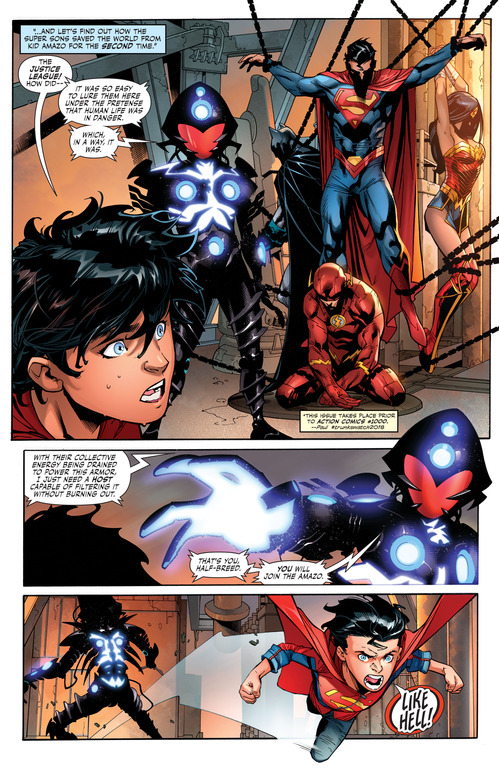 Super Sons #16 Interior Art by Carlo Barberi, Brent Peeples, Art Thibert, Scott Hanna, Protobunker & Rob Leigh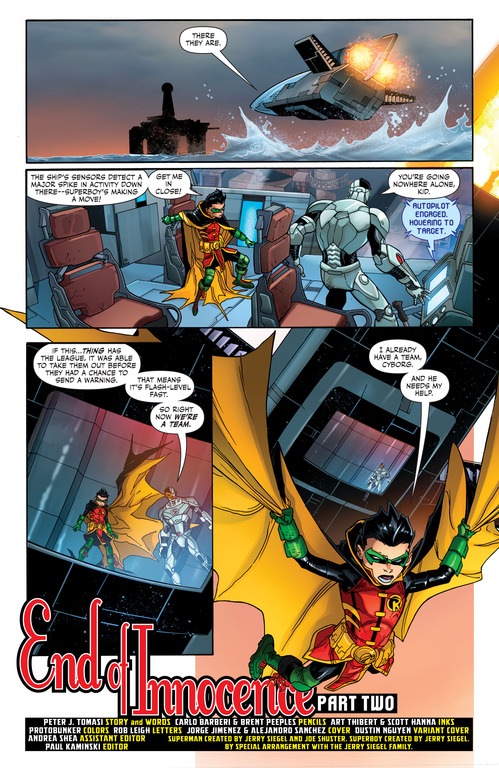 Super Sons #16 Interior Art by Carlo Barberi, Brent Peeples, Art Thibert, Scott Hanna, Protobunker & Rob Leigh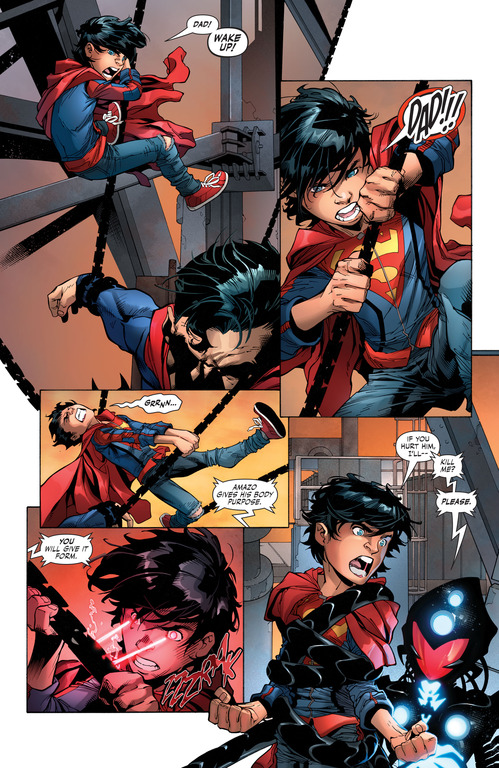 Super Sons #16 Interior Art by Carlo Barberi, Brent Peeples, Art Thibert, Scott Hanna, Protobunker & Rob Leigh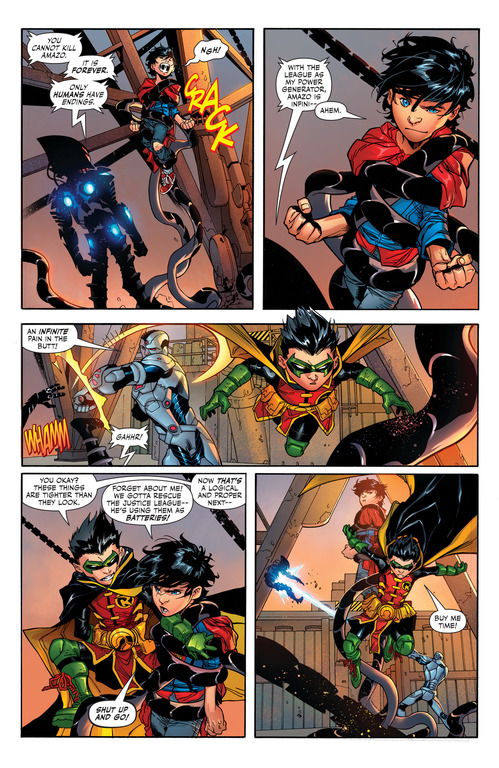 Super Sons #16 Interior Art by Carlo Barberi, Brent Peeples, Art Thibert, Scott Hanna, Protobunker & Rob Leigh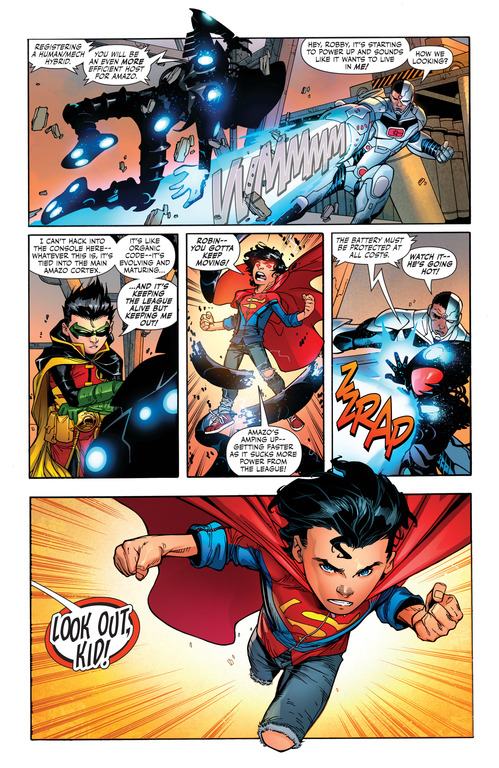 Super Sons #16 Interior Art by Carlo Barberi, Brent Peeples, Art Thibert, Scott Hanna, Protobunker & Rob Leigh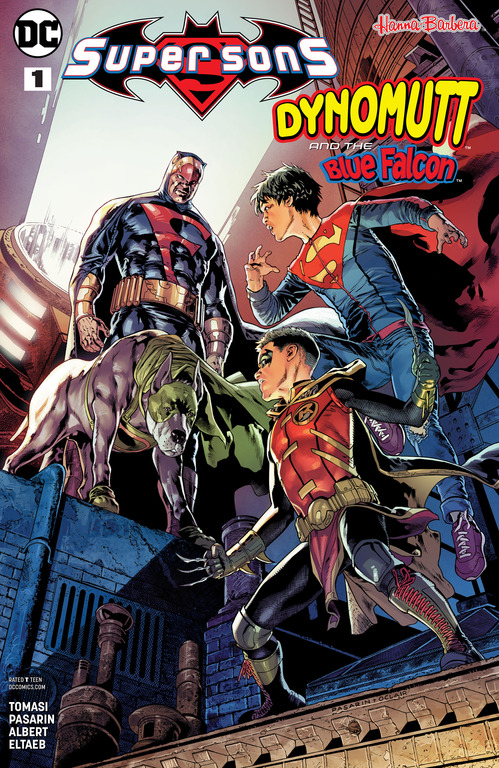 Super Sons/Dynomutt Special #1 Cover Art by Fernando Pasarin, Oclair Albert & Romulo Fajardo Jr.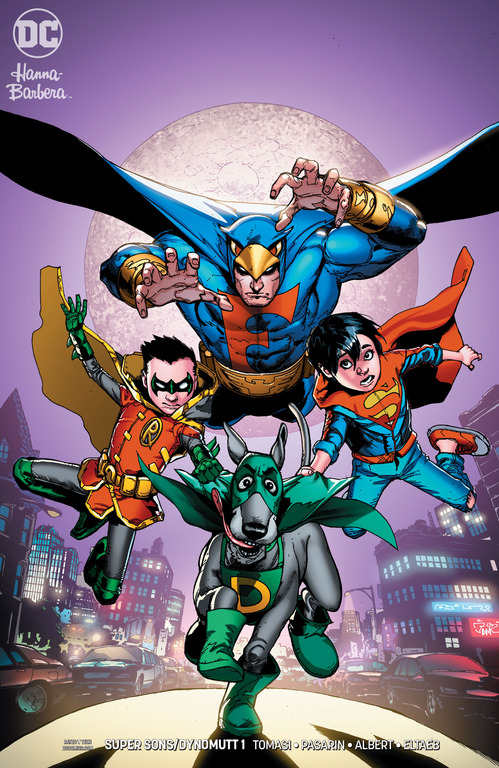 Super Sons/Dynomutt Special #1 Variant Cover Art by Doug Mahnke & Wil Quintana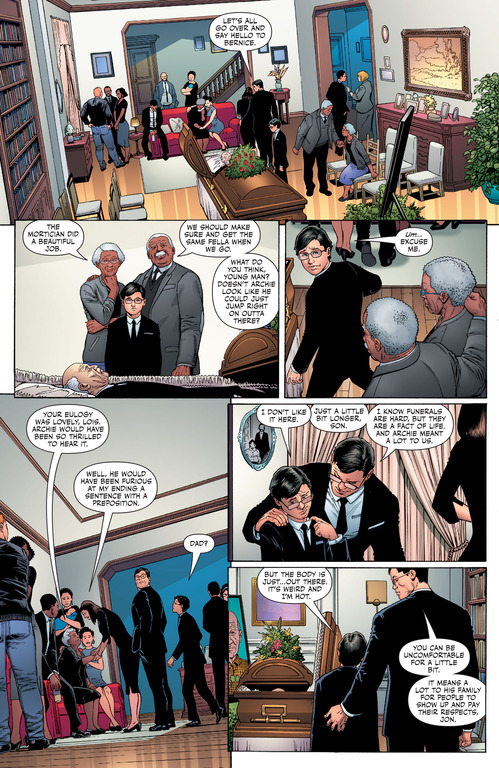 Super Sons/Dynomutt Special #1 Interior Art by Fernando Pasarin, Oclair Albert & Gabe Eltaeb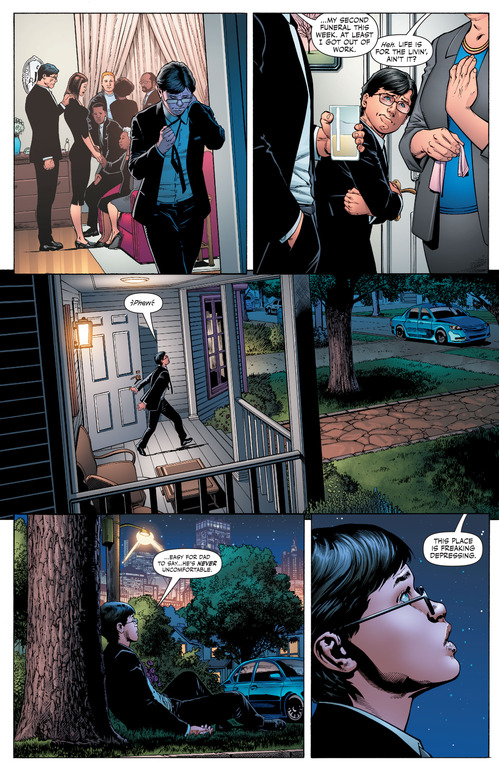 Super Sons/Dynomutt Special #1 Interior Art by Fernando Pasarin, Oclair Albert & Gabe Eltaeb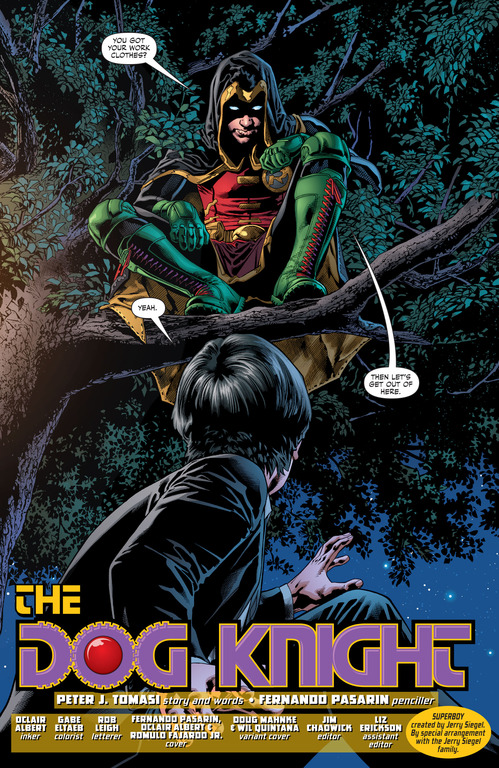 Super Sons/Dynomutt Special #1 Interior Art by Fernando Pasarin, Oclair Albert & Gabe Eltaeb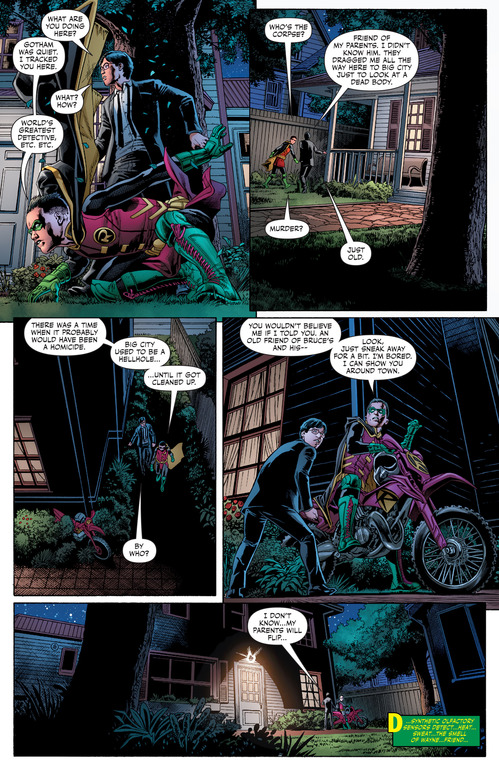 Super Sons/Dynomutt Special #1 Interior Art by Fernando Pasarin, Oclair Albert & Gabe Eltaeb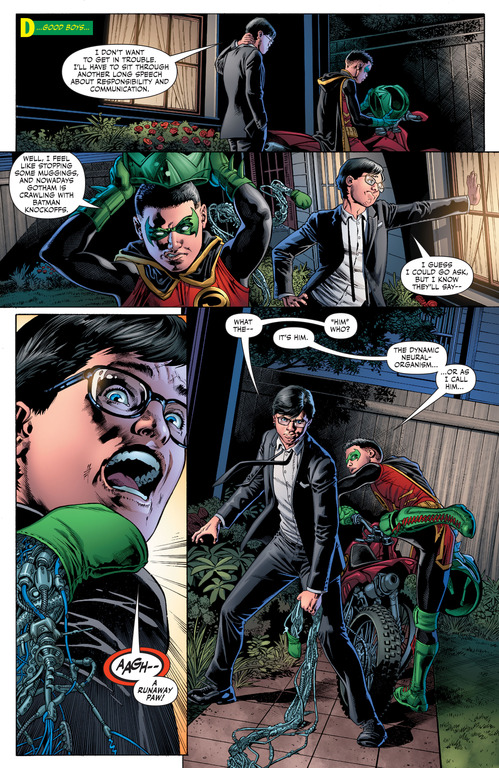 Super Sons/Dynomutt Special #1 Interior Art by Fernando Pasarin, Oclair Albert & Gabe Eltaeb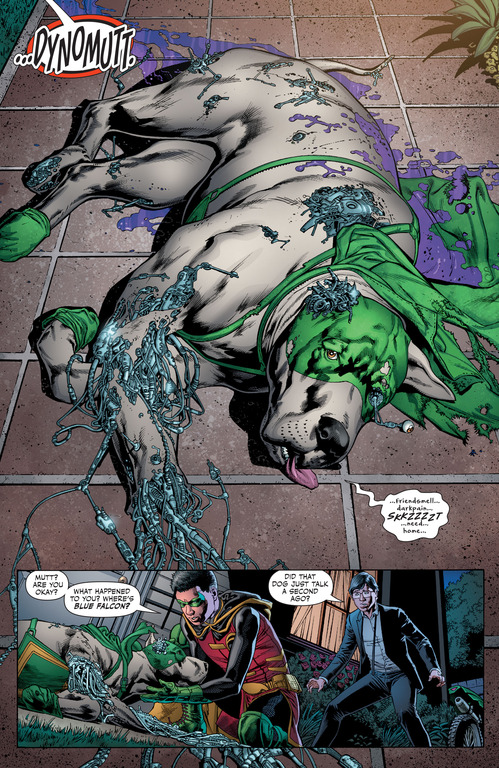 Super Sons/Dynomutt Special #1 Interior Art by Fernando Pasarin, Oclair Albert & Gabe Eltaeb