Image Expo Exclusive: Rick Remender & Jerome Opeña Pit Men Against Gods in New Fantasy Comic Seven to Eternity
Comics
Features
Rick Remender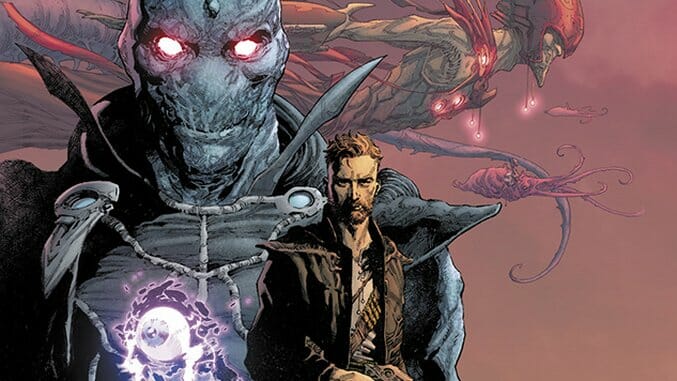 Moments ago in Seattle at Image Expo 2016, Rick Remender announced Seven to Eternity, a blisteringly ambitious take on the fantasy genre illustrated by Jerome Opeña and colored by Matt Hollingsworth. The project chronicles the adventures of a dying knight, Adam Osidis, who sets out to slay the insidious God of Whispers—a musical demon deity who manipulates humanity and conjures snake-wolf hybrids from the earth. Like the inhabitants of this new world, Zhal, we're all ears.
The series marks the fifth original property Remender has recently erected at Image Comics, following the surreal sci-fi dystopias of Black Science, Low and Tokyo Ghost and the '80s grindhouse Bildungsroman in Deadly Class. Seven to Eternity is also an Image Comics reunion for Remender and Opeña, who worked together on the comic Strange Girl before collaborating on Fear Agent, Punisher, Uncanny X-Force and Avengers: Rage of Ultron.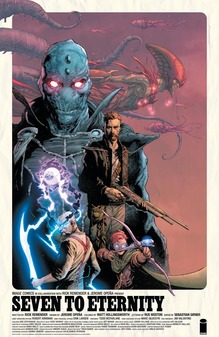 Outside the red tape of established properties, Opeña and Remender are embracing the creative freedom of this infant fiction. Opeña cites the surreal escapism of Moebius (Metal Hurlant) as a key inspiration, while Remender is creating a unique take on the genre, filled with unconventional powers and a supernatural spiritual ecosystem. Matt Hollingsworth, whose colors have graced projects as diverse as Matt Fraction and David Aja's urban epic Hawkeye to Scott Snyder and Jock's feverish horror opus Wytches, lends shocking blues and sunrise gradients to Opeña's chiseled line work.
Though we'll have to wait till fall for the first issue, Paste discussed the new comic with Remender and Opeña, who were kind enough to share this exclusive preview featuring an electric blade-welding warrior and the most devastating flute solo you'll encounter outside an office elevator.

Paste: Rick, you've been seeding a series of new sci-fi/fantasy worlds with Black Science, Low and Tokyo Ghost. What does Seven to Eternity allow you to explore that those other titles don't?
Rick Remender: Well, none of those are strictly fantasy in the way Seven to Eternity is. Our story takes place in Zhal, a world where spirits inhabit all energy, and a gifted few can access those spirits. The laws of the world are based around this and offer us unlimited ways to create characters with strange and never-before-seen-powers based on this unique fuel source.
Paste: Seven to Eternity is described as a modern fantasy. How do you define fantasy? What attracted you to the genre as you see it?
Remender: There is no science in this world, simply those who can access the spirits within all energy and those who cannot. So I'm not locked down by the natural laws of our world; we're creating a strange place with its own set of rules. This allows us to deeply develop the characters and their connection to Zhal. It's modern simply in that it is a wholly new approach to this type of world, with few of the same tropes one comes to expect from fantasy. No dragons or wizards—new classifications, new power sets, new, new, new. "Marcia, Marcia, Marcia."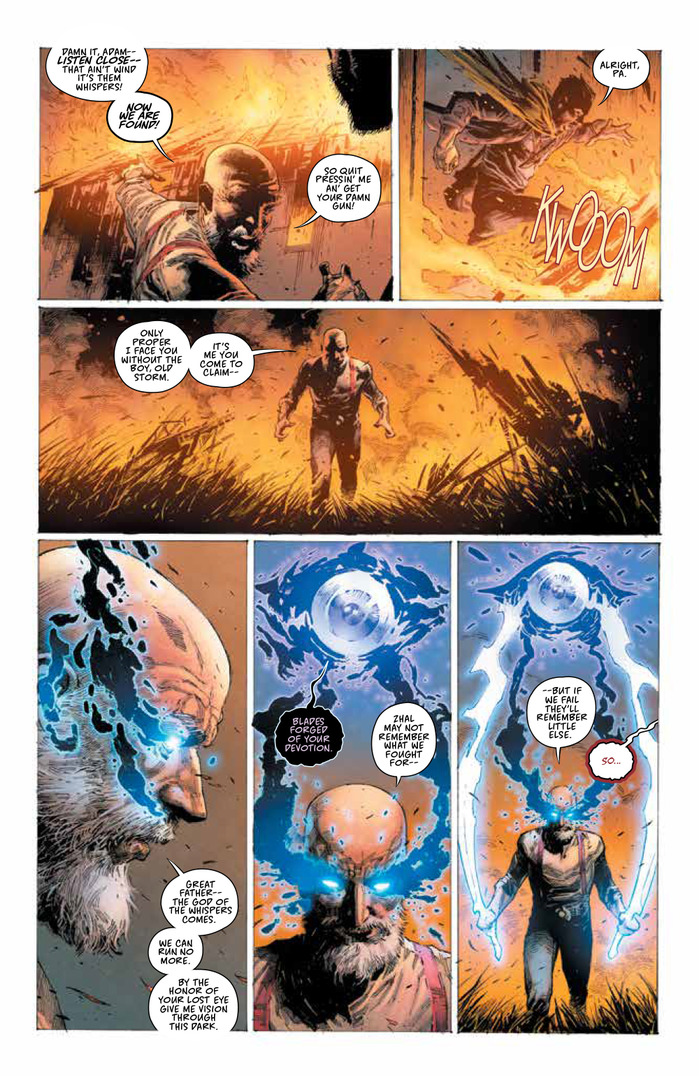 Seven to Eternity #1 Interior Art by Jerome Opeña and Matt Hollingsworth
Paste: The comic features an antagonistic God who "spreads an omnipresent paranoia to every corner of the kingdoms." How much does this comic serve as a reflection of your own views toward religion and society? Are either of you religious?
Remender: I am agnostic in that I do not believe in any man-made religion. I do not believe that man has any answers; I also do not believe that man understands the nature of life and can make a determination if there is more to this than what we can see. I'm the kind of person that doesn't make a determination without a mountain of evidence, and in this case, there is no evidence supporting any of it. However, the main idea we're exploring with the God of Whispers is the power one can wield with fear and paranoia. Why have a standing army when you can simply incite someone else's army to revolt based on lies and misinformation? There's more power in a whisper than there is in a scream. And our villain is the master of manipulating people's fear and paranoia, knowing exactly what campaign of whispers is needed to achieve domination.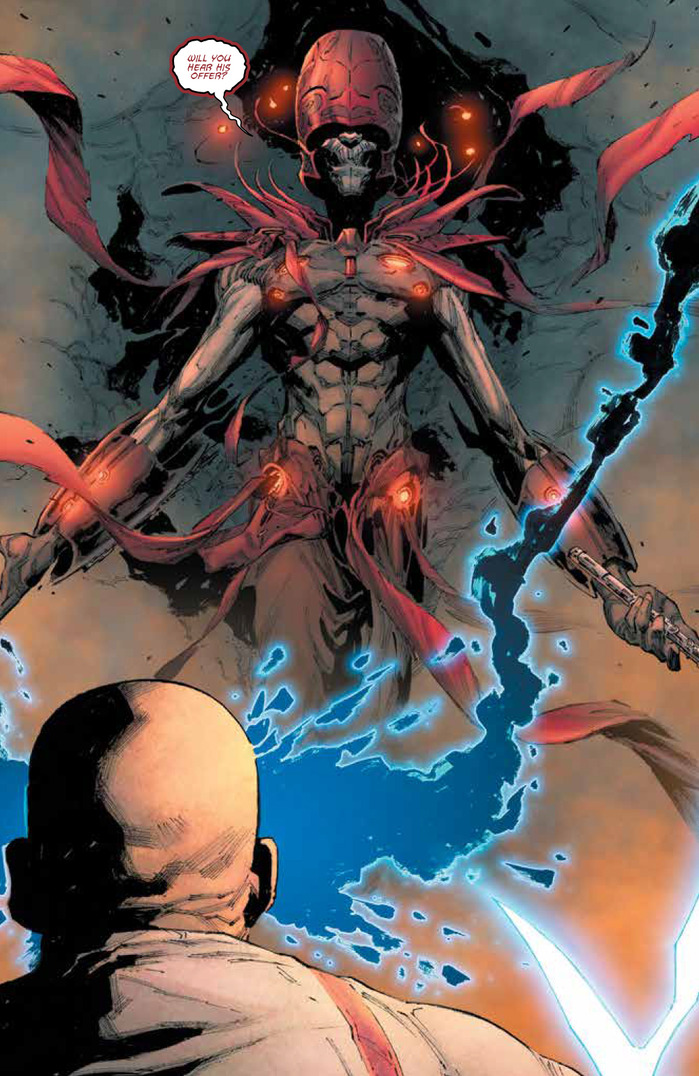 Seven to Eternity #1 Interior Art by Jerome Opeña and Matt Hollingsworth
Paste: Looking at what you're doing to Marcus in Deadly Class, I can't fathom the cost of one of your characters fighting an entire belief system. What's Adam up against? How dark are we going here?
Remender: If I had to write the book a rating, it's a PG-13. It's far less graphic than my other books, but in terms of how dark we go I'd hate to show my hand at this point. I think the tonality of the series is high adventure in a fantasy world with high stakes. Adam is trying to combat someone who has a spy in every house in Zhal. Everyone is afraid of The God of Whispers, disproportionate to his power even. But that's going to make Adam's task considerably difficult. As the famous Zhal motto goes, "Trust no living thing."
Paste: Jerome, more than many other genres, fantasy tends to have a conservative visual language, largely founded on Le Morte D'Arthur and the work of J.R.R. Tolkien. How traditional is your approach to this comic? If not, how are you innovating upon it?
Jerome Opeña: I don't think the visual approach we've been taking with this book has really been traditional. It might be because the story morphed a lot from when we were first coming up with it to where it is now, but also because we wanted to try to do something a bit different. That said, there are definitely some elements that are grounded in the tradition of the fantasy genre (some of the weapons, clothing, etc…), and we did look at artwork from greats like [Frank] Frazetta, but the core visual inspiration we took for the book was Moebius' work. Both Rick and I are huge fans (but then again, who isn't?), so the main influence of the book visually was more of a strange science fiction look with the hopes of merging that with the more traditional visual elements of the fantasy genre.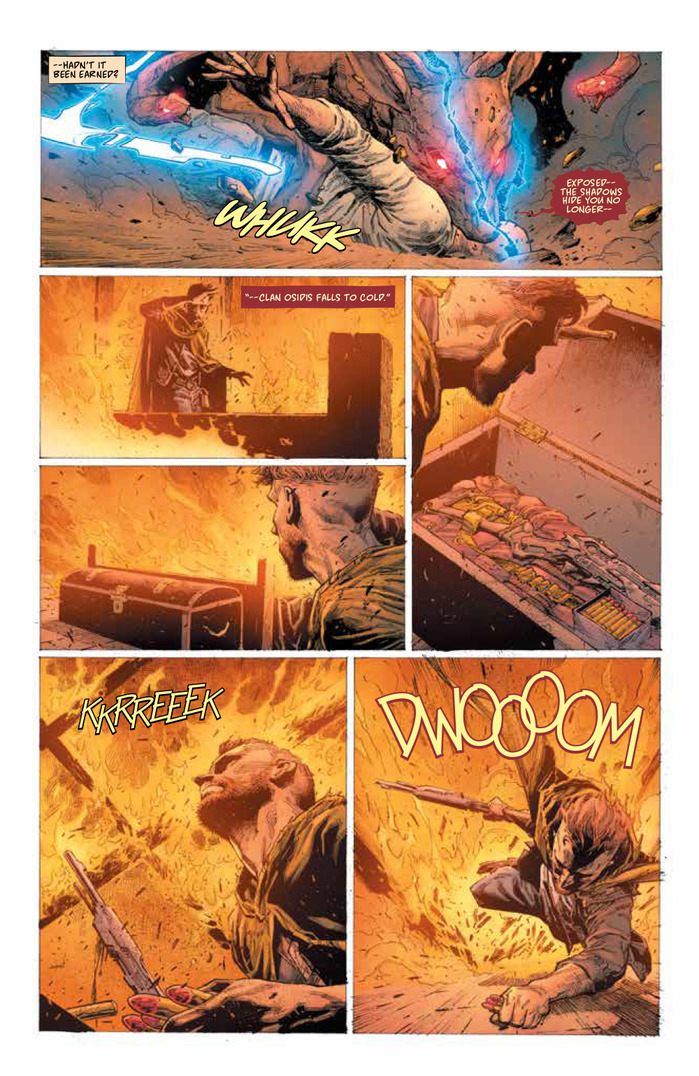 Seven to Eternity #1 Interior Art by Jerome Opeña and Matt Hollingsworth
Paste: How do you visually channel the power of a god? What art techniques can you apply to elevate a being past a super-villain to a near-omnipotent evil?
Opeña: Honestly, it's still pretty early in the story, so I haven't had to really depict anything amazingly godly yet. Maybe if you get back to me in the future I'll be able to give you a better answer.
Paste: How would you describe your collaboration with colorist Matt Hollingsworth on this project?
Opeña: Matt is the consummate professional and is one of the best working in the industry, so having him on the book has been amazing. I've never worked with Matt before, but the transition of collaborating with someone new has been a really smooth one for me, and I hope for him as well. We're all extremely lucky to have him on the project.
Paste: You [and Rick] have been working together for more than ten years, starting with Strange Girl and Fear Agent. How would you describe your creative chemistry? How is your collaboration evolving with this new comic?
Opeña: I would like to think that we bring out the best in each other just like Hall & Oates did. Hahaha! It helps that Rick is actually a real friend and not just someone I collaborate with, but I certainly feel like I do my best work when I'm on a project with him. As for how our collaboration has evolved, I think the main difference this time around is that since the book is all ours with no established characters or mythology, we both had a huge hand in creating and building the world together from the ground up, right from the very beginning.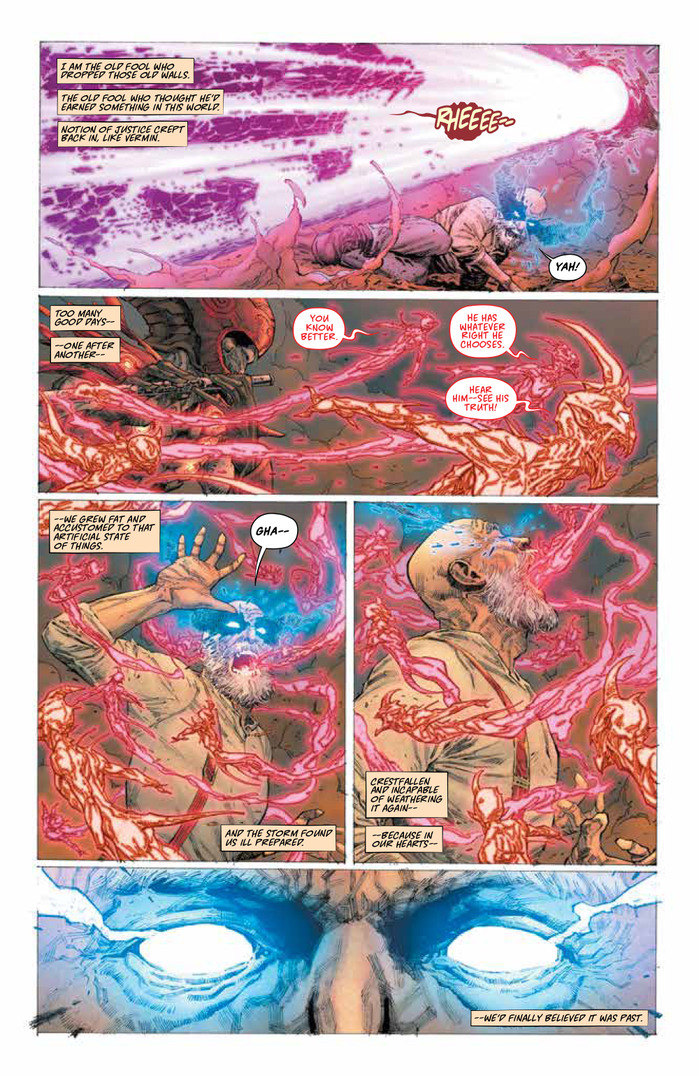 Seven to Eternity #1 Interior Art by Jerome Opeña and Matt Hollingsworth