Authentic Trans & Nonbinary Representation in Comics Requires More Than Just a Plot Twist
How The Backstagers' Beckett Blazes a New Trail for Trans Comic Characters
Main Art by Jamal Campbell, Rian Sygh & Eryk Donovan
Comics
Features
The Backstagers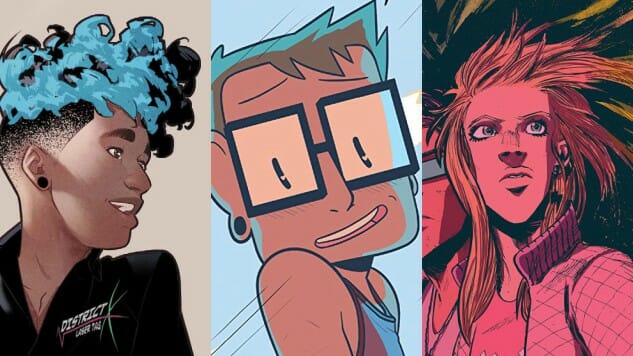 The first time I encountered a trans man in comics, it was in an issue of Alex di Campi and Carla Speed McNeil's No Mercy centered around the experience of being shipped off to a conversion therapy camp by their parents. That's not exactly light reading, but when you're a reader from a marginalized group hungering for any fleeting glimpse of yourself in mainstream media, there's a sense of obligation that you've got to lift up everything, even when it stings. I reflect on this issue with surprising frequency, and just as frequently find myself struck by how strange it is that, if I'd been able to wait for just three months more, my first experience with a trans masc character might have been with the one who remains my absolute favorite to this day.
The Backstagers is so profoundly different from No Mercy that beyond sharing a limited demographic, there are zero comparisons. That's the odd conundrum of chasing after representation in a small medium, though: comics that have no business sharing a conversation often do, by virtue of their effort to include a character or two from the same community. Co-created by series artist Rian Sygh and writer James Tynion IV, The Backstagers is a joyful and sometimes spooky comic—soon to be a middle-grade book series written by Broadway performer Andy Mientus with illustrations from Sygh—about a ragtag band of theater kids and the mysterious, magical realm that helps them bring productions to life on stage. I love all of these characters equally, but Beckett a little more: the tech-savvy genius with a tight grip on all things electronic in the all-boys St. Genesius school theater, who we later discover is a transfer student from St. Genesius' all-girls sister school.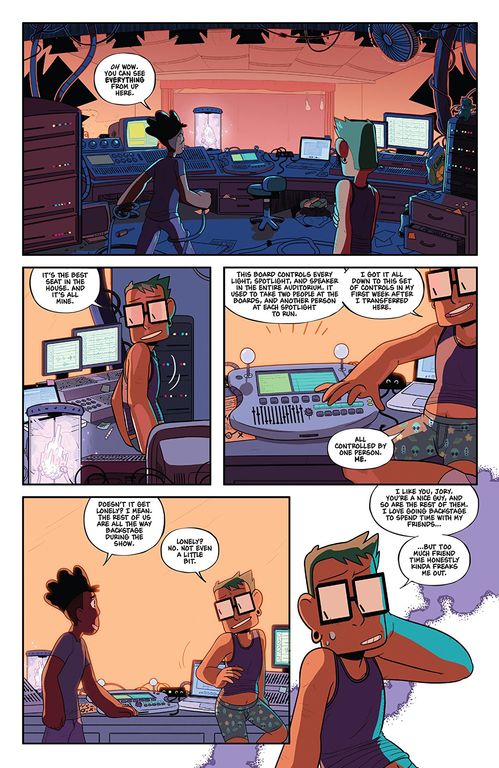 Backstagers Interior Art by Rian Sygh & Walter Baiamonte
Beckett is never necessarily revealed as trans in The Backstagers the way most readers come to expect with trans characters. From Alysia Yeoh in Gail Simone's Batgirl to No Mercy or more recent works like AfterShock's Alters, there's an element of surprise often associated with these moments, particularly in media from cis writers (though Alters colorist Tamra Bonvillain, a trans woman, is heavily involved in the creative process for that book). I seem so normal, you never would have guessed. Trans stories primarily guided by cis writers often center around trans identity in ways that are easiest for cis writers to grasp, giving us those moments of too normal to tell, or stories about bigotry and discrimination. There's a subtle undercurrent at times that the real trans struggle is just surviving long enough for no one to be able to tell we're trans anymore, with no exploration of the ambient hiccups of transition.
That's not to say there's no place for stories about struggling, but instead, that the perception of that struggle is wildly different between the person experiencing it and the person on the outside, wanting to help. Supergirl #19, co-written by series writer Steve Orlando and guest writer Vita Ayala, introduces a nonbinary character in Lee Serano. Newly out to themselves and struggling to work out how to begin sharing their identity with others, Lee faces bullying and an uncomfortable home life that will feel familiar to a number of queer readers. But by elevating the voice of Ayala, a nonbinary writer, there's a level of authenticity here that strips away the element of playing voyeur to another community's struggles. There are nuances in Supergirl #19 that are often missing from trans and nonbinary stories—perhaps most importantly that exploring your gender isn't necessarily about flipping a switch that makes you instantly recognizable as "someone new," but creating a family of people who will tell you, no matter what about you changes, that you are valid.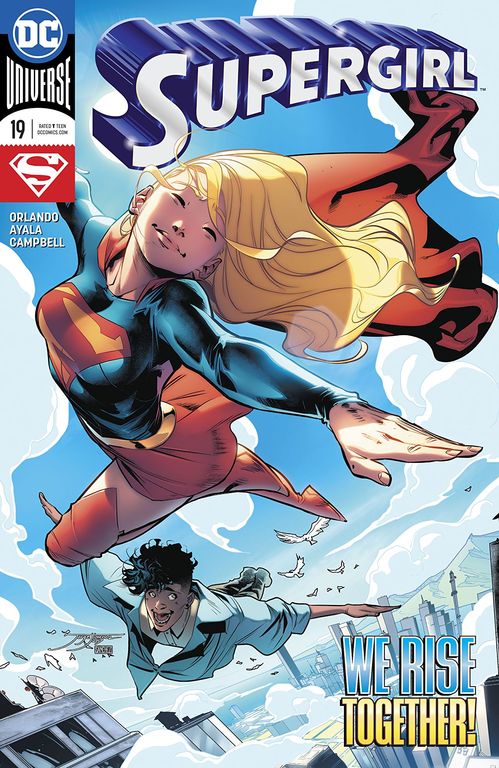 Supergirl #19 Cover Art by Jorge Jimenez & Alejando Sanchez
As a visual medium, that validation in comics is often offered by drawing trans characters as indistinguishable from cis characters of the same gender, with few other visual markers that could indicate they ever looked any different than they presently do. Many, many trans folks want and find the means to pass. It's both personally affirming and a matter of safety. But much like Blaze, Sophie Campbell's original character for IDW's Jem and the Holograms relaunch, Beckett is endearing and relatable because he doesn't have a generic "boy" shape. (It's worth noting Sygh and Campbell both go out of their way to embrace body diversity across the gender spectrum, too.)
Beckett appears in a binder and is shorter than most of the other Backstagers, and even shorter than his crush, Bailey Brentwood, the coolest girl in the world (something very exciting to me, at 5'6"). The Backstagers doesn't shy away from details that make it clear Beckett wasn't always the Beckett of today, but there's never a moment where it's painted as a startling revelation. They're presented as ambient details of Beckett's life that, while important, have no bearing on any character's perception of Beckett as a backstage boy.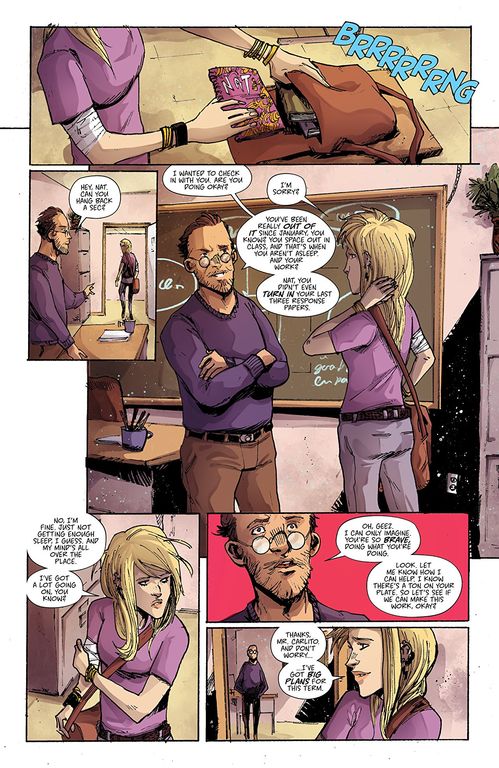 Quantum Teens Are Go Interior Art by Eryk Donovan & Claudia Aguirre
Magdalene Visaggio and Eryk Donovan's Quantum Teens Are Go explores the flipside of these details; where for Beckett, they're acknowledged as history but never turned against him, QTAG's Natalie finds herself working to escape a house littered with mementos of the child her mother wishes had never left. Much like The Backstagers, Quantum Teens Are Go isn't a story about a trans character or even necessarily about transition, but that the reality of who folks thought we were before transition is often inescapable. There's a moment where Nat walks down the staircase of her old house, and Donovan makes photos of a younger Nat prominent in the frame. Paired with her mother's lamentations for the changes in Nat's life, it captures that air of stifling disappointment that can plague a person whose family's support is anything less than full-throated. It's a tiny touch that captures a sharp fear that accompanies transition: on top of everything else, the medical and legal struggles, trans panic laws and open bigotry, there will always be people you once considered close prepared to weaponize their memories of you to keep themselves comfortable.
Trans and nonbinary creators should not be expected to shoulder the burden of being the only creators putting trans and nonbinary characters out into the world, nor should they be responsible for offering insight into all facets of our experiences; as with any piece of media, a room full of trans and nonbinary readers might look at these comics and react differently to each of them. But there's more to our experiences than struggling, and more to our struggling than bald-faced transphobia. Details that seem small—somebody's height, the shape of their hips, the photos around the house, a gripe about medicine or even the glimpse of a binder under a character's shirt, like Koi Boy in Ryan North and Erica Henderson's The Unbeatable Squirrel Girl, is a fleeting, tiny moment that can elevate something from reading like a token press-friendly moment to feeling as if the creators made a genuine effort to deliver a character as three-dimensional as their cis counterparts.
I regret that I couldn't have read The Backstagers a little sooner. Beckett is vital to me. He's me, when I was a kid, the kid I could have been if I was afforded the chance to just be a boy. But he'll be some other kid's introduction to themselves on the page. For cis writers, there's a thrill to having a hand in the first trans or nonbinary character in a major media property. But if it's the first time someone's writing it, it's going to be the first time someone's finding themselves on the page. Consider the kindness a cis creator could do for that reader by using these opportunities to deliver something authentic and hopeful for the audience whose experiences they're borrowing—a story that shows kids they can grow up to be happy and healthy, instead of just someone else's teaching moment.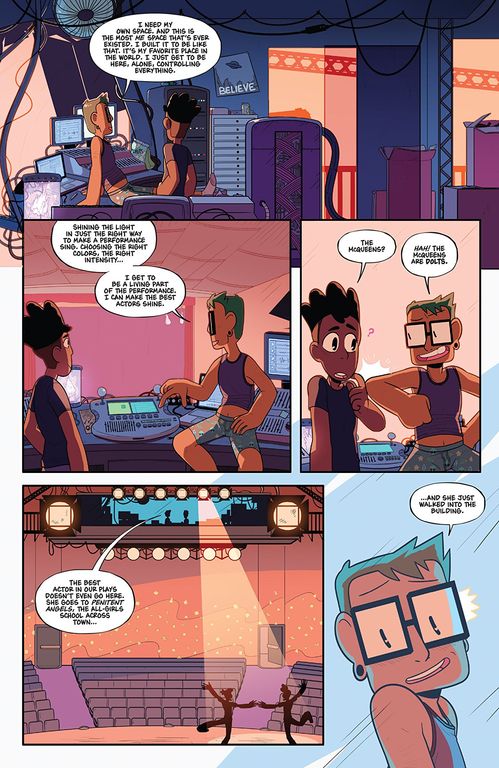 Backstagers Interior Art by Rian Sygh & Walter Baiamonte
C.K. Stewart is a freelance writer covering comics, wrestling and wrestling comics, in no particular order. He can be found tweeting about all of these things @ckayfabe.