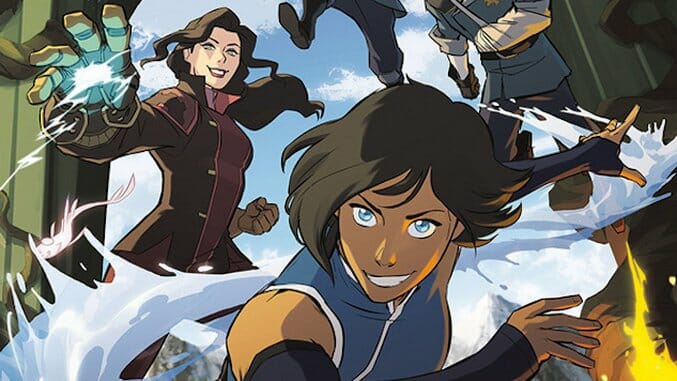 The Legend of Korra ended with one of the most well-loved (and talked-about) finales in recent memory, but most fans are still clamoring for more adventures with Korra, Asami and the rest of the gang.
Now they're getting that wish, with Dark Horse Comics announcing The Legend of Korra: Turf Wars, a three-part graphic novel series that will serve as a sequel to the TV show.
Turf Wars follows Korra and Asami as they return to Republic City to find the triads have realigned and a developer is planning on turning the spirit portal into an amusement park, threatening relations with the spirit world. The series will continue developing Korra and Asami's relationship as they learn to work as a team.
Turf Wars is being written by series co-creator Michael DiMartino (with fellow co-creator Bryan Konietzko serving as consultant), with interior art by Irene Koh (who, aside from her published work, has been doing Korra fan art for years), and covers by Heather Campbell.
The first book of The Legend of Korra: Turf War will hit shelves in June of 2017. You can see the first Campbell-created cover below.