Yesterday morning, GLAAD announced the nominees for the 26th Annual GLAAD Media Awards to "recognize and honor media for their fair, accurate, and inclusive representations of the lesbian, gay, bisexual, and transgender community and the issues that affect our lives."
The nominee list contains the predictable award-show mix of the expected and the confounding. Amazon's hit TV show Transparent, the controversial but crowd-pleasing tearjerker The Normal Heart­ (in the uncontested category of Outstanding TV Movie or Mini-Series) and punk rock game-changer Transgender Dysphoria Blues from scene stalwarts Against Me! are all up for trophies, as is Melissa McCarthy's universally panned "passion project" Tammy, in what is sure to be the film's only non-Razzie nomination.
The Comic Book category is stacked with excellent choices that cover a range of queer experiences, which makes this an especially painful year for GLAAD to continue to ignore the artists who work to turn these GLAAD-appreciated scripts into complete comics. Here's how the nominations are listed on the official website:
Hawkeye, written by Matt Fraction (Marvel Comics)
Lumberjanes, written by Noelle Stevenson, Grace Ellis (BOOM! Studios)
Memetic, written by James Tynion IV (BOOM! Studios)
Rat Queens, written by Kurtis J. Wiebe (Image Comics)
Saga, written by Brian K. Vaughan (Image Comics)
Including a specific "written by" field is a small step up for GLAAD, who in years past has drawn criticism for attributing comics solely to writers, without indicating that other creators were involved in the book. For an award ceremony that still primarily recognizes outstanding film and television, it's easy to see the justification GLAAD must make in excluding artists: writers traditionally conceive of characters, plots and dialogue, which make up most of what GLAAD considers the "fair, accurate, and inclusive representation" of LGBTQ characters.
For Big Two comics — Marvel and DC — it can be standard practice for writers and artists to have little to no direct contact with each other. For the first time in over a decade, though, Marvel and DC Comics haven't swept the Outstanding Comic Book category. Only Hawkeye, an infrequently-shipped book most fans favorably compare to a creator-owned series anyway, represents the Big Two. Image Comics (Rat Queens and Saga) and BOOM! Studios (Lumberjanes and Memetic) hold down the rest of the field.
Working outside of the confines of corporate characters gives creators more leeway to collaborate and bounce ideas off of one other. Brian K. Vaughan has talked often and openly about what Fiona Staples brings to Saga, and you'd be hard-pressed to find a reader who wouldn't call her contribution essential to the book's astronomical success. Lumberjanes, one of the biggest debuts of 2014, is edited by Shannon Watters, who is doubly invested as a co-creator and occasional cowriter. Even Marvel Comics has observed huge delays to allow artist David Aja to complete his part of Hawkeye, a rare practice in the monthly grind of mainstream comics.
With that in mind, below is a more accurate list of nominees, and even this doesn't include the letterers, production designers, and editors who contribute directly to the finished product. Feel free to steal this, GLAAD — I don't mind not being credited.
Hawkeye, written by Matt Fraction; drawn by David Aja, Annie Wu and others; colored by Matt Hollingsworth (Marvel Comics)
Lumberjanes, written by Noelle Stevenson, Grace Ellis, and Shannon Watters; drawn by Brooke Allen, Brittney Williams and others; colored by Maarte Laiho and others (BOOM! Studios)
Memetic, written by James Tynion IV; drawn by Eryk Donovan; colored by Adam Guzowski (BOOM! Studios)
Rat Queens, written by Kurtis J. Wiebe; art by Roc Upchurch (Image Comics)
Saga, written by Brian K. Vaughan; art by Fiona Staples (Image Comics)
Artistic oversights aside, it's a solid field of contenders, and one that's notable for recognizing quieter portrayals of queer characters, compared to previous years' winners like Greg Rucka, J.H. Williams III and Dave Stewart's Detective Comics run, which featured Batwoman's highly emotional military discharge under "Don't Ask, Don't Tell."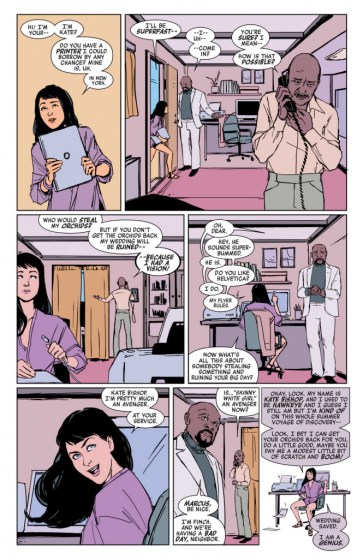 Critical darlings Hawkeye and Saga both featured gay couples as supporting characters in 2014. Annie Wu illustrated Matt Fraction's story of Kate Bishop holed up on the West Coast with a pair of same-sex newlyweds, and Brian K. Vaughan and Fiona Staples proved that anti-gay hysteria is alive and well, even in the fantastical cosmos of Saga.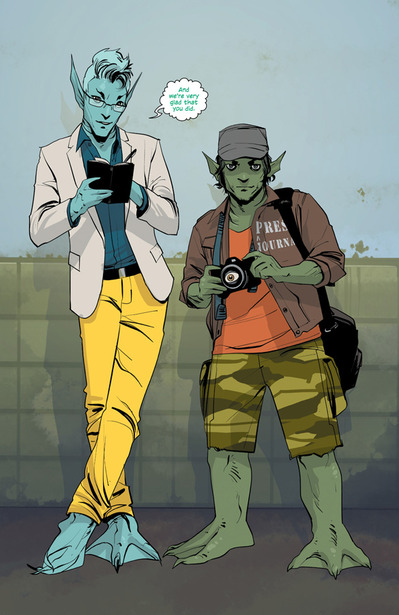 New titles Memetic and Rat Queens both covered genres historically unfriendly to LGBTQ characters. Young, out writer James Tynion IV tackled gay characters in the X-Men and Batman universes this year alongside the gay protagonists of his millennial horror story Memetic, while spunky fantasy title Rat Queens ended 2014 on a shaky note after original series artist Roc Upchurch was arrested for domestic assault. Though her contribution doesn't fall under this calendar year, guest artist Tess Fowler stepped in for January to illustrate a spotlight on the fierce orc warrior Braga; the book will soon continue the exploits of four badass women (one of whom is three feet tall and sleeps with women) with new series artist Stjepan Šeji?.
BOOM! Studios' breakout all-ages hit Lumberjanes is notable not just for its several queer female creators, but also for the sweet, supportive same-sex relationship between two of its young campers. Molly and Mal exist in a world full of monsters, gods, prophecies, pet raccoons and unconditional acceptance, and Lumberjanes is definitely the nominee most likely to end up in the hands of young readers coming to terms with their own sexuality.
It's worth pointing out that only one of the nominees features a prominent trans character, in a year that saw both progress and controversy surrounding trans representation in comics. GLAAD could have easily chosen to recognize Kieron Gillen, Jamie McKelvie and Matt Wilson for The Wicked + The Divine, the fan-favorite Image Comics title that features a no-nonsense, skeptical trans journalist as one of two (probably) human perspectives among a host of reincarnated gods more interested in sexual pleasure than sexual preference. Much like the creative team's (GLAAD Media Award-winning) run on Marvel's Young Avengers, WicDiv has a refreshing "Everyone's a bit gay, get over it" vibe, where the female protagonist can crush on a Kanye analogue right after she discovers he has a boyfriend, and a female-bodied Lucifer can sleep with, well, everyone, apparently. Shutter from Joe Keatinge, Leila del Duca and Owen Gieni also features a prominent, 3-dimensional trans character in Alain, protagonist Kate Kristopher's best friend.
GLAAD also could have given a nod to former Batgirl scribe Gail Simone, who left the book halfway through the year after disagreements with the outgoing editor. Under her pen, Gail (along with a rotating crew of artists) introduced Batgirl's trans roommate Alysia Yeoh, who came out in 2013. Alysia, a fan-favorite, hasn't been a regular cast member since Cameron Stewart, Brendan Fletcher, Babs Tarr and Maris Wicks took over the book. The much-hyped new run stumbled three issues in after a villain in drag garnered accusations of transphobia. Acknowledging Gail's contribution could have been an extra nod toward encouraging the new creative team, and DC as a whole, to do better.
Of course, the most frequent blank spot on GLAAD's radar comes from the literary, underground and alternative queer comics scenes. With the exception of a 2007 win for Alison Bechdel's universally praised graphic novel Fun Home, the GLAAD nominations have almost always skewed toward LGBTQ representations within the major periodical comic publishers. Smart, revelatory autobiographical comics such as A.K. Summers' Pregnant Butch (Soft Skull Press) and Diane Obomsawin's On Loving Women (Drawn & Quarterly) rarely get noticed, let alone more transgressive queer tomes like Fantagraphics' big, burly, sexy Massive: Gay Erotic Manga and the Men Who Create It.
With any luck, this year's nominations are a sign of things to come, with comics recognized for carefully considered, true-to-life representations of gays, lesbians, bisexuals, trans and queer characters instead of stunt reveals or media blitzes. And with Marvel and DC both committing much of 2015 to continuity-bending mega-crossovers, it's likely next year's list will continue to focus on creator-owned comics.
It'd just be nice if we could give the artists a little credit next time.