You might not have the space or money to add all the glamorous touches you'd like, but that doesn't mean your digs have to be dull. With an ounce of creativity, a dash of digging, a little money and, of course, some pixie dust, you can add sparkle to your small space without cluttering it or breaking bank.
1. Gold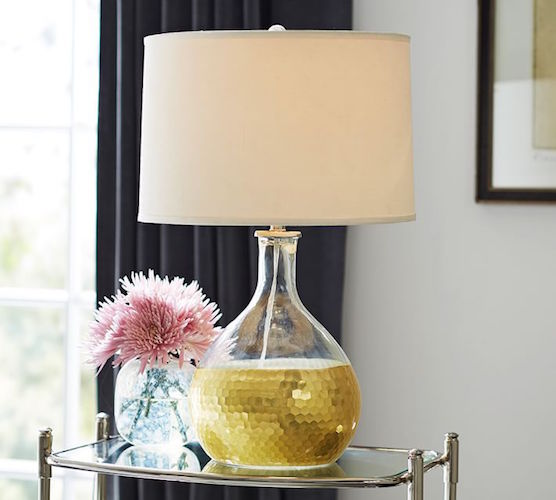 Image via Pottery Barn
Nothing says glam like gilding, so use it. Can't afford the real thing? No one will know. Whether you keep it simple with datafeedunisex%3Ahome%3Asalt_and_pepper_shaker_-5009717&amp%3Bcountry=US&amp%3Bcurrency=USD&mr%3AreferralID=6dacecd3-9dd9-11e5-b0f7-0050569451e5&gclid=Cj0KEQiAnJqzBRCW0rGWnKnckOIBEiQA6qDBap-8vldesLn_6DglqOlM0L4_hfFBF9tf-o4mObXO2SQaAnWY8P8HAQ">gold salt and pepper shakers or go bold by spray painting a wooden table gold and placing this Pottery Barn lamp|table-bedside-lamps| on top of it, a little gold goes a long way.
2. Diamonds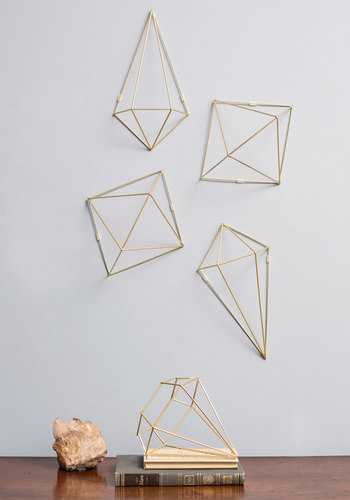 Image via ModCloth
What sparkles more than a diamond? If you can't afford to hang diamonds from your ceiling or on your wall, opt for these three-dimensional diamond-shaped wall fixtures. The gold accessories look also look great on bookshelves or tables.
3. Mirrors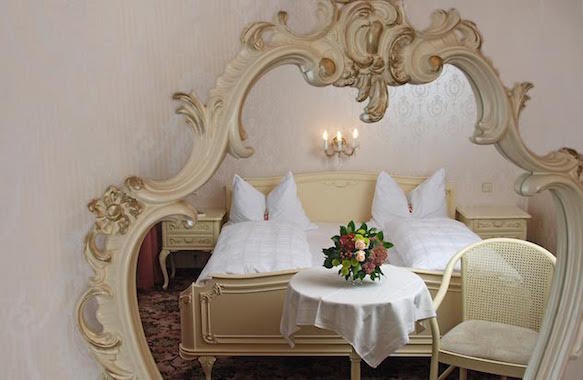 Make the space look bigger with mirrors everywhere, and with the right light, you'll get the perfect amount of sparkle.
4. Curtains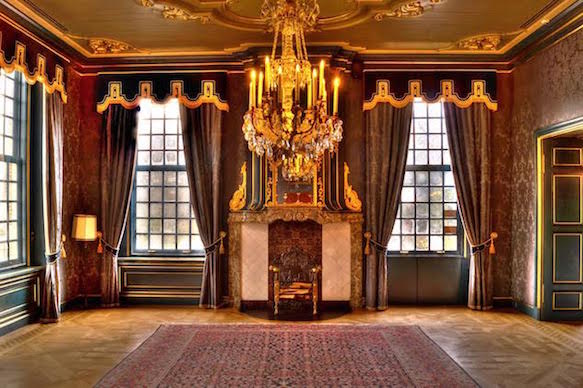 A glam goddess needs privacy, so dress your windows in dramatic floor to ceiling curtains. For a more regal type of glamour, go with jewel tones like maroon, but for Hollywood glam, go light or white.
5. Wingback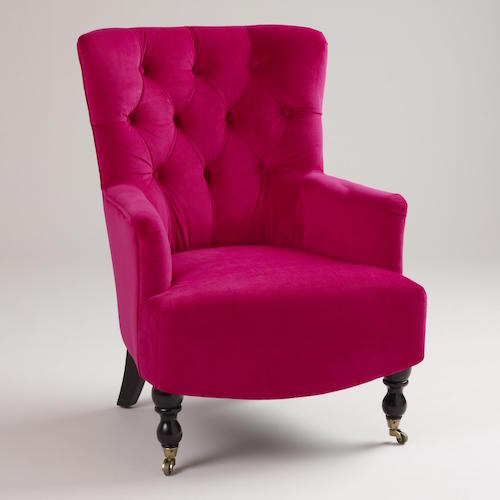 Image via World Market
Who says you have to be queen to get a throne? Skip the sectional and get a dramatic wingback chair, like this fuchsia one from World Market. For extra glamour, go tall.
6. Crystals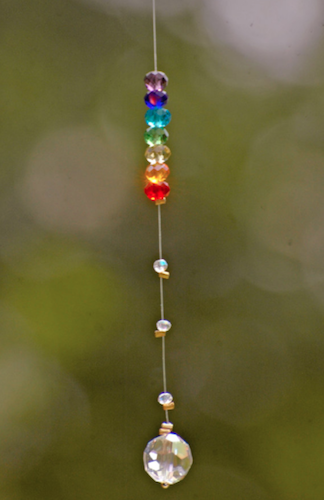 Image via Etsy/LightFeatherCreation
If you want your pad to sparkle, literally, hang a crystal from the window. For under $20, the room will sparkle any time the sun hits thanks to this accessory that catches light. Who needs fancy chandeliers?