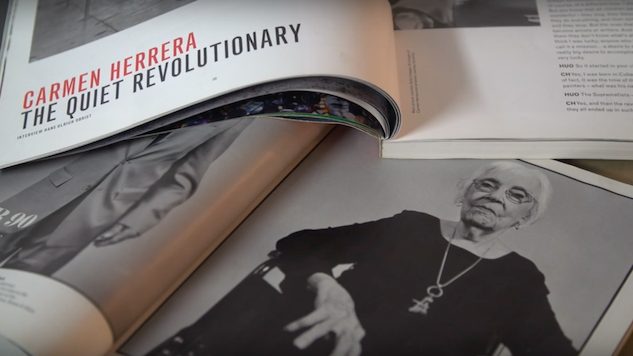 Thanks to cult favorites like Making a Murderer and Chef's Table, Netflix continues to be one of the best resources for binge-worthy documentaries. It's also great for streaming art documentaries. With a selection of art-fueled cultural commentaries and eye-opening introductions to the leading design innovators of today, Netflix will take you on a journey through the experiences of Chinese artist Cai Guo-Qiang, as he builds of an explosive ladder into the heavens, or into the daily life of one of the oldest contemporary artists working today, Carmen Herrera. These are the best art documentaries now on Netflix.
10. Dark Star: H.R. Giger's World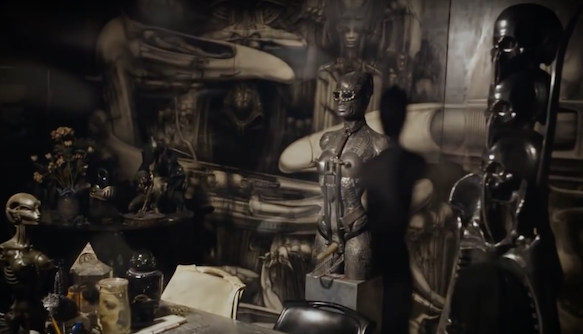 Year: 2014
Director: Belinda Sallin
If you're like us, and counting down the days until the release of Ridley Scott's Alien: Covenant (a prequel to the 1979 Sci-fi horror film Alien), then you might enjoy watching Dark Star: H.R. Giger's World. Directed by Belinda Sallin, this documentary will introduce you to the artist behind the eerie biomechanical design that has helped make these films a true, nightmarish hit: Hans Rudolf Giger. Though he died shortly after the documentary's production ended in 2014, the Swiss painter, sculptor, set designer and film director continues to be known for his surrealist creativity, even outside of the Alien universe. Granted you might not enjoy this film if you're not already a fan of Giger's work, Dark Star is a must-watch simply because it provides a rare glimpse into the mind of one of science fiction's most recognizable artists.
9. Beltracchi: The Art of Forgery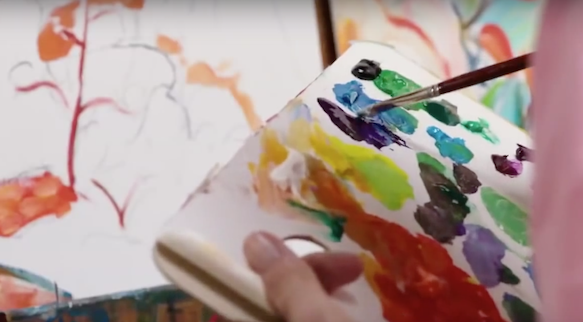 Year: 2014
Director: Arne Birkenstock
When it comes to taboos in the art world, there's nothing more prohibited than the act of forgery, and no one is more notorious (or more skillful) than German artist and art forger Wolfgang Beltracchi. Since being sentenced to prison for six years in 2011, he's admitted to reproducing hundreds of paintings over the years and being able to replicate the works of at least 50 artists. The 2014 film Beltracchi: The Art of Forgery German by Arne Birkenstock explores a different side of the art world, from Beltracchi's point of view. Was he a soulless criminal forger or simply an artist misunderstood? Watch and you'll find out.
8. The Barefoot Artist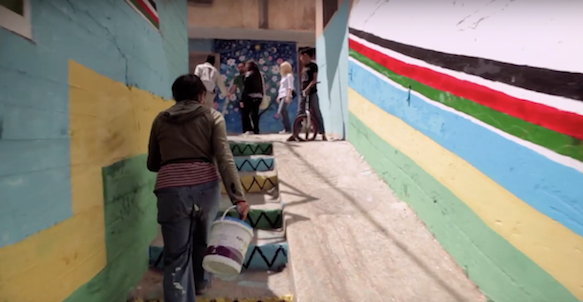 Year: 2013
Directors: Glenn Holsten, Daniel Traub
As an artist, Lily Yeh believes art to be a human right. As a community organizer, she believes it can bring people together and mend the broken spirit. Directed by Glenn Holsten and Daniel Traub, The Barefoot Artist reflects on Yeh's life as an artist, from her childhood in China to her home in Philadelphia, and the communities she has impacted over the years. Using art as a method of community building, Yeh and her nonprofit Barefoot Artists has helped countless impoverished communities in Africa, India and around the world. This film traces her years of service to helping these communities and enacting social change, as well as the personal struggles she's faced over the years; it's an honest and moving story of a woman who has spent her entire life using art as a vehicle for good.
7. How to Sell a Banksy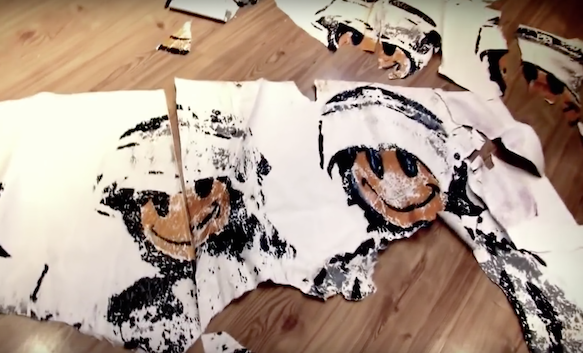 Year: 2012
Director: Christopher Thompson, Alper Cagatay
Anonymous street artist Banksy is sort of the hypebeast of the art world. His artwork pops up over night and can disappear just as fast, making it a hot commodity for those interested in making a quick dime (or half a million). Which leads us to How to Sell a Banksy, a documentary by director Christopher Thompson that highlights just how far he will go to sell a Banksy. From the streets of East London to the shadier side of dealing art, Thompson takes us along the entire process, including restoration, authentication, exhibition and everything in between. How to Sell a Banksy provide a glimpse into the exciting (and often desperate) struggle to sell art and an all-too-real introduction into the impact Banksy has in the art world.
6. Exit Through the Gift Shop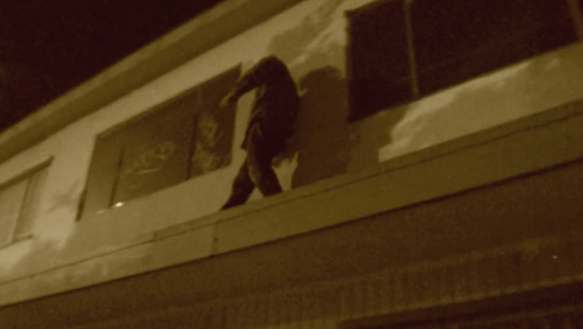 Year: 2010
Director: Banksy
Another Banksy documentary, this 2010 British documentary has caused its fair share of debate in the art slash documentary world, particularly whether or not the film was in fact directed by the anonymous street-artist Banksy. He says yes, but it's never really clear in the film if this is a genuine documentary or a mockumentary. Narrated by Rhys Ifans, Exit Through the Gift Shop follows Thierry Guetta as he explores the street art scene in Los Angeles and inevitably finds himself talking with several well-known artists, including Shepard Fairey and Banksy, who appears in true-to-form anonymity. Originally nominated for the Academy Award for Best Documentary Feature after its release in 2010, this film takes you on what feels like homemade adventure into the often-controversial world of street art that Banksy dominates—if you're a fan of either then it's right up your alley.
5. I am Sun Mu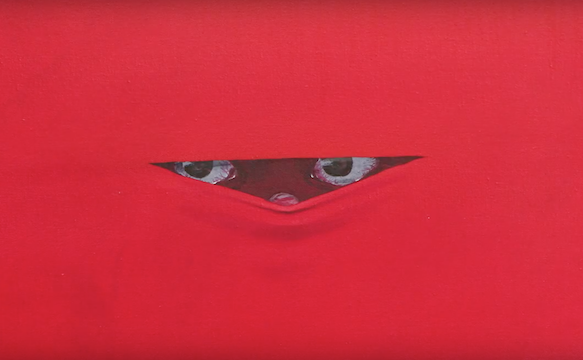 Year: 2015
Director: Adam Sjöberg
A former North Korean propagandist and subsequent defector, artist Sun Mu is known for his satirical political pop art that openly criticize the repressive Kim Jong-un. By inverting the propaganda he once painted for the regime, he smears the "Supreme Leader" with new versions that now inspires hope in place of repression and heartbreak. Living and working under a pseudonym meaning "no boundaries," he continues to face extreme danger as a defector. As perhaps one of the most exhilarating art documentaries you'll ever watch, I am Sun Mu chronicles the journey the undercover artist takes as he hosts his first solo exhibition in China and faces the many conceivable dangers that come with being a defector—all for the sake of exposing the truth. Trust me, you won't want to miss this.
4. Floyd Norman: An Animated Life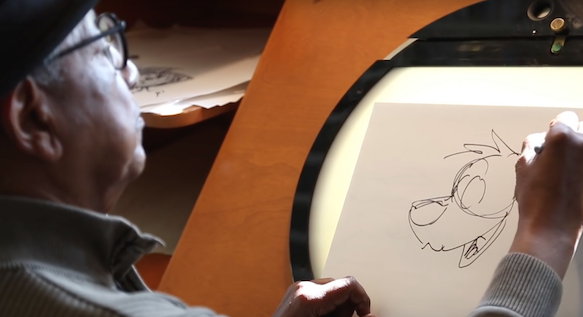 Year: 2016
Director: Erik Sharkey, Michael Fiore
In 1956, Floyd Norman made history as the first African-American animator to be hired by Disney; half a century later, he's played a major role in creating some of their most classic films, including Sleepy Beauty and 101 Dalmatians. (He was even handpicked to work on The Jungle Book by Walt Disney himself.) Now 81 years old, he continues to impact the art of animation as a mentor and an artist. Though he officially retired when he was 65 in 2000, he refuses to leave his "home" and has worked (unpaid) from his cubicle at Disney Publishing on a freelance basis for the past 17 years. Floyd Norman: An Animated Life is an enchanting mix of original animated sequences, interviews and archive footage, providing an intimate look into Norman's unique and trailblazing career.
3. Sky Ladder: The Art of Cai Guo-Qiang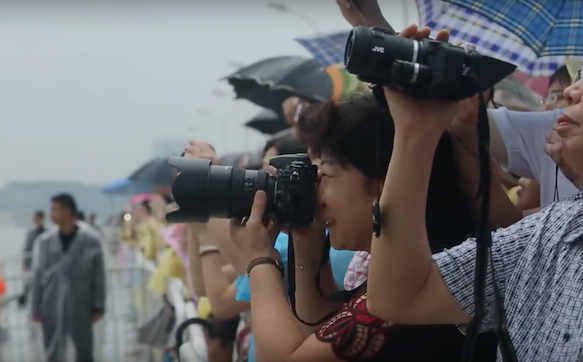 Year: 2016
Director: Kevin Macdonald
Artists have their pick when it comes to medium—be it canvas, wood, steel and beyond—but Chinese artist Cai Guo-Qiang's choice is a bit more explosive. Opting instead to work his pyrotechnic prowess with fantastical and skyrocketing fireworks and explosions, Guo-Qiang's work strives for that point where beauty and chaos meet. If that's not evident from his charred and smoky creations, this documentary will take you along as he prepares to build the "Sky Ladder"—a staggering 1,650-foot ladder created by carefully planned explosions and the artist's most ambitious production to date. The Sky Ladder: The Art of Cai Guo-Qiang by Kevin Macdonald will introduce to Guo-Qiang and the dazzling world he lives in.
2. The 100 Years Show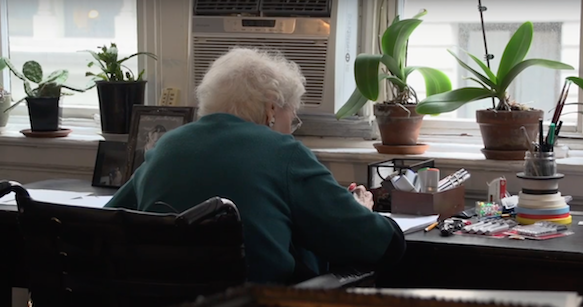 Year: 2015
Director: Alison Klayman
Now one of the oldest contemporary artists living and working today, Carmen Herrera is, without a doubt, an absolute legend, though you might not know her name. As a Cuban-American painter, she was a pioneer in the abstract-minimalism movement in the '40s and '50s but was often overlooked (as many great artists were during that time) because of her race, gender or nationality. Because of that, she didn't reach international and artist success until very late in life, and I'd like to think this documentary is a well-deserved celebration of Herrera's radiant and revolutionary vision—and it couldn't have come at a better time. Filmed shortly before her 100th birthday, this film follows Herrera as she reflects on her life-long career and goes about her daily life—a strict schedule of sketching and painting. The 100 Years Show is the ultimate introduction to Herrera's pioneering fusion of geometric minimalism and striking simplicity, and the woman behind the vision.
1. Abstract: The Art of Design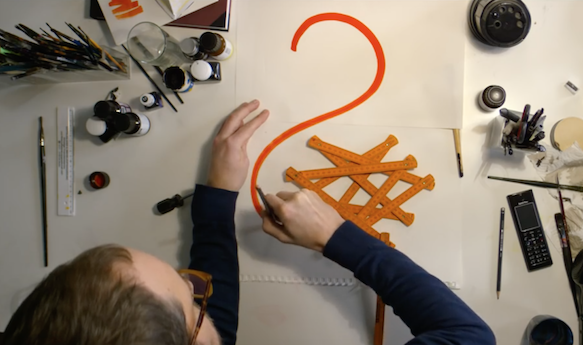 Year: 2017
Directors: Morgan Neville, Brian Oakes, Richard Press, Sarina Roma, Elizabeth Chai Vasarhelyi
Abstract: The Art of Design is a Netflix original docu-series that takes a sort of "Chef's Table"-style approach to the everyday objects and structures in our lives—from the artist's perspective. Featuring a few of the most innovative leaders in design, including New York-based illustrator Christoph Niemann, stage designer Es Devlin and architect Bjarke Ingels, this series is a must for anyone remotely interested in the world of art, design and architecture—or simply anyone with taste. With every episode, you'll journey into the mind of an artist and discover the true art of design and the impact it plays on every aspect of life—and some you might have taken for granted.
Brent Taalur Ramsey is an American writer living in Paris.