The world of graphic design is cutthroat. One day you could be touted as the best in the business and then next you're out. Or the reverse can happen: one day you're a quiet logo designer with a WordPress page and then seemingly overnight your trademark design woos a big brand and you become go-to expert.
Along the way there are those whose blogs blow up and stay relevant and those who fall into forgotten cyberspace. To honor those who dedicated themselves to the blogsphere we shortlisted (in no particular order) the 15 Best Graphic Design Blogs of 2013.
15. Abduzeedo by Fabio Sasso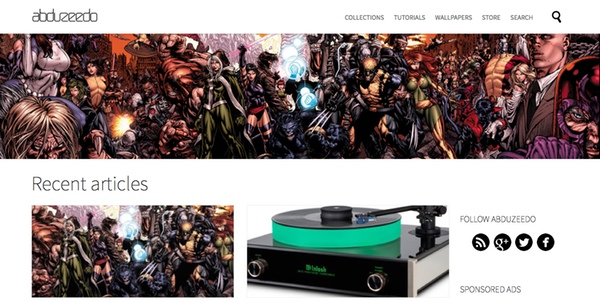 Abduzeedo began as an inspiration blog for graphic designer Fabio Sasso, but now features Photoshop tutorials, interviews with designers and the odd case study if you need to get really technical. Sasso original started his blog in 2006 as a way to back up his files after his work computer was stolen and now Abduzeedo produces the highest quality design content daily and features guest posts from fellow graphic designers.
14. Designmodo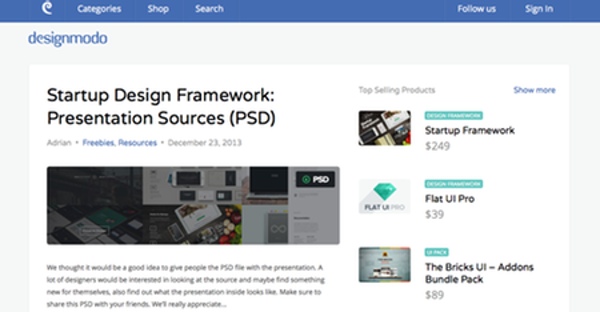 Covering some of the more technical aspects of graphic design, Designmodo balances practical how-to posts with inspiration, resources and freebies. Updated almost every day, the blog also features an online store, filled with software, add-ons, and bundles.
13. Gurafiku by Ryan Hageman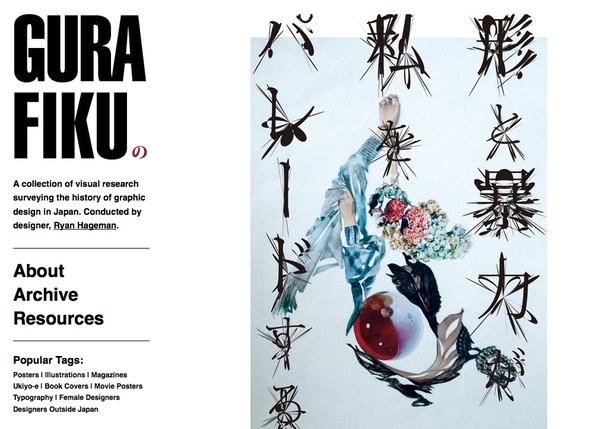 Curated by Ryan Hageman, Gurafiku narrows in on the evolution Japanese graphic design over time. Gurafiku – named after how "graphic" is pronounced in Japanese – acts as a road map, illustrating the difference and similarities between western and eastern approaches to graphic design. Beautifully presented and educational, Hageman's unique take on graphic design makes his blog a must-read.
Also on the Tumblr platform, This Isn't Happiness features a roundup of design, art and photography inspiration, along with a healthy dose of indifference. While not the only curated blog on this list, it is definitely one of the best. Dissatisfaction aside it might not be happiness, but it's still pretty cool. It's important to note that This Isn't Happiness likes nudes and some posts are NSFW.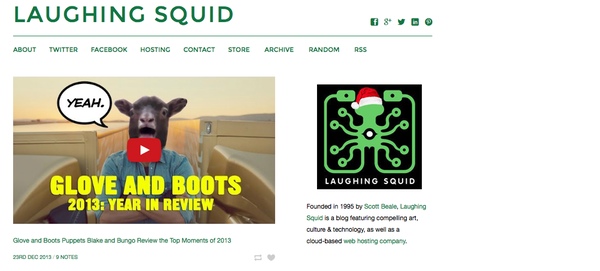 Laughing Squid Links doesn't specifically cover graphic design, but it does provide inspiration and interest news on all things art and technology. Acting as a kind of cultural thermometer, Laugh Squid Links maintains a balance between cute cat videos and posts about envelope-pushing art with their own brand of humor glazed on top.
10. Wallpaper*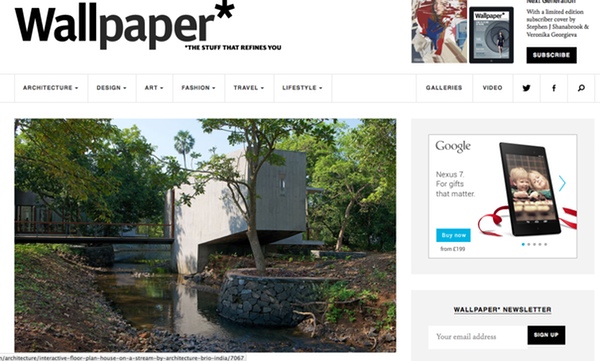 Curated from the Wallpaper* Magazine website, the sister Tumblr blog acts as a shortcut to the best inspiration and industry analysis articles from the magazine. The clean and crisp blog layout makes interesting articles and stirring inspiration easy to find. In addition to graphic design, Wallpaper* also covers architecture, fashion and lifestyle.
9. Baubauhaus by Stefan Lucut and Andrei Don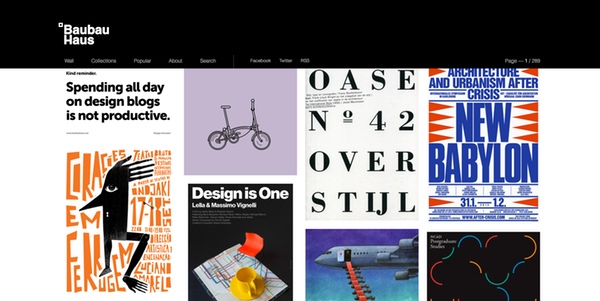 Taking advantage of Tumblr's inherent aesthetic, Baubauhaus updates daily with illustrations, photography, design and fashion curations to keep your left-brain inspired. While mostly curation-based, the creators of Baubauhaus, Stefan Lucut and Andrei Don, also provide plenty of free resources for web and graphic designers and feature the work of up-and-coming talent. It's important to note that Baubauhaus content can get pretty sexy and some of their posts are NSFW.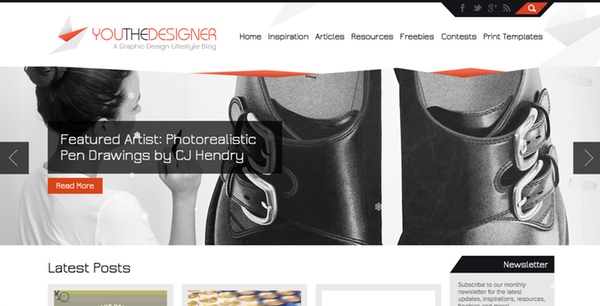 Founded in 2007, You The Designer set out to show how graphic design blogs can break through the fourth wall extend beyond screen and into the real world. Like many of the blogs on the list, You The Designer offers free design tools and templates, but they also do web design contests and giveaways to inspire and showcase new talent.
7. Cool Hunting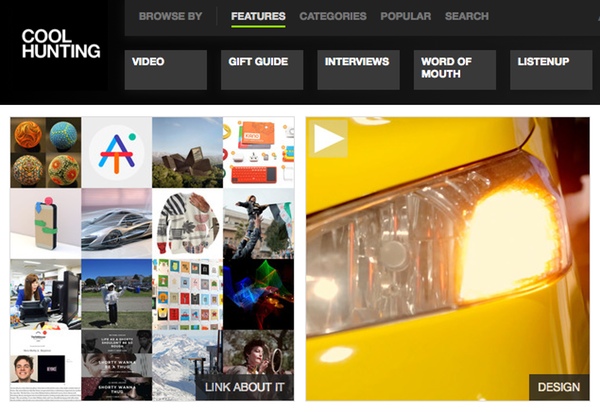 Founded in 2003, Cool Hunting is now one of the largest design blogs in the world, with a global contributor network that covers the full spectrum of graphic design topics. They also do original interviews with graphic design experts and provide an unending feed of graphic design inspiration.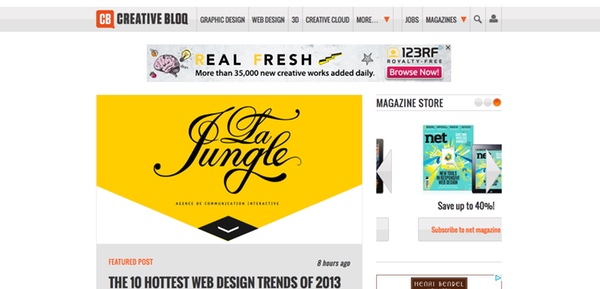 As a spin-off from the online magazine Net Mag, Creative Bloq features inspiration articles and how-to posts on graphic design, photography, illustration and even 3D animation. Under editor-in-chief Dan Oliver, Creative Bloq aims to provide their readers with the most up-to-date trends, inspiration and necessary tools to allow for graphic designer to produce the best work.
5. David Airey by David Airey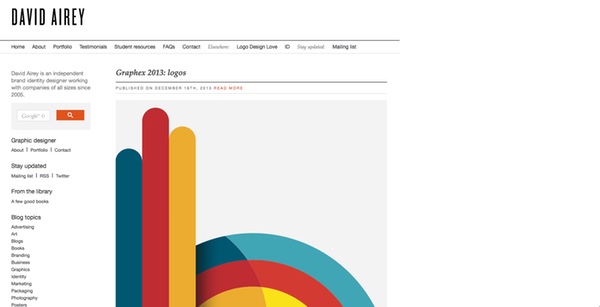 David Airey's namesake graphic design blog make the list for his posts on trademarking, the business of design, marketing and resources for graphic design students. Want to know about feed-specific content or need advice on whether than unpaid internship is worth it? Airey has got you covered. He also runs the website Logo Design Love for all of your logo fixes.
4. The Logo Smith by Graham Smith
Graham Smith uses his blog, the Logo Smith, to share news from the logo design world and articles on how to make memorable logos, while keeping the design simple and providing links to his design inspirations. Smith also includes a plethora of brand identity posts as well as a free spec sheet and guideline pack downloads.
3. Thoughts by Jessica Hische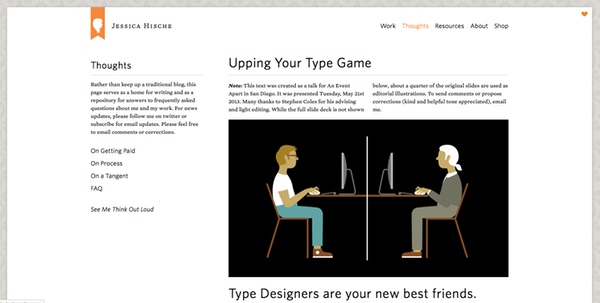 The longform graphic designer blogger honor goes to illustrator, typeface designer and letterer Jessica Hische. Hische uses her blog Thoughts to answer questions and jot down her observations and advice for freelance work, getting paid, and the creative process, as well as a kaleidoscope of tangential wonderings. She also provides lettering resources and student portfolio reviews in office or over Skype.
2. JUST Creative Design by Jacob Cass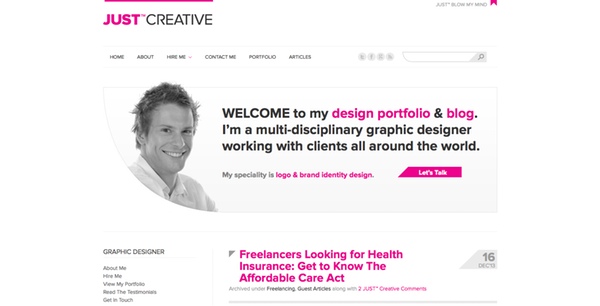 Already famous at just 25, Jacob Cass has made a name for himself in the graphic design world — he's led a TED Talk, won a slew of awards and been published in everything from guidebooks to art magazines. His blog, JUST Creative Design, serves as repository for design tips, resources, guest posts and personal graphic design work updates. Cass also runs a sister site called Logo of the Day that selects a winning logo submission from fellow graphic designers every day to be featured on website.
1. Spoon Graphics by Chris Spooner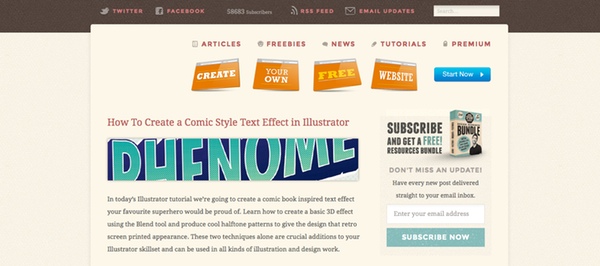 Spoon Graphics, helmed by well-know graphic designer Chris Spooner, has grown from an addendum to accompany his creative work to a massive online platform for tutorials, advice, stock resources and even has a "Members Only" design resource component. Spooner's blog acts as both an online graphic design resource and his personal blog. He also has an equally popular web design blog called Line 25, which he regularly updates.