Most people can probably pinpoint Missouri on a map, and some of us have even made sojourns to Kansas City or St. Louis to see the arch, sample some barbecue or maybe enjoy a baseball game. But it's less likely many people have ventured into the Midwest for a cocktail. But you should.
Having lived in Missouri my entire life and hopscotched my way across the state from Kansas City, Columbia, St. Louis, and finally Springfield, I can say confidently that there's more to my beloved state than the few aforementioned tourist destinations. Surprisingly, one bragging right we have here is our booming craft cocktail scene. In fact, St. Louis was named by Esquire as "Bar City of the Year" in 2015. Not too shabby.
But for those of us Midwesterners who live here, the accolade wasn't shocking. The last few years have brought a bar and cocktail renaissance to Missouri. The fact that it's taken so long for the outside world to take notice is just normal for us. Missouri is often overlooked as little more than a fly-over state. A quilted green and brown patchwork of fields to be looked down upon as one jets off to some coastal town or another. But the truth is, Missouri is teeming with activity, and new cocktail bars, rum clubs, lounges and dives are opening all the time. Need proof? Here are 10 bars that prove Missouri is much more than a fly-over state.
Scotch & Soda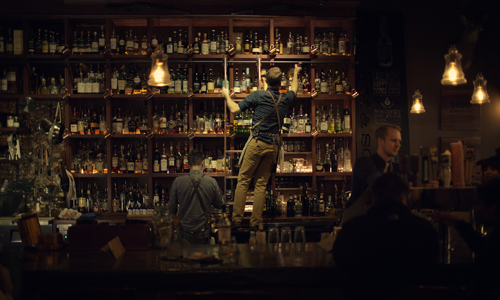 Photo by Starboard & Port
When it comes to the Ozarks, there's more to this corner of the state than sprawling lakes, rivers and, of course, Branson. There's also a booming cocktail scene, especially in Springfield, Missouri. There seems to be a new bar popping up at least every month, which is a welcome sight for those, who like me, are always able to come up with an excuse to enjoy a late-night tipple. When it comes to finding a great cocktail downtown, I'll always stop in at Scotch & Soda. Neighbored by more raucous college dives, this elegant and dimly lit tavern is a cocktail-haven.
Thick red drapes hang from the ceiling and divide the high-top front-of-house from the cozier lounge-style seating. The bar itself is a sight to see thanks to a towering collection of spirits, some of which can only be reached by the wooden ladder that sends bartenders sliding across the way. Here imbibers can take their pick of poison from classic cocktails to more seasonal inventive tinctures, but the real showstopper is the selection of scotch and whiskey flights, which are the best for 100s of miles. Oh, and if you're in town on Sundays, be sure to stop in for the bar's popular brunch. Even with little more than a coldcase and a waffle iron in the ways of a kitchen, this bar pushes out some of the best waffles you'll find in town. The secret ingredient? It's a mystery, and one I'm still trying to uncover.
Scotch & Soda
310 South Avenue
Springfield, Missouri
---
Manifesto

Photo courtesy Manifesto (Facebook)
This Kansas City speakeasy has garnered national attention including, making it on Eater's list of "38 Essential Cocktail Bars Across America", and it was named by Esquire as "One of the Best Bars in America". But why all the praise? For starters, it's easy to get lost searching for this popular downtown tavern. The first time friends and I stopped in, we wandered around the block twice before we realized our mistake. Located in the basement of The Rieger Hotel Grill & Exchange, this dark and cozy hideaway seats only 48 people and fills quickly.
There's no cell phone use allowed, which is a plus because you'll want to focus all your attention on the cocktails. Like any quality craft cocktail bar, the menu here changes seasonally, but you can always enjoy one of Manifesto's classics like the Winter in Buenos Aires—a perfectly sweet mix of Velho Barreiro Cachaca, honey, cinnamon, lemon, and roasted butternut squash. And if you're looking for something a little more mouth-puckering, scope out the bar's selection of spirits including an array of digestives, amari and absinthe. Just don't forget to ask about the shooters. Small in size but large in flavor, these baby-sized cocktails are always a fun way to start the night. Just be sure to call early if not days ahead to reserve a spot. This underground joint fills fast.
Manifesto
1924 Main Street
Kansas City, Missouri
---
Barley, Wheat & Rye Social House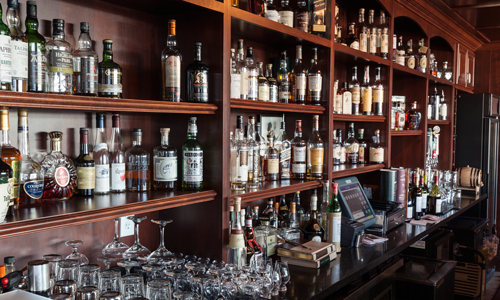 Image courtesy Barley, Wheat & Rye Social House
There are so many things to love about this lounge. For starters, it's Springfield, Missouri's only roof-top bar. Secondly, this '20s style craft-cocktail lounge offers locker memberships where regulars can store their favorite spirits to be enjoyed during their visits. It's also one of the best cocktail programs in the area. But for me, the biggest reason why I've developed a love affair for Barley has more to do with the seating.
Instead of crowded high-top tables, plush booths or lackluster family-style seating, this roof-top hideaway offers a sprawling selection of cozy leather couches arranged perfectly for intimate conversations in between cocktails and games of pool played on the bar's billiards table that's tucked away in the corner. Walled in by floor-to-ceiling windows, sunsets up here can be breathtaking, especially when the weather is nice and the bar's rooftop patio opens up. Outside, cushioned patio couches and firepits continue the welcoming ambiance.
As for cocktails, this seasonally changing menu has plenty to enjoy, especially when you can find a cocktail that boasts one of the house-made infusions or simple syrups. But if you're up for something new, flag down bar manager Dylan Fox. He'll be the one in the vintage derby hat. Tell him what spirit you're in the mood for, and in no time, he'll have mixed up something fabulous. My recommendation—order a libation and one of the charcuterie boards, and cozy up for the night.
Barley, Wheat, and Rye Social House
2144 East Republic Road
Springfield, Missouri
---
Green Lady Lounge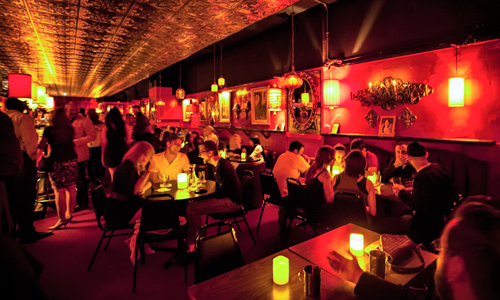 Photo by Jim Mooney
Staying true to Kansas City's vibrant history—a delightful mix of jazz, baseball and barbecue—the Green Lady Lounge is a must during your next visit to KC. You'll find this two-story jazz club tucked away along a non-descript street downtown. Just look for the small red awning. I promise that what this joint lacks in outward appeal, it more than makes up for once you're inside.
With its painted red walls, vintage tin tile ceiling and red and yellow globe lighting above the bar, a visit to Green Lady Lounge is a little like stepping back in time. Here patrons dress up and diamond necklaces (real or fake) sparkle in the low lighting as cocktails are whisked to tabletops. The deep red walls are covered with gilded mirrors and thick-framed paintings to create a stylish and slightly mysterious atmosphere in which you can't help but lose yourself. As for seating, if you can, snag one of the low tables up front near the jazz. There's always a little more action up here, and watching the night's band perform never gets old.
If you can't make it in on a weekend, don't fret. You'll find live jazz serenading the crowded club seven nights a week, and there's never a cover charge drawing on your pocket book.
Green Lady Lounge
1809 Grand Boulevard
Kansas City, Missouri
---
Planter's House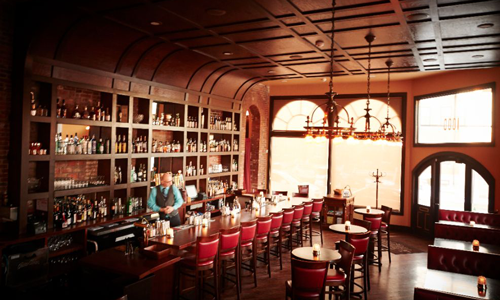 Photo by Greg Rannells
Housed in the historic Planter's Hotel in the architecturally-rich neighborhood of Lafayette Square in St. Louis, this cocktail bar and restaurant always offers a new experience no matter how many times you visit. Part of that is thanks to an atmosphere rooted in history, (the Planter's Hotel dates back to the early 1800s), and part is due to the bar's impressive cocktail program.
Along with a wide selection of house cocktails, the menu here features a long list of not-so-common ingredients including plum shrubs, fig liqueurs, butternut squash-infused tequila, saffron liqueur, and even passion tea liqueur. It's this welcomed variety that helps add new depths of flavor to each of Planter's cocktails. Of course, there are the 20-plus house favorites that offer more traditional enjoyments from the Mai Tai, Manhattan and Negroni to the Pink Lady, Hemingway daiquiri and Brown Derby. As if that wasn't enough to please even the pickiest of patrons, Planter's has an entire list of cocktails inspired by just the Manhattan.
Like I said, no matter how many times you visit this neighborhood lounge, you're sure to find something new and exciting. If nothing else, you can enjoy a little history, and I'm not talking about the beautiful venue, I'm talking about a bar classic that's even older than the Planter's Hotel—the pickled egg. Simple but delicious, this classically steeped cocktail lounge offers one of the truly iconic bar eats: a pickled egg.
Planter's House
1000 Mississippi Avenue
St Louis, Missouri
---
Julep Cocktail Club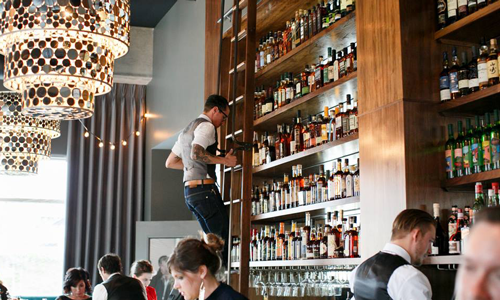 Photo by Three Three photography
My first visit to Julep in Kansas City found me wandering the streets of Westport in search of the front entrance. It wasn't an overindulgence of spirits that had me scratching my head, it was the lack of signage for the bar. Rather than post up a giant "Julep" sign out front, this corner lounge has a simple litup "Whiskey" to flag down thirsty patrons.
Once you've spotted the front door, an elegant and boozy night awaits. Hidden behind a deceivingly stark entrance, Julep is an elegant and swanky discovery. Three-tiered chandeliers hang from the painted black ceilings, and the towering wooden bar is an obelisk of spirits. The bar's high-top tables and cozy lounge seating fill quickly, but that's no worry because saddling up at the bar is really where your night should take you.
Watching the vested bartenders pour out Julep's hefty selection of whiskey flights and carefully curated cocktails is as enjoyable to watch as any live performance. And as for cocktails, the selection is a treat. For the most part, this downtown watering hole serves up classic tinctures but adds its own creative twist. Take, for instance, the Scotch Toddy, with its Famous Grouse Scotch, honey, cinnamon, nutmeg, lemon and hot water. Or, if you're up for a jolt, try the La Pluma, which comes with mezcal, Thai chilis, cream, nutmeg, and a shot of espresso.
Julep Cocktail Club
4141 Pennsylvania Avenue. Suite 104
Kansas City, Missouri
---
The Order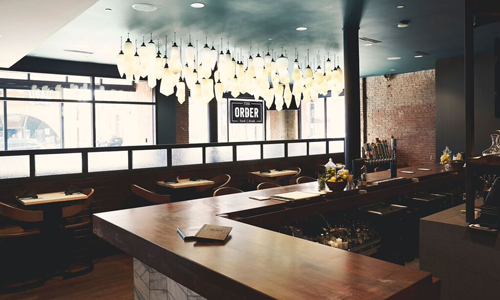 Courtesy The Order
Not even a year old, the bar at The Order has become a Springfield weekend hotspot for those looking to dodge the college crowds and enjoy a more refined cocktail or dinner out on the town. Housed inside the lobby of the boutique hotel Vandivort, this restaurant and bar has honed in on all things fresh from the often-changing dinner menu to the selection of signature cocktails.
For something simple and classic, you can't go wrong with the Smoked Old Fashioned. Missouri Spirits bourbon is paired with simple syrup and housemade orange bitters. Or better yet, skip dessert and indulge with the 1913—a rich blend of Askinosie cacao nibs infused rum, torched strawberry shrub and a spritz of lime juice.
Once you have your cocktail in hand, wander outside the bar and into the hotel lobby, which offers a variety of seating. One corner houses a built-in fireplace and ample couches while farther down the way a farmhouse-style wooden table is usually crowded around by chatting diners. With several vignettes to drift between for a change in venue and a cocktail selection filled with fresh flavors, there's plenty of reason to settle in for a night at The Order.
The Order
305 East Walnut Street
Springfield, Missouri
---
Blood & Sand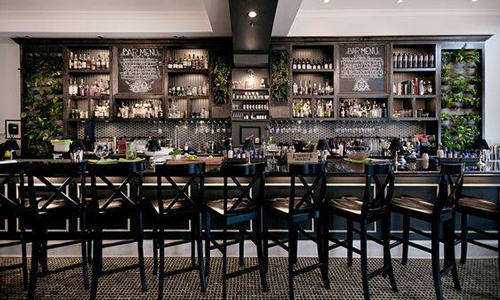 Photo courtesy Blood & Sand (Facebook)
While St. Louis offers a bounty of historic bars and tried and true dives, there's another option when looking to imbibe, and that's the membership program at Blood & Sand.
Truly posh with a dash of classic style, this membership bar and restaurant is a dining experience to say the least. While regular visits to this refined destination require a membership, newcomers are welcome to dip their toe into what Blood & Sand has to offer. The cocktail menu here is diverse, and to help patrons find the tincture they seek, drinks are divided into categories: culinary cocktails, mocktails, stirred cocktails, and citrus cocktails. Culinary cocktails, as their name suggests, are served with a variety of eats from house olives and fruishi, to spicy crawfish and sweet and salted chocolate juniper bark.
Blood & Sand
1500 St. Charles Street
St. Louis, Missouri
---
Infuxn Boaka Bar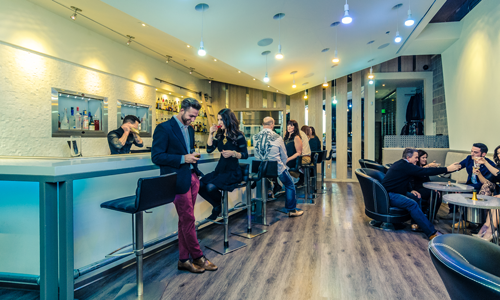 Besides a smattering of dive bars and pubs, Joplin hasn't had much of a cocktail scene, but that changed recently when one Russian beauty decided to bring a little of her hometown to the streets of downtown Joplin.
Unlike its neighboring bars, Infuxn is a sight to see. Towering ceilings and colorful modular couches and lounge seating fill the stylized bar, which besides the couches, is nearly entirely gleaming white. Even the bathrooms here are glamorous. (In fact, those were the first things people directed me to scope out when I mentioned I was making an afternoon run to Infuxn.)
A frosted-over ice bar keeps drinks cold, and most nights will have a line of vodka shots headed someone's way. Not surprisingly, vodka is king here, and while the drink selection changes throughout the year, most tipples draw on bright notes of citrus and fresh herbs to craft a cocktail that will truly wake up your taste buds.
The Moscow Mule is perfectly enjoyable, but it's the other house-infused creations that really make this vodka bar worth a visit. The Caipirozhe was a favorite from my last visit with its mix of vodka, house made brown sugar simple syrup, muddled lime and rosemary garnish. It was simple, slightly sweet but plenty rich.
Infuxn Boaka Bar
530 South Main Street
Joplin, Missouri
---
Doughnut Lounge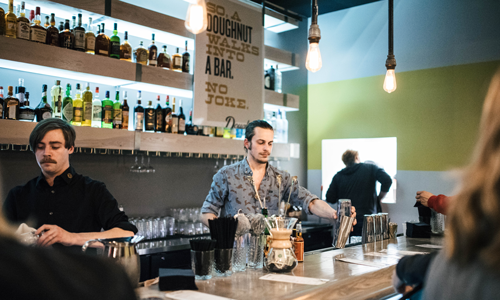 Photo by Estorie Photography (Liz Brown)
What's not to love about a doughnut shop that turns into a bar at night? Small, and, as a result, nearly always packed with hungry visitors, Doughnut Lounge located in Kansas City's Westport district, has perfectly paired two of my favorite things: doughnuts and cocktails.
Here, you won't waste your time on dull or over-flavored yeast doughnuts. Instead, the glass display case is stocked with a rotating supply of artfully crafted signature doughnuts including The Dolly, with its sheep milk cheese custard, root beer glaze and garnish of fresh basil. A personal favorite is the Banana Wafer, which is a semi-sweet creation with banana pie filling and vanilla wafers. At night the rotation of sweets changes up a bit, and house favorites dubbed Noduts make an appearance. Imagine your favorite dinner staples combined with the delight of a doughnut. A classic is the Chicken Fried, which comes with a sweet glazed doughnut, fried chicken, and honey garlic chili hot sauce. It's truly finger-lickin' good.
And while the doughnuts are a big draw, for me, the real appeal is in the cocktail program. Small but worth a visit anytime I'm in KC, the cocktail program here is as artfully crafted as the food. You can usually find a daily drink special posted on a small chalkboard up front behind the shop's shiny espresso machine, but if you have some time to kill, ask for the full cocktail menu. My favorite at this point is the Wolf, a smokey combination of cognac, scotch, bitters, simple syrup, suze and cynar. It was one of those libations that both pleased and challenged my palette.
Paired with a Berry Cheesecake doughnut for a burst of bright citrus, you're night can't get much better.
Doughnut Lounge
4117 Pennsylvania Avenue
Kansas City, Missouri