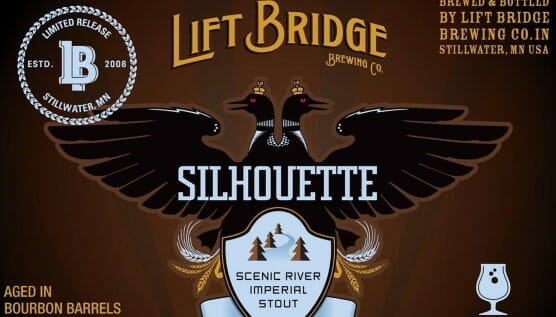 Note: This piece has since been updated with a 2017 blind-tasting of 144 barrel-aged imperial stouts.
When we tasted 37 non-barrel-aged imperial stouts in January, it was a rather momentous occasion, even while being split over the course of three days. As is probably no surprise, there were some absolutely incredible beers in that mix. But I think it's probably safe to say we've saved the best for last.
This collection of beers is nuts. Yes, there are famous, insanely rare prestige stouts missing from it that keep this from being an all-inclusive list. Yes, there are even some easier-to-get ones that are surely missing, and we feel confident that the readers will take it upon themselves to point this out immediately and at the highest possible volume in the comments. But what we do have is a collection of 23 fascinating, compelling imperial stouts aged in a collection of different barrels. Wine barrels. Neutral oak barrels. Whiskey barrels, of course. So many whiskey barrels.
All in all, it was one of the most amazing collections of beer I've seen in one place, and a totally unique tasting experience. Never, as multiple tasters pointed out, have we been able to literally smell the table full of beers from several feet away. Such were the alcohol and barrel-aged aromas perfuming the air in the Paste office. And we enjoyed almost every one of them—although some more than others.
For better or worse, barrel-aged imperial stouts are viewed by many (especially those who spend time on beer-rating sites) as the apex of craft beer achievement. We're not completely convinced that's the case, but what we won't argue is that the top beers on this list are some of the best we've ever had.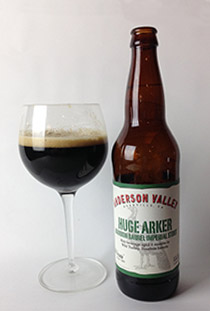 23. Anderson Valley Huge Arker
City: Boonville, CA
ABV: 13.5%
Key ingredient: Wild Turkey, bro
Perfect for: Peeling paint off the walls
The verdict: This might be the only beer in the tasting that was universally disliked. Astringent and twangy, something seemed weirdly off here, both in the base beer and the barrel character. The flavors were fruit-forward, with an odd green grape note, but in a way that came off as unpleasantly medicinal. Booziness is intense, which is to be expected at 13.5%, but comes off as harsh, sour-tinged and unrefined. Definitely not Anderson Valley's best—every taster independently came to this same assumption.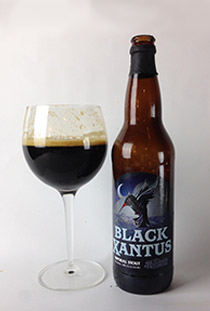 22. Humboldt Black Xantus
City: Paso Robles, CA
ABV: 11%
Key ingredient: Three different barrel varieties
Perfect for: Challenging a cicerone's tasting prowess
The verdict: Everything about the Black Xantus is unusual. Our base beer starts out conventionally enough: An imperial stout made with coffee. Then things get weird, as the beer is aged in three different types of barrels—bourbon barrels, wine barrels and neutral oak barrels previously used by Paso Robles neighbor Firestone Walker. The result is something very complex but more than a little muddled. Fairly strong tartness is present from all three barrels, with a funky, spicy nose that almost seems to have a bit of chile-like spice. One taster found it perplexing but enjoyed a citrus or orange aroma that others couldn't quite pick up. There are individually interesting flavors here, but the astringency created by so many contrasting and vying types of barrel character ultimately make it less than satisfying.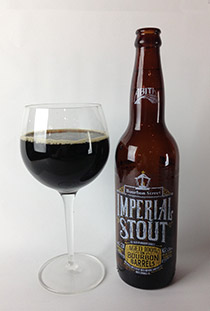 21. Abita Bourbon Street Imperial Stout
City: Abita Springs, LA
ABV: 10%
Key ingredient: Pappy Van freakin' Winkle barrels
Perfect for: A barrel-aged stout introduction
The verdict: We were immediately curious about this one, given that Abita advertises having used barrels from Pappy Van Winkle, one of the most expensive and sought-after American whiskeys on the market. What they deliver, though, is something a bit more conservative: Buttery, caramel and hints of vanilla, on top of a stout that is notably thinner of body and flavor than many of the other beers in this tasting. The barrel character, sadly, is on the weaker side, so you don't really get the full benefit of those Pappy barrels. One gets the sense that this beer was probably meant to appeal to a wider market, perhaps those drinkers who are just venturing into the idea of barrel-aged stouts and would like something a bit more approachable, and there's nothing wrong with that. In style it's similar to a lot of the higher-ranked stouts, simply muted somewhat.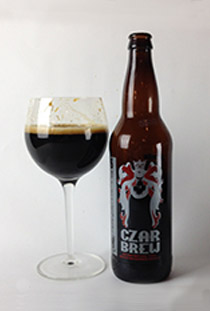 20. Sprecher Czar Brew
City: Glendale, Wisconsin
ABV: 11%
Key ingredient: Bourbon barrels, straight up
Perfect for: Lovers of woodsy flavors
The verdict: This imperial stout from Wisconsin walked a little on the wilder side, with hot alcohol presence unbound by subtlety. The oak comes through in a big way, imparting a sour tang that doesn't quite overwhelm flavors of chocolate and black licorice. The tartness was strong enough that one taster wondered if this bottle may have been at least lightly infected, but not enough to unbalance it completely or make it unpleasant. Rather, it's simply a stout dominated by oak and boozy flavors.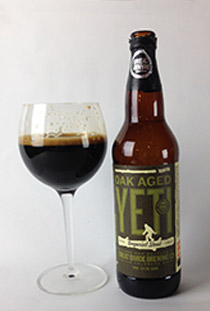 19. Great Divide Oak-Aged Yeti
City: Denver, CO
ABV: 9.5%
Key ingredient: Roasted barley and neutral oak
Perfect for: People who love their stouts dry, bitter and roasty
The verdict: We regrettably didn't have the regular Yeti from Great Divide in our non barrel-aged ranking, so we've included two varieties here. The first takes the base beer and ages it in neutral oak, which adds its typical woodsy, sour twang. Really the stand-out flavors, however, are the heavy roast—this might actually be the most dry and roasty stout on the table, with a charred, almost burnt flavor at times. Huge coffee character mingles with smoke and plenty of wood. It's a specific flavor profile; drinkers who are looking for something barrel-aged that's not big on sugar may find this one particularly appealing.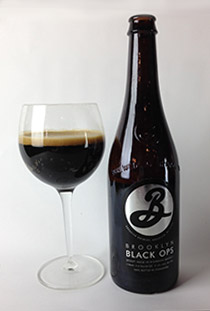 18. Brooklyn Black Ops
City: Brooklyn, NY
ABV: 11.6%
Key ingredient: Champagne yeast
Perfect for: A big plate of oysters on the half shell
The verdict: Brooklyn's entry starts out conventionally enough, but then takes a rather abrupt left turn. There seems to be a solid enough bourbon barrel stout going on here, but the secondary fermentation with champagne yeast transforms the flavor in a way that may not be a positive. It provides interesting texture, as the cascading carbonation and dense little bubbles give it a very creamy, smooth mouthfeel, but it simultaneously mutes the flavors somewhat. Light roastiness and a bit of funky grain flavor make it through, but especially when compared to some of the other stouts in the tasting, it fails to stand out and make itself memorable on flavor as opposed to texture.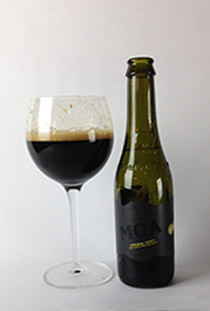 17. Moa Imperial Stout
City: Blenheim, New Zealand
ABV: 10.2%
Key ingredient: Pinot noir barrels
Perfect for: Someone who'd rather be drinking wine
The verdict: Easily the most unique beer on the entire table—almost shockingly so. To put it simply, this thing smells like a glass of red wine. The way that winey characters comes through is absolutely remarkable, and your first taste is a rush of jammy grape and berry sweetness, which is braced by tart sourness. Eventually, right when you start to wonder if this is indeed an imperial stout, the fruitiness fades out and you get some roast on the back end. There were other wine-barrel beers on the table, but none of them with wine character like this one—it tastes less like "wine barrel" and more like some of the grape must has been squeezed right into the glass. As such, it was a little divisive in taster's scores, but everyone agreed that this New Zealand import was one of the most memorable.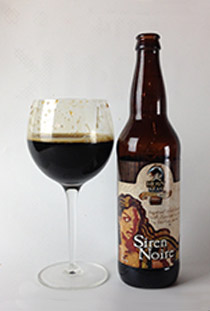 16. Heavy Seas Siren Noire
City: Baltimore, Maryland
ABV: 9.5%
Key ingredient: Belgian cacao nibs
Perfect for: Chocoholics who don't care about whiskey
The verdict: Almost more of an imperial chocolate stout than it is a "bourbon barrel stout," Heavy Seas' offering was indeed aged in whiskey barrels, but those flavors are fairly subtle and working in the background. None of the flavors pop too strongly, but the chocolate does come through with a fudgey quality and accents of vanilla. Despite that, it's actually on the drier side—like a high-cacao percentage chocolate bar. It would be nice for the barrel-aged aspect to express itself a little bit more assertively, because you might not really know it's there otherwise, but otherwise this is a beer that the chocolate-lovers will probably find a lot to like in.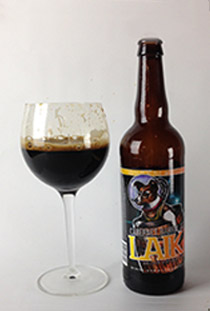 15. Straight to Ale Cabernet Barrel Laika
City: Huntsville, AL
ABV: 11.7%
Key ingredient: Cabernet barrels, unsurprisingly
Perfect for: Dark chocolate brownies with raspberry compote
The verdict: Significantly more subtle than the wine flavor of the Moa beer, the cabernet barrel here is integrated more effectively into the flavor palette of the imperial stout in question. It helps that Laika is, by nature, full of dark fruit flavors, which form a complementary bond between beer and barrel. It's backed up by some nice cocoa character, giving us a well-rounded final product that doesn't express the cabernet a ton, but perhaps just enough.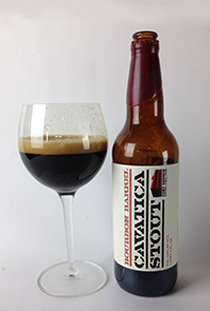 14. Fort George Cavatica
City: Astoria, OR
ABV: 8.8%
Key ingredient: Bourbon barrels, if you can believe that
Perfect for: A weekday night barrel-aged imperial stout
The verdict: Comparitively light compared to some of the monstrous beers in this lineup, the Cavatica nevertheless made a good showing for itself. In fact, if one beer on the table had to be volunteered as the averaged sum of all parts, it may have been this one: There's a solid, classic Russian imperial stout underneath, with good roast and some smoky flavors, backed up by wood and plenty of whiskey. One taster observed "nice booze to beer balance" in his notes, while another had the guts to refer to it as "very smooth and sessionable" in hers. That's what happens when you taste all of these next to each other: A near 9% ABV, bourbon barrel imperial stout suddenly seems like great session beer when it's up against some of the other giants.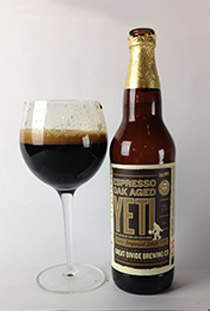 13. Great Divide Espresso Oak-Aged Yeti
City: Denver, CO
ABV: 9.5%
Key ingredient: Plenty of fresh espresso
Perfect for: A Bohemian coffee house poetry slam
The verdict: Whereas the regular oak-aged Yeti came through with lots of wood and heavy, burnt roastiness, the espresso variant becomes a richer, more multi-faceted beer. Tasting them side by side, it's interesting how the coffee addition helps smooth out the rough edges—this one is sweeter, creamier and feels like a more imposing, memorable beer. It even has some West Coast hops peeking through on the back end, one of only a few on the table where hops really were a notable factor. All in all, very solid, and a must for the big coffee stout fans.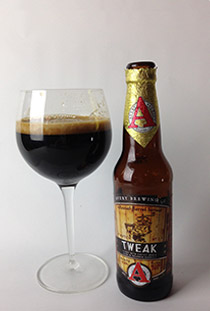 12. Avery Tweak
City: Boulder, CO
ABV: 17.8%
Key ingredient: Coffee, booze and more booze
Perfect for: Inducing a blackout and subsequent dissociative episode
The verdict: Dear lord, what a beer this truly is. Descriptive language almost fails—it is beyond massive. The whiskey and booze is bracing, so in your face and intense that the idea of "balance" is all but banished from memory. At the same time, it's incredibly complex, packed with dried fruit flavors and tons of coffee, but man … the alcohol. This is like something you'd expect to find in one of those little casks on the neck of a St. Bernard rescue dog, used to revive people collapsed in the snow. One taster's notes practically descended into poetry after tasting it: "My leg went numb. I will no longer dream."

11. Boulevard Imperial Stout
City: Kansas City, MO
ABV: 11.8%
Key ingredient: A blend of barrel-aged beers
Perfect for: Dry-rubbed St. Louis spare ribs from Bogart's Smokehouse, superior to any of the vaunted KC joints.
The verdict: On one hand, one might call Boulevard's offering archetypal of the beers on the table, but further inspection begins to open it up and bring unique qualities to the forefront. There's a grainy toastiness here that we didn't pick up in many of the other beers, along with some spicy hops. The barrel character is derived from the blending of several beers; some of the base imperial stout and some thoroughly aged in whiskey barrels. There's booze flavor here, but it's able to avoid being hot or unrefined; it's the enjoyable, fruity, sherry-like tones that come with careful mixing and proper aging. The barrel-masters here clearly have a strong grasp on their business.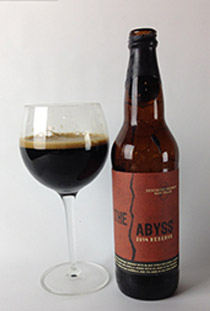 10. Deschutes The Abyss
City: Bend, OR
ABV: 11%
Key ingredient: blackstrap molasses, licorice, cherry bark
Perfect for: Contemplative sipping in a study filled with maps of the world and bear skin rugs.
The verdict: Geez, what isn't in The Abyss? Its uniqueness doesn't end with the ingredient additions: It's also partially aged in a combination of bourbon, pinot noir and neutral oak barrels. That sounds a little similar to the earlier description of Humboldt's Black Xantus, but clearly the multiple barrel elements are working in much better conjunction here. All of the many flavor components pop up one after another as a parade: Here's some caramelized molasses richness, here's twist of black licorice, there's some vanilla. Smooth, complex and subtle, it's a beer that begs introspection.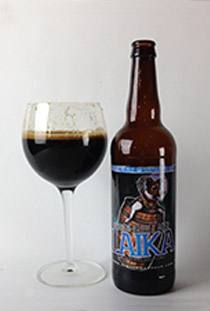 9. Straight to Ale Bourbon Barrel Laika
City: Huntsville, AL
ABV: 11.7%
Key ingredient: Have I said "bourbon barrels" in this space yet?
Perfect for: Chocolate-covered cherries
The verdict: Compared to the cabernet-barrel version of the same beer, the bourbon-aged variant of Straight to Ale's Laika comes across bigger and richer. This beer simply takes to barrels well, and a lot of the stout's own unique qualities are able to poke through the barrel character: Dark chocolate, vanilla and especially dark fruit flavors of cherry and raspberry. Familiar whiskey flavors follow behind, but one almost gets the feeling that the base beer may be the real star of the show.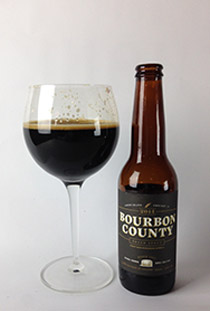 8. Goose Island Bourbon County Stout
City: Chicago, IL
ABV: 14.2%
Key ingredient: Hmmm, so many choices…let's go with "bourbon"
Perfect for: For when the bar is plumb out of bourbon but you still want to taste the inside of a barrel
The verdict: We were curious how Bourbon County Stout would come off when directly compared to so many other barrel-aged stouts, but yep: It's still like getting hit by a 31-gallon barrel, pushed down a flight of stairs. In terms of pure whiskey flavor, it's probably the most aggressive thing on the entire list—this is for the true whiskey-lovers in the audience. Subsequently, it's massively sweet and quite tart as well, and the initial swallow hits you over the head with huge oak character, which fades into long-lasting caramel and vanilla, somewhat obscuring what is probably an awesome Russian imperial stout underneath it. There's nothing subtle about this beer in its base state (before the coffee, vanilla, etc variants), and it probably would really benefit from a little age, but for fairness sake all the beers in this tasting have been made in the last year. Ultimately, BCBS is big, intimidating and will be favored by those who are seeking intensity of flavors more than balance.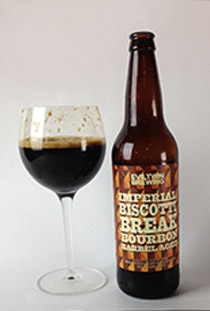 7. Evil Twin Bourbon Barrel-Aged Imperial Biscotti Break
City: Kobenhvn, Denmark
ABV: 11.5%
Secret ingredient: Danish whimsy
Perfect for: Maple bacon donuts in Brooklyn
The verdict: Definitely on the sweet side, this barrel-aged Biscotti Break variant falls comfortably into the dessert beer category but pulls it off very successfully. Vanilla is a huge note here, and creamy, milk sugar-like sweetness: It reminds one of pastry sprinkled with powdered sugar. Bourbon is there, but it's able to pull more of the browned, maillard reaction-induced richness out of those barrels than most. It's like an impeccably made custard or creme brulee, chased with a shot of your favorite bourbon. In its overall makeup, it's actually got more than a thing or two in common with the Founders KBS.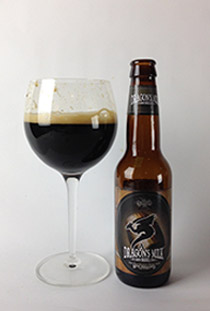 6. New Holland Dragon's Milk
City: Holland, MI
ABV: 10%
Key ingredient: I don't want to alarm you, but bourbon barrels factor in prominently.
Perfect for: Hoarding from the corner liquor store before a snowpocalypse.
The verdict: The fact that Dragon's Milk is available all year round almost certainly hurts its esteem and appreciation on some level. That's just how we tend to operate as beer geeks: It's always easier to appreciate and hype something that's more difficult to get. But despite being easier to acquire, the classic Michigan barrel-aged stout performed very well here, even against so much competition. Tasters noted no lack of bourbon flavor but also found appreciation for the stout underneath, which is thick and creamy, redolent of vanilla and fudge, all in good proportion. It might be the best barrel-aged beer that you can buy at a gas station.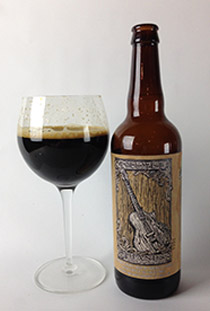 5. 4 Hands Vol. 1
City: St. Louis, MO
ABV: 10.5%
Key ingredient: Coffee, cacao nibs and 16 months of barrel-aging
Perfect for: Impressing beer geek friends who think they've had every great barrel-aged stout.
The verdict: If you have the patience to wait 16 months on something aging in a barrel, good things tend to happen. In this case: Great things. Notes from our tasters are full of praise, but interestingly cite different aspects of the beer as favorites: "Nice coffee, very smooth" from one. "Great chocolate, adult chocolate milk" from another. "Fruity, boozy but not intrusive" from one more. The truth of its flavor lies right in the middle of all the descriptions: There's very tasty chocolate and coffee character, working on top of whiskey-soaked raisin/prune. Sophisticated and all-around well conceived and executed.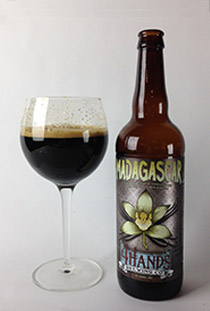 4. 4 Hands Madagascar
City: St. Louis, MO
ABV: 9.3%
Key ingredient: Vanilla bean insanity
Perfect for: Mixing into an ice cream base on a Food Network cooking challenge show
The verdict: Okay, remember when we called the last one "sophisticated"? This is not sophisticated. Madagascar, rather, is hedonistic wish-fulfillment of the highest order. It's like waking up in the middle of the night to a bludgeoning with a brick-sized chunk of vanilla beans wrapped in a towel, except somehow delicious. The aroma, suffice to say, is incredible—essence of vanilla. That essence has the dual effect of creating an incredibly sweet, rich beer while also amplifying all the other flavors—the chocolate pops out at you. The caramel and additional vanillins of the bourbon barrel sing in harmony. It's a little syrupy and cloying—you probably wouldn't want a full glass of the stuff—but consumed in moderation it's an achievement in flavor science. It's easily the most crazily decadent beer in the tasting, but not one taster found it to be "too much." Rather, everyone found themselves drawn back for more.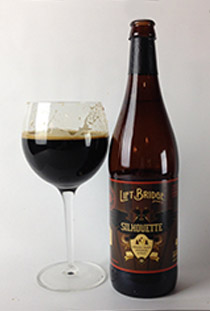 3. Lift Bridge Barrel-Aged Silhouette Imperial Stout
City: Stillwater, Minnesota
ABV: 10%
Key ingredient: Some sort of American whiskey made of at least 51% corn was here.
Perfect for: Showing beer geeks that world-class barrel-aged stouts can come from anywhere.
The verdict: "Biggest surprise of the tasting" probably goes to Lift Bridge, which we acquired after reading about it online. What strikes you here is sophistication and balance—don't get us wrong, there's tons of whiskey barrel character, but it stops just short of dominance—as one taster wrote, "booze doesn't overpower but makes itself felt." From another score sheet: "Wonderful balance of malt and barrel, nose and taste match well. Best overall presentation." In fact, many tasters became convinced of a curious comparison: What the Lift Bridge reminded us of more than anything was Bourbon County Stout in its flavor profile—not as assertive and whiskey dominated, but more thoughtful and perhaps more satisfying as a result. Either way, this small brewery in a Minnesota town of less than 20,000 residents is doing something very right.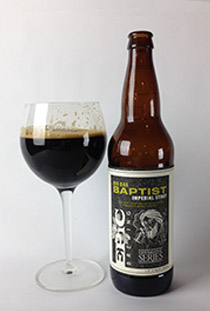 2. Epic Big Bad Baptist
City: Salt Lake City, UT/Denver, CO
ABV: 12.7%
Key ingredient: An ever-changing lineup of coffees
Perfect for: Convincing Utah of craft beer's virtues
The verdict: The thing about Epic's Big Bad Baptist is that every batch is its own little mystery. Regularly produced beers rarely have this much variation, but Big Bad Baptist does, waffling from 10-13% ABV with no real rhyme or reason. Likewise, the source and varietal style of the coffees used in its production change from batch to batch, overtly impacting its flavor profile. But regardless of all that, it's probably safe to say this: Big Bad Baptist is delicious beer in just about any format. This is simply a skillfull synthesis of the brewer's art, mixing spicy coffee notes in with dry cacao and mild, oaky vanillans. The barrel is incorporated perfectly as a supporting player and not the star of the show, making it difficult to pick out exactly where the beer ends and the barrel flavor begins. There are no rough edges, just a beautifully authentic tapestry of flavors.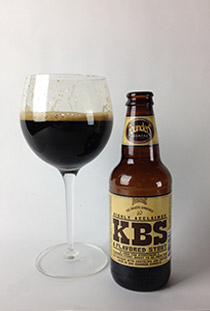 1. Founders Kentucky Breakfast Stout
City: Grand Rapids, MI
ABV: 11.2%
Key ingredient: IT'S BOURBON, DAMNIT, ALRIGHT?
Perfect for: Inspiring a heist to swipe the world KBS supply and hold it for ransom
The verdict:Looking at the lineup, we knew KBS was an early favorite, but thought there might be quite a few that could potentially beat it—this was not the case, after tasting. The volume of flavor is tremendous, but it's the surprising balance that keeps you coming back. It features hugely caramelized, vanilla bourbon flavors but its most impressive achievement is that the beer underneath manages to be just as memorable and assertive, jam-packed with mouth-watering dark chocolate goodness. Every single taster used the word "balanced" somewhere in their notes, which isn't really what we expected from something that tastes like the beer equivalent of bourbon chocolate ice cream. But tasting the KBS next to all these other superlative beers, it becomes all the more obvious that the hype is real. People follow beer trucks to get this stuff for a reason.