The James Beard Awards are our country's top accolades for all things culinary. Four years ago, the James Beard Foundation added a new, exciting category to its award line-up — Outstanding Bar Program — to recognize restaurants that make exquisite libations.
"I'm happy to say that proper cocktail programs are now (finally, once again) being recognized as a vital element of hospitality. Perhaps more importantly, is that the cocktail is America's original contribution to an epicurean lifestyle," says Steve Olson, James Beard Foundation Awards Spirit Chair. "Cocktails as a professional art form predate American professional culinary arts by several decades, if not an entire century."
The art of cocktailing began in the mid-1800s, according to Olson, and put the U.S. on the culinary map in Europe during Prohibition when Americans fled to Europe to continue their art of making cocktails. "With the long-standing history and influence, the profession has had on our culture," says Olson, "it is only fitting for us to recognize the highest levels of the art of the bar here in the United States."
Getting on the James Beard Foundation's list is no easy feat. An open call for entries is whittled down to a list of 20 semifinalists by a committee, and then the list gets voted on by more than 600 folks (250 regional judges and previous winners), for the top five. The winner will be chosen in May.
"Bartending as a craft and a profession is back, in a major way," says Olson. This year's top five bars span the country, from New York City to San Francisco and New Orleans to Chicago.
The Violet Hour
Chicago, Ill.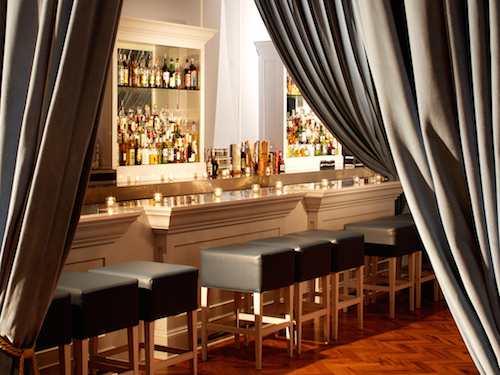 Photo via The Violet Hour
In the four years that the James Beard Foundation has recognized excellent bar programs, Chicago's The Violet Hour has made the list every year. "We have this saying," says The Violet Hour's managing partner Eden Laurin, "that the fourth time is a charm. Fingers crossed."
The bar, which has been around for almost nine years, is located in the Windy City's hip Wicker Park neighborhood, and focuses on pre-Prohibition-era cocktails. House rules such as no Grey Goose, no Budweiser, no reservations and no cell phone use are guiding principles.
A menu of 35 cocktails — old-school recipes and riffs on the classics — change seasonally. Recipes are simple and stream-lined, showcasing flavor. Homemade bitters and fresh juices, according to Laurin, create a template for simplicity and deliciousness.
While the menu changes, there are a few mainstays. The signature cocktail, the Juliet and Romeo, is a complex and refreshing floral beverage made with muddled cucumber, angostura bitters, mint, rose water and gin. The bar's Dark & Stormy incorporates Brugal Anejo, lime, molasses-tasting Cruzan Black Strap rum and a fresh-squeezed ginger syrup. You can also count on always finding a twist on the Old Fashioned, Manhattan and Sazerac.
Complicated cocktails may sound unapproachable, but not at The Violet Hour. Bartenders are educated for months before serving, and are trained to chat up customers and learn their preferences. Education is key, even on the other side of the bar. The Violet Hour is spreading the love by hosting cocktail classes, ranging from ambiguous themes like Evolution of the Cocktail to more focused topics that focus on London dry gins and the herbs that flavor them.
Maison Premiere
Brooklyn, N.Y.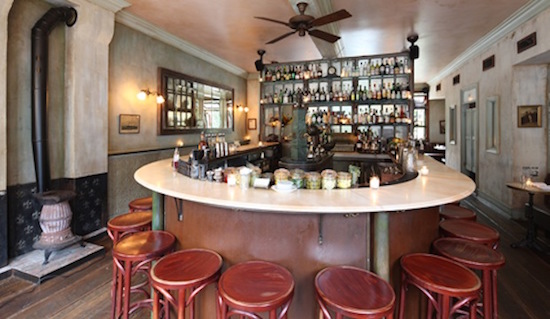 Photo via Maison Premiere
Maison Premiere, an absinthe and oyster bar tucked in Brooklyn's Williamsburg neighborhood, has the largest absinthe program in New York (and quite possibly the East Coast). With upwards of 30 absinthes, curated from overseas and stateside, bartenders are not just good at whipping up tasty drinks, they also are trained in the history and characteristics that make a great absinthe.
The bar carries the two main expressions of absinthe — Swiss style (blanche) and French style (vert). Eight absinthe cocktails and 35 house cocktails make up the mixed drink offerings and change with the season.
In its second year as a James Beard semifinalist, bar manager Will Elliott says, "It's awesome to feel like we are relevant."
Maison Premiere is good at making the obscure obtainable and totally relevant. Hard-to-find absinthes are mixed into approachable, classic-inspired cocktails. They also carry American absinthes, recipes resurrected from pre-Prohibition days, along with cottage distillers such as Delaware Phoenix in upstate New York.
Although the Brooklyn bar started with an absinthe focus, there is much more — fabulous oysters, fresh French-inspired seafood dishes, along with organic and biodynamic wines from Europe.
For first-timers to absinthe's pungent fennel and anise flavors, Maison Premiere is the place to go. It's the bartenders mission to make the herbaceous liquor approachable and fun for newbies.
"It's a flavor profile that a lot of Americans are not comfortable with. And, we don't have those flavors in our childhood, except for the black jelly bean," Elliott says with a laugh. "We like to offer cocktails as a gateway to enjoying absinthe the classic way."
Feel free to pepper bartenders with questions. They'll unload troves of absinthe history and fun tidbits. Maison Premiere is much more than a bar. While enjoying world-class cocktails, its also a time capsule and rich, educational experience.
Trick Dog Bar
San Francisco, Calif.


Photo via Trick Dog
San Francisco's Mission District bar Trick Dog is known not just for its original cocktails, but for its complete bar experience. Prior to opening the bar, co-owners Josh Harris and Scott Baird created Bon Vivants, a hospitality design business that consulted on bars in restaurants like San Fran's two-Michelin-starred Quince.
"We feel like a bar experience is more than the beverage you offer," Harris says. "Great drinks is a plus, but it's the music and smiles and the design and the energy and the lights…"
Trick Dog's menu and theme changes every six months. Bartenders whip up original, and often-times wild cocktails. The menu consists of 12 cocktails, around 5 highballs made with hard-to-find sodas (think Akvavit and Cel-Ray), boilers, shots and mocktails (adaptations of current drinks on the cocktail menu), such as the Candlestick Park made with black tea, local cold-pressed coffee, lime, fenugreek and grapefruit.
"You could definitely say there is a heavy culinary influence in our drinks," Harris says. "There are lots of ingredients in drinks that you would typically see in the kitchen, like weird spices and stuff."
The bar's first menu was based off the Pantone color guide, drinks inspired by different color swatches. For instance, Pantone 7621, their most popular cocktail was mixed with Kummel orange liqueur, bourbon, ginger, lemon, saline and beet juice. "It was a total flavor ride," Harris says. "With all cocktails, we try to hit all the places on the tongue."
The theme currently revolves around a Chinese menu with high-end graphic design, art installations and an exterior sign of red Chinese characters (which caused one passerby to come in asking about jujitsu classes).
"We like the idea of building a relationship with drinks at the bar, and having time to work through all the drinks," says Harris. "You start with an approachable one, and work your way towards something you wouldn't have tried and then crave it and come back for it. Crave-ability is what we want to have bouncing around in their heads."
Arnaud's French 75 Bar
New Orleans. La.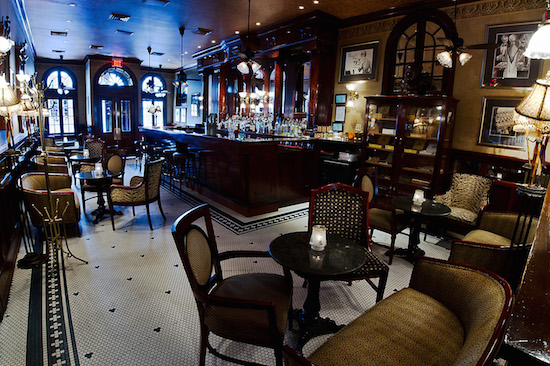 Photo via Arnaud's
Located in the heart of New Orleans' historic French Quarter, bartenders at Arnaud's French 75 Bar serve up premium spirits and classic cocktails.
"My M.O. includes reintroducing customers to classic cocktails and using my knowledge to create innovative new recipes using only fresh ingredients, homemade syrups, drams, and liqueurs," says head bartender Chris Hannah of the historic bar, which was founded in 1918 by French wine salesman Arnaud Cazenave.
Named for the French 75, which also happens to be the bar's signature cocktail, Arnaud's serves it with Courvoisier cognac rather than gin, along with sugar, lemon juice, and of course, a little bit of bubbly — Moet and Chandon Champagne.
The bar features anywhere from nine to 12 seasonal cocktails at a time, with mainstays like The Contessa — Boodles Gin, Aperol, grapefruit juice, Cranberry Cordial, and orange bitters.
California and old world wines, along with local craft beers make up the less alcoholic selections. And they recently teamed up with Four Roses Bourbon to create Arnaud's own private label of single-barrel bourbon.
"We wanted a high rye bill with extra age, so it's a spicy bourbon that has a sort of forward fruit flavor with hints of caramel and honey," Hannah says. "It's nice to be able to have a bourbon to call our own, so to speak, and we are thrilled to be able to share that with our guests."
And, because its New Orleans, you can imagine that the hospitality comes naturally.
"That culture defines everything we do at Arnaud's French 75 Bar," Hannah says. "From service to cocktails, every detail is a tribute to our great city and an opportunity for us to provide a truly unique experience every time someone walks through our mahogany doors."
Bar Agricole
San Francisco, Calif.
Named for Agricole cane juice rum from Martinique, this bar takes pride in carrying quality region-specific spirits. For the past four years, Bar Agricole, located in San Francisco's hip SOMA (South of Market) district, has made the top five for James Beard's bar program.
"We take inspiration from classic bar history and incorporate many ingredients that we make ourselves seasonally such as apricot brandy and all our house bitters that we macerate from scratch," says bar manager and co-owner Eric Johnson.
Cocktails that change seasonally, small wine producers from all over the world, and a curated beer list from a classic Austrian lager to local IPAs make up the beverage list.
"We love drinks that have a sense of history, and we're really keen on turning people onto brandy," Johnson says. "It has a really deep history in classic bartending, but tends to get overshadowed by the ocean of vodka and whiskey that many people encounter most often."
Bar Agricole has six different types of Calvados, Armagnac and Cognac that were bottled exclusively for the bar. "[They] lend a truly unique character and identity to the drinks we make with them," Johnson says.
One of the bar's most popular cocktails is the House Old Fashioned with their single-cask Cognac. Other intoxicating beverages include the Tulip, made with Calvados, house apricot brandy, lemon and Italian vermouth.
"We want people to feel comfortable trying something new. None of us really grow up in the U.S. with a strong education in how to enjoy spirits. We seem to do it all wrong early on and carry a lot of baggage for a lifetime," Johnson says. "We want guests to have a stronger connection to authentic spirits from real people, not manufactured brands."