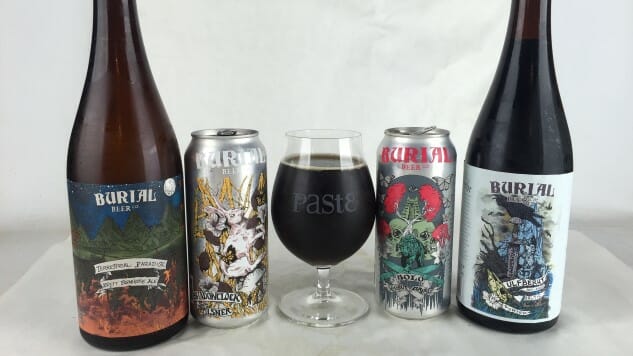 With 20-plus breweries in the immediate metro area of a city with merely 230,000 residents, it's easy to see how Asheville carved itself out a niche as one of America's most pro-craft beer bastions. In terms of great breweries per capita, it's nigh-on unbeatable, from major regional breweries in the immediate area (New Belgium, Sierra Nevada, Highland) to critical darlings of modern American sours (Wicked Weed) to beloved local breweries with proud histories of their own (Asheville Brewing Co., Green Man, etc). It's one of the best places in the country to go on a brewery crawl, considering that a dozen or more are all within walking distance of one another, ringing the attractive downtown area. And it's a beer scene that never seems to stop growing and evolving.
As such, there always seems to be a new Asheville brewery that is trending, and in 2015 and beyond that has been Burial Beer Co. In all honesty, it has been fascinating for me as a craft beer fan to watch a groundswell of hype for Burial develop on the East Coast and the Southeast. In a city with so many breweries, and so many good ones, for one of them to figuratively surge ahead of the pack is quite difficult. Even odder is the fact that Burial has largely done so while working in classical beer styles, although with occasional twists. But it's not like Burial is a burgeoning sour beer titan, or barrel-aging every other beer that passes through the brewhouse. If anything, they stand out for how balanced they are and how many disparate styles they tackle at any given time. Scroll through their history on Beer Advocate and you'll see just how many releases there have been since 2013, and how varied they are: Saison, schwarzbier, dubbel, IPA, gruit beer, brown ale, tripel, stout, witbier, old ale, rye beer, biere de garde, etc, etc, etc. It's as if the brewery takes its cues from the best of American, German and Belgian styles in equal measure.
Of course there are also the stand-outs, as it tends to be single beers that propel a brewery forward into the attention of beer geeks (and especially traders), rather than the merits of a well-balanced lineup. With Burial, the most prominent of those has likely been the brewery's Skillet Donut Stout, a decadent coffee oatmeal stout (no actual donuts) that has become popular trade bait in the last few years. The brewery's profile has correspondingly risen—it's not unusual to now hear East Coast beer geeks of the more irritating variety say things such as "Eh, I don't really drink Wicked Weed anymore; I'm more into Burial for Asheville." So goes the tides of craft beer—as one wave rolls out, another inevitably must roll in.
Up until recently, my only chance to personally try Burial's beers had been during a short stop at the brewery's taproom while traveling to Asheville for a Wicked Weed festival. We were pleased, then, to learn a few months ago that their production and distribution are expanding … with Paste's Georgian home as one of their first prospective additional markets.
In anticipation of the beer headed our way, we decided to put together the following tasting of five Burial beers: Shadowclock Pilsner, Bolo Coconut Brown, Ulfberht Baltic Porter, Terrestrial Paradise Saison and the imitable Skillet Donut Stout.
---
Shadowclock Pilsner
Burial's year-round pilsner seems to draw its inspiration primarily from classic German variants, rather than the more edgy Czech pils. This isn't to say the beer is lacking in hops—in fact, it's quite hoppy, even among American craft pilsners—but an observation on the character of those hop aromatics and flavors. It's very floral and "green" on the nose, with some herbal character as well, derived from what are clearly continental hop varietals. Not present, though, is the telltale spicy buzz of Saaz, which in my eye is almost always the heart and soul of what differentiates German from Czech pils.
Regardless, this is a characterful pilsner, and certainly not an afterthought meant to "keep the locals happy" on hot summer days. Biscuity, slightly bready malt is present in small quantities, with a balance that tilts slightly, but not excessively, in the direction of those grassy, floral hops. It's a gentle but interesting everyday drinker for appreciators of European hops who have learned to enjoy the subtleties of lagers.
Bolo Coconut Brown
Dark ales with toasted coconut—brown ales, porters, stouts, etc—aren't that difficult to come by these days, and to be perfectly honest, anytime I see "coconut" on a beer label I almost invariably walk away thinking "this is way too much coconut." Surprisingly, though, that was not my ultimate impression of Bolo. It manages to evoke some of the richness of coconut confections without getting carried away.
On the nose, it reminds one of nothing so much as a chocolate and coconut macaron, which is presumably exactly what they were going for. You get cocoa on the palate, and—wait for it—nuttiness, in its toasted malt flavors. That's "toasted" rather than caramelized for the most part, which makes a pleasant partner to the gentle coconut, which manages to be unmistakable without bringing a boatload of residual sugar along with it. That also makes for a fairly drinkable brown ale with all things considered; certainly moreso than many of the candy-like coconut beers on the market. This style isn't the sort of thing I typically reach for, but Bolo executes it with considerably more tact than most, which you have to appreciate.
Skillet Donut Stout (not pictured above because we didn't get it until later)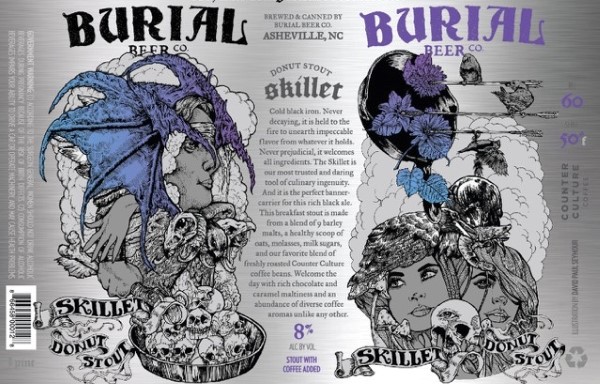 It's pretty hard at this point to make a coffee stout that drinkers are going to recognize as specifically distinct from others they've had, and I expect that when the folks at Burial considered this reality, they must have come to a decision: Don't try to derive its uniqueness from the coffee. Derive it from everything else. And thus you get Skillet, a "donut" stout named for what it evokes rather than what it incorporates. If it was named for what was actually in it, they'd be calling it "Skillet Oatmeal Molasses Lactose Coffee Stout," and that's a significantly less zippy moniker to go by.
That probably sounds complicated, but "complex" is the preferred terminology, and here it's pretty accurate. Skillet is big on espresso-like coffee on the nose—dark, oily, sweet coffee, but on the palate the coffee takes a step back and lets the other muses shine. Malt complexity is the main thing that stands out to me, in the form of a dark, red fruit note that I typically associate with bigger imperial stouts—although at 8% ABV, Skillet is squarely in that uncanny valley between single and double, so one sort of gets the best of both worlds. If Founders Breakfast Stout is used as an example of this type of beer that absolutely nails the chocolate/coffee combo, then Skillet is a bit more free-wheelin' and less concerned with that particular duality.
Terrestrial Paradise
This limited release 750 ml bottle is a saison with brettanomyces and mango, according to the label, and each make their presence felt in different ways. On the nose, there's no missing that it's a fruited farmhouse ale. The mango lends a delicious tropical character to this bright yellow ale, lightly fruity and sweet, with a touch of funk and the somewhat sweaty character of brett. On the palate, though, the fruit doesn't pop as hard as it did in the aroma, and you're left with a very dry, fruit-influenced but brettanomyces-dominated saison. That funky complexity is the star of the show, which likely means that brett fans will find it to their liking. The drinkers in our own mini-tasting, though, found themselves wishing for more of the fruit/lactic acid combination one expects from a fruited sour … not the most realistic expectation for a solely brett beer, but one that we've been spoiled by in an age of easy access to fruited sours.
Ulfberht Baltic Porter
This baltic porter (still a relatively underutilized style in American craft beer) is certainly an odd one, made only odder by the inclusion of two unexpected ingredients: Juniper berries and neutral oak. Racking my brain for all the beers I've ever tasted that incorporated juniper in some way, I'm left at a loss when trying to think of a dark beer to do so—it's an addition that has become more common in the last few years, but is more often paired against hops or expressive Belgian yeast profiles. Juniper and roast? That's more unexpected, but that's what you're getting here.
On the nose, the ashy roast is prominent, and there's no missing a whiff of fruity booze as well. It smells more or less like an imperial stout, but without the heft. On the palate, though, Ulfberht is decidedly thinner of body than almost anything one would typically find in the 10% ABV range. If it was an imperial stout, you'd criticize it by saying it was too thin, but as a lager, it makes sense. Both the juniper and oak prove to be quite subtle, with only a touch of woodiness hinting at the presence of the latter. The juniper, meanwhile, comes through in a piney sort of way, and perhaps in an amplification of this Baltic porter's biggest flavors, which are blackberry or boysenberry-like dark fruitiness, coupled with tactful roast. What you're left with is an easier-drinking, fruitier lager take on high-gravity dark beer, in a niche that has been all but dominated by imperial stout in recent years. To fully appreciate Ulfberht, a drinker will likely have to understand the difference.
---
Jim Vorel is Paste's resident beer geek. You can follow him on Twitter for more craft beer content, including our blind style tastings.