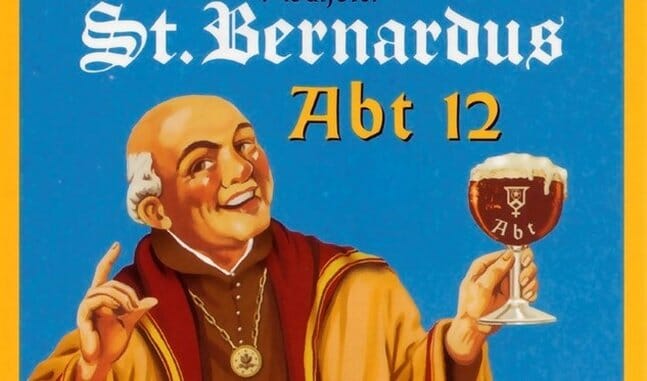 For our companion piece on this style, Let's Talk Beer Styles: Belgian Quad, simply click here.
It's fascinating, the way one's perception of a specific beer style will change over the course of a large blind tasting. This is something we at Paste have been cognizant of ever since we started regularly doing our tastings blind with American IPA back in 2015 (soon to be repeated!)—the fact that our overall opinion on a beer style will probably be shifted to some degree by the process of processing and evaluating so many. This time, however, my perception of a style changed before we even began tasting.
What kind of beer do you imagine, when someone says "Belgian Quadrupel"? High ABV, certainly. Fruity, almost always. Viniferous, often. Spicy, sometimes. Right? But how about "Belgian strong dark ale"?
If you had asked me this a month ago, I would have started off by at least confirming that these are two different styles. But pressing further, I would have run into a wall. Of those basic flavor descriptions above, which would be applied to quads but not to Belgian dark strong ales? What does it even truly mean to be a quad? In the traditional Belgian sense, does that beer have to be somehow connected to the monastery or trappist tradition, i.e., does it need to be coming from a brewery that also has a singel, dubbel, tripel, etc? What of American quads, which play much faster and looser with the style?
Ultimately, it was a realization that we needed to broaden our terminology. Hosting a "quad tasting" simply didn't make sense—not when you have the likes of St. Bernardus Abt. 12 defined as "quad" and Chimay Grande Réserve (Blue label) defined as Belgian strong dark ale. In the modern beer landscape, the two names boil down to marketing tools more than anything else—an American brewery in particular is going to name its beer whatever they think will appeal most to the drinker—be that quad or "dark Belgian ale" or anything else. Any specific difference implied by the choice of name has long ceased to be relevant.
---
A Note on Beer Acquisition
Like every other blind-tasting at Paste, we acquire these beers in a variety of ways. Most are sent in directly by the breweries when we send out a call for that style. Others we're able to purchase directly because they're available in Georgia, which is how we came by most of the Belgian ales on this list in particular. In that sense, we're at the mercy of what is available.
One decision we specifically made in tasting quads was to allow ALL VERSIONS of this style, regardless of how they've been treated or aged. That includes barrel-aged offerings, which I know many will object to in the comments. We could have attempted to conduct a tasting of "only regular quads," but in a style that classically is treated with spices and sometimes aged in oak, what is regular? If a nontraditional spice such as cinnamon or chiles is present, would that disqualify the beer? Nor do we agree with the assumption that just because something is barrel-aged it will inherently be superior. In fact, the tastings provided several instances of the opposite.
---
A Specific Note on Westvleteren 12
We don't have any. Feel free to leave a haughty comment about it. Some of us have tasted it before, and it is indeed delicious stuff. We're sure it would probably do quite well in these rankings. Now let us never speak of Westy again. Alright then.
---
Rules and Procedure
– We accepted anything sent to us, as long as it involved "quad" or "Belgian dark strong ale" in the description, or was categorized as such. There was no ABV limit, as this style is all over the place.
– There was a limit of two entries per brewery. The beers were separated into daily blind tastings that approximated a sample size of the entire field.
– Tasters included professional beer writers, brewery owners and beer reps. Awesome, Paste-branded glassware is from Spiegelau.
– Beers were judged completely blind by how enjoyable they were as individual experiences and given scores of 1-100, which were then averaged. Entries were judged by how much we enjoyed them for whatever reason.
---
The Field: Quads #'s 32-20
As I almost always say in this section, there's nothing at all wrong with most of these beers. In fact, a lot of them got very impressive scores. As we grade on a 1-100 point system, I'm pretty sure that I've never seen so many 80s and 90s in general, and I've certainly never seen so many beers with 80s or 90s on individual score sheets not end up in the top segment. We all know that these high-ABV styles tend to draw high scores, and that was certainly the case here. There were lots of good quads on the table each day, so I wouldn't write off any of these beers.
They're presented below in alphabetical order, and as such they are not ranked. I repeat: These beers are not ranked.
Avery Brewing Co. the Reverend
Brewery Ommegang Three Philosophers (Barrel Aged)
Heavy Seas Beer Plank IV
Quest Brewing Co. Grand Cru
Rocket Republic Brewing Co. Dark Matter (Jack Daniels barrel-aged)
Samuel Adams Tetravis
Sun King Brewing The Velvet Fog
Three Taverns Heavy Bells
Uinta Brewing Co. Labyrinth Barrel-Aged Quad
Upland Brewing Co. Stoaked Belgian-Style Quad
Wild Heaven Craft Beers Eschaton
Wrecking Bar Brewpub In Quad we Trust (Barrel aged)
Next: The rankings! Quads #'s 20-1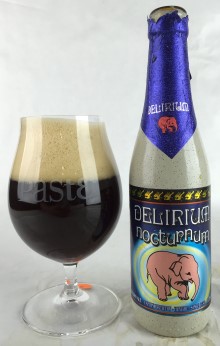 20. Delirium Nocturnum
City: Melle, Belgium
ABV: 8.5%
The verdict: I've often felt that Delirium Nocturnum and its lighter brother, Tremens, served as the first exposure of a lot of craft beer geeks to the archetypal ideas of both "Belgian strong pale ale" or "Belgian strong dark ale"—or at least that was certainly true for me and a lot of beer drinkers I know. Perhaps it's the iconic ceramic bottles that first catch the eyes of drinkers in a beer cooler, but both beers have been classics of the style for far longer than I've been drinking. Nocturnum features some of the same bready maltiness you see in a few of the other Belgian originals, with red fruit flavors of cherry or raspberry and a bit of sherry-like wine character. It's slightly thinner of body than most of the beers, probably owing to the fact that it's on the lower ABV side for the style, making Nocturnum among the more drinkable iterations of BSDA that you're going to run across. Every single taster's score sheet notes the lightness of body and intensity, compared to some of the more assertive entries on the table.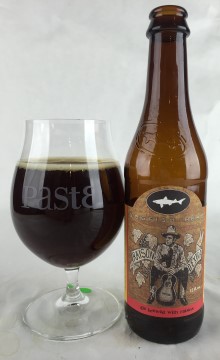 19. Dogfish Head Raison D'extra
City: Milton, DE
ABV: 15-18%
The verdict: Here's a beer that we'd never even thought before to categorize as a Belgian dark strong ale, but given that it uses Belgian yeast, that's essentially what Raison D'extra is. It's a bit of a difficult beer to evaluate blind, not least because the ABV is so outrageous. On the nose you immediately get a waft of boozy red wine, a very ripe sangria of a beer where you know you're in for a shock to the senses. The flavors are intense, with massive fruitiness—"super jammy dark fruit," to quote one of the score sheets. Not knowing what it was, one might think it was wine barrel aged because of the intensity of those fruit flavors and and underlying red wine character—not surprising, once you realize that the raisins were involved. Some of the tasters were absolutely flabbergasted by the gobsmack of alcohol, while others perceived its nature as a port-like after-dinner beer. But regardless, a beer like this is never going to be universally palatable because it's just so rich. It's only for the bold.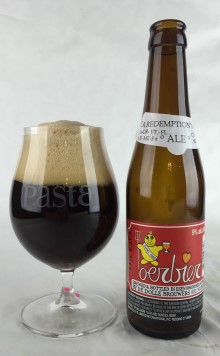 18. De Dolle Oerbier
City: Esen, Belgium
ABV: 9.5%
The verdict: De Dolle has a tendency to get left out of some of these American conversations on classic Belgian brewers, so I'm glad we were able to include them. Their Belgian dark strong ale, Oerbier delivers noteworthy sweetness and red fruit flavors, especially cherry. It's also hard to miss a tart, vinous note in this beer that immediately sets it apart from almost all of the other classic Belgian takes on the style—none of them really pack a detectable degree of tartness, unless they've seen time in a barrel. That extra dimension makes Oerbier a somewhat odd beer in this bunch, but it works nicely to counteract the significant residual sweetness and improve its drinkability. In that sense, the tartness almost makes Oerbier seem like the "most American" Belgian dark strong ale of the samples that actually hail from Europe.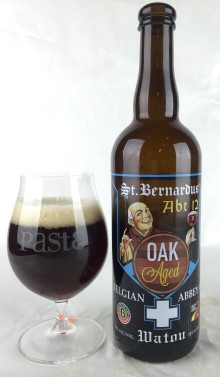 17. St. Bernardus Abt. 12 (Calvados barrel aged)
City: Watou, Belgium
ABV: 11%
The verdict: Several tasters were completely shocked to find that they weren't over-the-moon in adoration for this barrel-aged variant of St. Bernardus' classic Abt. 12, but looking at other reviews, it's hardly hearsay to believe that the original beer is still the superior version of the two—more on that later. This more expensive version is aged in calvados barrels—a style of French apple brandy—which impart complex fruity flavors that different tasters identified as everything from rose wine to old-school bottle cap candies. It's sweeter and somewhat boozier than the standard Abt. 12, a little bit more decadent but less balanced as a result. It was, we can objectively say, one of the more unique bottles on the table.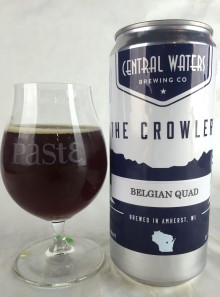 16. Central Waters Central Quadders Belgian Quad Ale
City: Amherst, WI
ABV: 9.6%
The verdict: One of the nicest things one can say about Central Waters' offering—and Central Waters is a really great, underrated brewery, let me just say—is that several of the tasters were convinced they had one of the old-school Belgian classics in their hand. It's drier than many of these other quads despite pushing 10% ABV, with an expressive, fruity Belgian yeast profile that made various tasters make comparative notes to breweries like Ommegang and Allagash. It also packs some serious spice notes that wouldn't be out of place in a classic farmhouse ale. All in all, it's a pretty complex, yeast-driven take on the style that circumvents some of our expectations for American quads.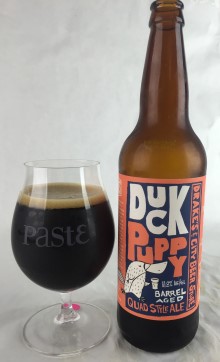 15. Drake's Brewing Co. Duck Puppy
City: San Leandro, CA
ABV: 11.8%
The verdict: So many of the American quads we tasted in these lineups were big, burly, barrel-aged monsters, and obviously they exist on a gradient of how well the barrel was integrated and whether the beer is still identifiable as a quadrupel or Belgian dark strong ale. Drake's brand new anniversary beer is aged in rye whiskey barrels, an interesting twist that imparts some barrel spice while actually drying it the beer out a bit more than it likely would have been otherwise. The resulting quad is lightly tart, with detectable oakiness and intriguing hints of cocoa powder. It's also not short on fruitiness—to quote one of the score sheets, "the essence of the dark fruity quad." In fact, considering that the ABV is almost 12%, this quad actually hides its booze quite ably.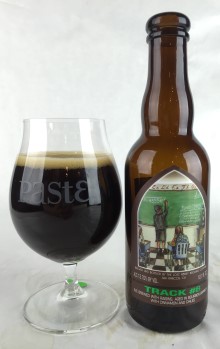 14. The Lost Abbey Track #8: Number of the Beast
City: San Marcos, CA
ABV: 13.7%
The verdict: Okay, here's a beer that stands as a perfect example of why it's hard to do blind ratings when you're making any attempt to "rate to the style." Track #8 is a truly unique spin on Belgian quad, incorporating bourbon barrels, raisins, dried chiles and cinnamon sticks to create something that tastes absolutely nothing like any of the other beers in the tasting. It conjures almost Christmas-like imagery on the palate, with big cinnamon/allspice flavors and obvious bourbon presence as well. Nearly every taster agreed that the flavors were great, but at the same time it provoked the classic argument of "Well, if you can't tell it's a quad while tasting blind, then do you rate it lower for that reason?" In the end, style conventions simply matter to some tasters more than they do to others—even if you set parameters that they're not supposed to. What we can say is that Track #8 is the sort of fascinating diversion from the norm that we weren't surprised to see coming from The Lost Abbey after the reveal; a sweet, rich, heady brew that will be especially welcome to any of the craft beer geeks out there who love the "Mexican hot chocolate" flavor palette currently popular in imperial stouts.

13. Ommegang Three Philosophers
City: Cooperstown, NY
ABV: 9.7%
The verdict: There were several times in the course of this tasting that we preferred the original version of a beer to the barrel-aged variant, and Three Philosophers was one of those occasions. Well-known to lovers of American Belgian ales, Three Philosophers is created by mixing a classic Belgian quad with a very small amount of kriek to provide a bit more fruity complexity. It's very expressive on the nose, as most Ommegang beers tend to be, with big clove and spice notes in particular—"exactly the right aroma for a classic Belgian quad," wrote one taster. The cherries are very subtle, as intended, just a little x-factor of fresh, bright red fruit working somewhere in the background, complementing an already dry and complex Belgian ale. It's definitely a beer that many beer geeks would think of immediately when American-made quads are discussed.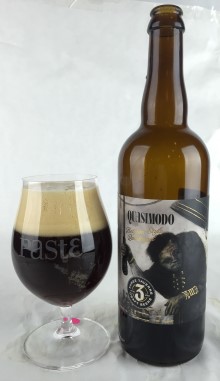 12. Three Taverns Quasimodo
City: Decatur, GA
ABV: 10%
The verdict: An American quad, but very much in the Belgian style, Three Taverns' Quasimodo manages to nail that nebulous gap between what we think of as "quad" and "Belgian dark strong ale." It's a bit thinner of body than most in the 10% ABV range, dried out with the traditional candi sugar addition, and is otherwise quite well-balanced between fruit and spice influences. Nothing really dominates on this beer—not the yeast character, or booze, or an intensity of fruit or spice. It's simply a very drinkable quad with appreciable malt complexity—dark fruit like plum or figs, complemented nicely by a touch of nutty or cocoa-like dark malt. It's definitely worth a bit of introspection.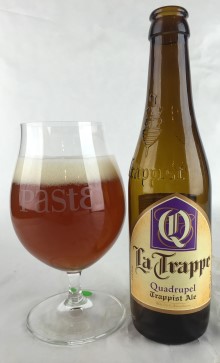 11. La Trappe Quadrupel
City: Berkel-Enschot, Netherlands
ABV: 10%
The verdict: You can't very well have a quad tasting without La Trappe, who produce the original style-namer—the first beer to be referred to as a "quadrupel" in reference to the progression from singel to dubbel and tripel. The funny thing is, compared with the contemporary description of the style, it's really not the most "quad-like" on the table, a clear illustration of how beer styles continue to evolve. It's significantly lighter than almost every other beer in color, and the nose in particular is uniquely different, full of spicy esters and even some barnyard aromatics that remind one more of a fruity/spicy tripel or saison more than most of the other quads. There's a delicious, uniquely herbaceous quality at play as well, one that presents almost like basil and maybe a touch of mint. It was a beer that we universally enjoyed and quickly identified as indisputably a product of Belgium, but were nevertheless shocked to see as the "original quad" during the reveal.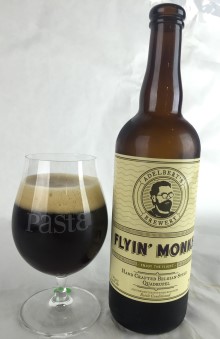 10. Adelbert's Brewery Flyin' Monks
City: Austin, TX
ABV: 10.9%
The verdict: Adelbert's is a new brewery to these tastings, so welcome—and welcome to the top 10 as well. Flyin' Monks strikes us as an exemplary entry in what one could think of as "American quad." It's aged on oak cubes previously used by a small Texas distillery to age rum batches, but the "barrel" character comes through only subtly, with enhancements to the vanilla/caramel character. Fruitiness is still the biggest aspect of the flavor, with some very nice dark, dried fruit flavores (raisin, prune) and also a fresher, juicier blackberry-like note. The yeast character is cleaner and less estery/phenolic than in the classic Belgian entries in the style, which is what we tend to associate with American-made Belgian beers for whatever reason—surely something that boils down to the subtleties of fermentation science and water chemistry as well. But regardless, this is a quad that ably blends subtlety and big fruit flavors.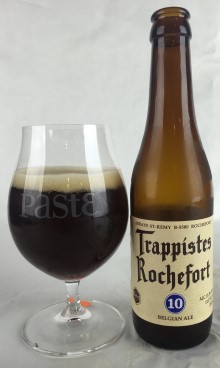 9. Rochefort 10
City: Rochefort, Belgium
ABV: 11.3%
The verdict: We're into some serious heavy hitters here now, beers that have been hailed as the benchmarks of this style for a long, long time. Rochefort 10 has been called one of the best Belgian quads in the world, and it certainly scored well—although it's interesting to see which other classic Belgian examples finished a little bit ahead of it. Regardless, Rochefort 10 presents with big aromatic notes as its signature, heavy on clove, warming spices and banana esters—we would have been shocked to find that the bottle wasn't from Europe. The ABV does not hide on this one, either—it provides a warming, rich, slightly oxidized booziness that you expect to find when cracking into a classic quad, and a bit of leathery mustiness. It's almost like you can taste the history associated with the recipe.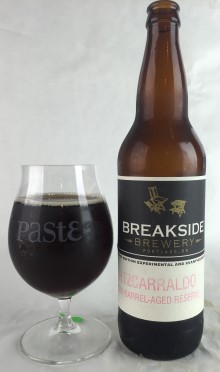 8. Breakside Fitzcarraldo
City: Portland, OR
ABV: 11.2%
The verdict: Breakside has only been represented in a couple of these tastings, but they've got a truly enviable batting average going so far. Fitzcarraldo is quite the unique beer, and we're being slightly generous in including it here as a cuvee, but the majority is indeed made from a Belgian strong dark ale. That majority was aged for a rather ridiculous 18 months in Knob Creek barrels, soaking up overproof whiskey, and yeah—there's no missing that in the final product. It is, however, by no means one-note—in fact, tasters were perplexed by the intensity and the complexity on display here. Cruising through the tasting sheets, you find all kinds of descriptors for the fruitiness: "raisin, stewed plums, port wine," etc. Belgian yeast is restrained after such a long aging, but dances on the periphery of notice. Regardless, this is a very big, expressive beer with no shortage of character.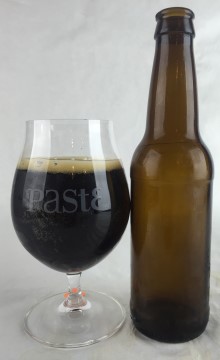 7. Sixpoint Quadruple Take
City: Brooklyn, NY
ABV: 10%
The verdict: One of the more fun aspects of doing these tastings is that you never know quite what will show up when you put out a call. Sometimes they're classics of the genre that have been around for decades. Other times, they're beers like this new one from Sixpoint that aren't even on the market yet (hence the lack of label). That's the essence of truly blind tasting—even after we find out what we've been drinking, it's not as if there are any other opinions to consult. So let us be the first to say: This is some good beer, right here. Red wine barrel-aging provides a well-balanced degree of oak and fruit-forward flavors, but there's a richness here one would expect from more of a bourbon barrel-aged beer—a spicy quality and maybe even a touch of maple. From one score sheet: "barrel-aged, full of dark, sweet fruits." The ambiguous spice note may be the most perplexing and interesting aspect—no idea where that is coming from, but it's an x-factor in the creation of a memorable quad.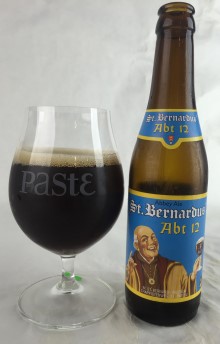 6. St. Bernardus Abt. 12
City: Watou, Belgium
ABV: 10%
The verdict: Ah, Bernie. How many nights have Paste staffers spent drinking goblets of Bernardus Abt. 12 in the second-story Belgian bar of local beer bar The Brick Store? Answer: Quite a few. And yet, even with such a high ranking, one almost feels the need to defend St. Bernardus not topping the list. To this, I can only shrug and suggest folks conduct their own blind tastings. It is an exemplary bottle of classic Belgian quad, however, and one that features balance over bombastic flavors. There's a particularly bready note in this and several other quads that we associate with some of the best Belgian examples—like dark wheat or rye bread, peppered with spices. It's quite dry compared to the American variants and drinks more easily than most, but at the same time the dried fruit flavors of plum and dried apricot give it an undeniable richness and candied character, without being sweet. That's the magic of St. Bernardus and other Belgian greats.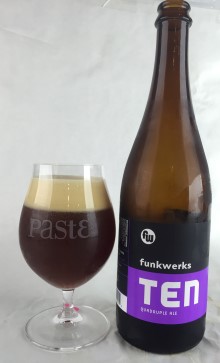 5. Funkwerks Ten
City: Fort Collins, CO
ABV: 10%
The verdict: Here's another example of an American quad that tricked several tasters into thinking it was a bottle straight out of Belgium. It's lighter in color than most, with an almost saison-like nose that emphasizes herbal and estery/fruity notes. On the palate, it's quite balanced—the kind of beer that elicits notes like "not too much of anything" on score sheets, and that is indeed a compliment. Bready malt flavors intermingle with deeper, caramel/toffee sweetness and dark fruit/raisin flavors. Balance, complexity and drinkability all seem to be of equal importance in the concept.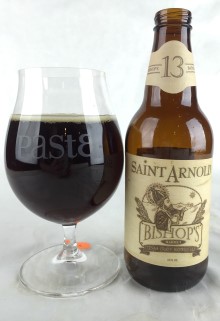 4. Saint Arnold Bishop's Barrel 13
City: Houston, TX
ABV: 12%
The verdict: Another beer that is fairly new on the market, St. Arnold Bishop's Barrel 13 is an assertive, unabashedly American barrel-aged quad. Low on carbonation, it drinks like the product of the whiskey barrel it came from—strong, sweet, but never over the top. Layered with flavors of oak, vanilla and dark fruit, the bourbon barrels give it a particular, unusual character that we've encountered in certain other whiskey barrel-aged Belgian ales—a flavor that almost approximates the fruit/spice combo of a cola or Dr. Pepper soda, as odd as that may sound. Or to put it in another taster's writing: "Boozy on the nose but candy on the palate." We should note: We're not at all surprised to see a great barrel-aged beer from Saint Arnold. Their Pumpkinator imperial stout quite nearly won our last blind pumpkin beer tasting in October, and the barrel-aged version I tasted in Denver at GABF was quite frankly mind-blowing. These Texas brewers know how to handle barrel-aged beer, and the quad is no exception.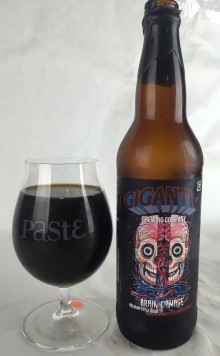 3. Gigantic Brewing Co. Brain Damage
City: Portland, OR
ABV: 13%
The verdict: We would have described the Saint Arnold offering as the biggest and most ridiculously flavorful of the barrel-aged quads, except for the fact that this offering from Portland's Gigantic was just a smidge crazier. Make no mistake: This beer is absolutely massive. Monstrous, really. The gigantic nose and overall lack of carbonation immediately recalled to our mind Samuel Adams Utopias—that's how big and flavorful this thing really is. After the reveal, we actually got out our Utopias bottle to compare the two, and this one is nearly as flavorful, despite being half the ABV. Booze is obviously assertive, but the other flavors are tremendous: Gingerbread cookie, maple, intense raisin fruitiness and a plethora of baking spices combine in beautiful fashion. We have no doubt at all that some tasters will find this quad too hot or too boozy, but it avoided being simply one-dimensional in our eyes. What it creates is an end product that is the single most decadent beer on this list.

2. Chimay Grande Réserve (Blue label)
City: Baileux, Belgium
ABV: 9%
The verdict: "The platonic ideal," begins one of the score sheets, and as far as Belgian dark strong ale goes, it's hard to argue that fact. There's no doubt the moment one tastes this that it's a classic Belgian ale that has come to us from over the ocean. Very well balanced, the crown jewel of the Chimay line features toasted, bready flavors and nutty malt, supported by light, cherry-like fruitiness and moderate ester notes of clove and spice. I'm aware, writing this, that the description sounds like several of the other quads/dark ales on the list, but it's simply true. At these upper echelons, beers are earning higher marks based on more elusive, fleeting qualities. They're all great beers. Some of them are just a tiny bit more balanced or tasty than others. The blue label from Chimay is the kind of Belgian classic that one might even argue is underrated in the current American craft beer market, if only because we've all had access to it for so long. But there's a reason this beer was a classic in the first place.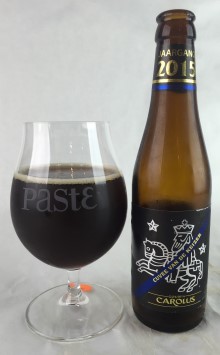 1. Gouden Carolus Cuvee Van de Keizer Blauw (Blue label)
City: Mechelen, Belgium
ABV: 11%
The verdict: What Chimay Blue was to one day of the blind tasting, Van de Keizer was to the next. This is a truly beautiful Belgian dark strong ale, and one that's been sitting right under many of our noses. Toasted malt and rye bread flavors are complemented by light cocoa, unusual to see in most of the Belgians … plus a dark, cherry/plummy fruitiness. Once again, there's no mistaking the source, as it's obvious from the first sip that you're drinking a product of Belgium. The caramel/crystal malt character is extremely well-balanced by a drying finish, as most of the classic Belgians possess, which also does a remarkable job of hiding the 11% ABV. It's assertive without being obnoxious and rich without being cloying. Van de Keizer simply does everything well. If it's been a long time since the last time you tasted one, I highly recommend you pick some up and maybe compare it side by side with a few of the other Belgian classics. We promise, it's more than worthy.

---
Jim Vorel is Paste's resident beer geek extraordinaire. You can follow him on Twitter.