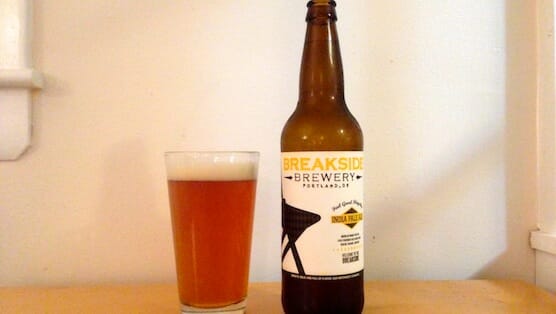 The beer in my glass right now is kind of a hazy, funky orange. Let's call it Burnt Sienna. I had a leather jacket in college that was the same color, so right off the bat, I have a warm spot for this beer. The fact that this very beer won Gold in the uber competitive IPA category at the Great American Beer Festival this year doesn't hurt my first impression either. Actually, this beer won Gold at the North American Beer Awards this year too, and first place in the Oregon Blind IPA Challenge. So yeah, beyond the nostalgic color connection to the leather jacket I wore during the haziest four years of my life, I have high hopes.
I also expect a palate-wrecking hop bomb. Maybe it's because Breakside is a Portland brewery, maybe it's because this beer has slayed the rest of the IPA competition this year—whatever the reason, I have it in my mind before I take a sip that this beer is going to push the hop envelope. I couldn't be more wrong.
There's a strong, citrus nose for sure, but what I notice first when I take a sip is the surprisingly creamy mouthfeel. Yes, there's a solid citrus profile with hits of grapefruit and a little orange, and you get the requisite bitterness too (70 IBUs here), and a brilliant tingling sensation takes over my tongue as the sip begins to vanish. But there's also some grainy sweetness, and a lot of body to the beer, which mellows the overall package into something entirely balanced. It's not what I expected, but it's really refreshing.
The IPA is Breakside's flagship beer, and only the second beer I've had from the brewery. I tried their Passion Fruit Sour (which took home hardware at GABF in 2013) a couple of times over the summer. The first bottle didn't knock me out, but I hit the second bottle after a few months and found a lot more going on beyond the pucker factor. This IPA, on the other hand, is a winner from the first sip to the last.
Brewery: Breakside Brewery
Location: Portland, Ore.
Style: IPA
ABV: 6.8%
Availability: Year-round