Straight up, hard cider is pretty damn good. But why not take it to the next level and use it as a base for a boozy beverage? From mixing it in a classic gin and tonic to creating a fall-friendly sangria, cider provides a sweet, light and effervescent foundation for a range of cocktails. A handful of Virginia's hard cider producers shared their favorite cider cocktail recipes with Paste. Autumns, er, bottoms up!
Harvest Ration


Photo by Chris Johnson
This cocktail calls for Blue Bee Cider Harvest Ration, a dessert cider that is fortified with custom apple brandy from Catoctin Creek Distilling Company. Recipe by Drew Campbell
Ingredients:
1 sugar cube
Angostura bitters
Club soda
2 ounces of Bourbon (Woodford Reserve or Reservoir)
3/4 ounce of Blue Bee Cider Harvest Ration
Orange peel, for garnish
Directions:
1. Place a sugar cube at the bottom of a tumbler glass and add four dashes of bitters, a splash of soda, and then muddle the ingredients until the sugar is totally dissolved. Swirl the mixture to coat the bottom of the glass. 2. In a separate glass, briefly stir Bourbon and Harvest Ration and then add it to the glass and stir lightly again. Add a large ice cube to the glass. 3. Cut a large section of orange peel, run around the rim of the glass, twist over the drink, and then drop in. Enjoy!
Stone Fence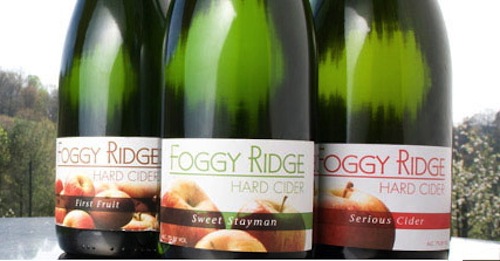 Foggy Ridge's Serious Cider and First Fruit Cider come together to create this tasty concoction, which was featured at the 2014 Tales of the Cocktail.
Ingredients:
1 1/2 ounces of Bulleit Rye Whiskey 4 ounces of Foggy Ridge Serious Cider 1 dash of aromatic bitters 4 ounces of Foggy Ridge First Fruit Cider 1/4 ounce of maple syrup
Directions:
1. Combine all ingredients, stir and pour over ice. 2. Garnish with a sprig of fresh mint.
Appalachian Dawn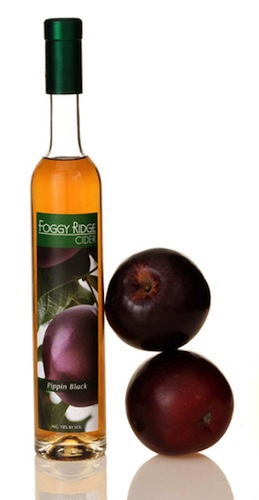 This sweet, boozy beverage, featuring Foggy Ridge Pippin Gold apple port, won the Slow Food Speakeasy Cocktail Competition.
Ingredients:
2 ounces of Rittenhouse Rye Whiskey 3/4 ounce of Foggy Ridge Pippin Gold apple port 1/4 ounce of honey syrup (1:1 ratio George Watkins' tupelo honey to water)
1 dash each of Fee Brothers Lemon Bitters and Old Fashioned Bitters
Directions:
1. Add all the ingredients to a shaker and stir with ice. 2. Strain liquid into a rocks glass and serve.
Cider Sangria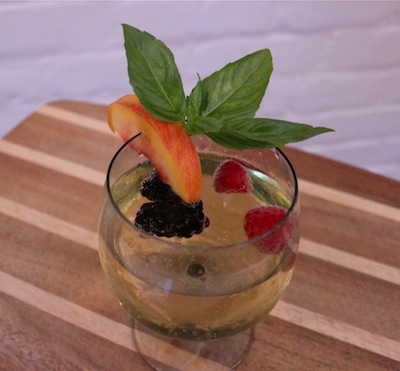 Whoever thinks sangria is a summer beverage obviously hasn't tried the tasty fall flavors of cider sangria. Recipe by Edible Blue Ridge
Ingredients:
1 or 2 peaches, thinly sliced
1 navel orange, sliced
1/2 pint of berries (blueberries, raspberries, blackberries, or a combo)
1/4 cup of basil leaves, loosely packed
1/2 bottle (375 ml) of semi-dry white wine, chilled
1 bottle (750 ml) of Bold Rock Crimson Ridge
or 2 (12 oz) bottles of our VA Apple or VA Draft
Directions:
1. Let fruit, basil and wine sit at room temperature for two hours or in the refrigerator for one day. 2. Divvy up the fruit in glasses, add chilled Bold Rock Hard Cider and garnish with a basil leaf.
Cider Spritz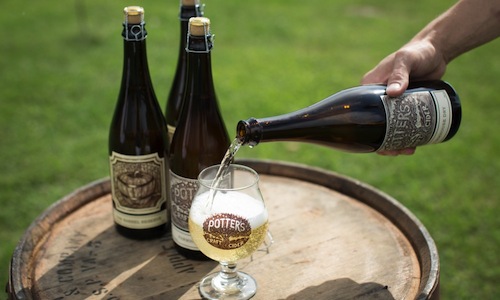 Potter's Craft Cider's Tim Edmond came across an Aperol spritz when travelling in Italy. "The Italians that we stayed with drink spritz every evening after work, using a simple recipe consisting of Aperol, Prosseco and muddled orange. All I kept thinking was, 'I can't wait to get back to the states and try this with a dry cider.'"
Ingredients:
3 parts Potter's Craft Cider Farmhouse Dry
2 parts Aperol
1 part club soda (optional)
1 orange, muddled
Ice, crushed
Directions:
1. Muddle an orange in a tumbler and then add crushed iced. 2. Add Aperol, cider and then top off the drink with a splash of club soda.
Hop Cider Gin and Tonic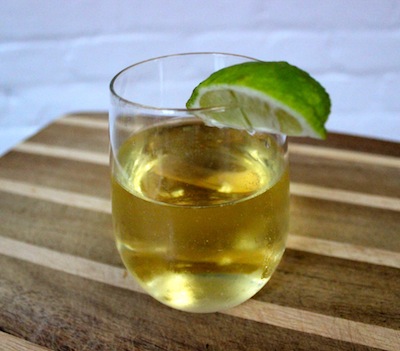 The guys behind Potter's Craft Cider like to use their new dry-hopped cider in classic cocktails like gin and tonics. "The flavor of the hops adds a very nice citrus compliment to a botanical gin," Edmond says.
Ingredients:
2 ounces of botanical gin
Top off with Potter's Craft Cider (dry-hopped cider)
Lime, to garnish
Directions:
1. Pour two ounces of gin in a tumbler and top off with cider. 2. Garnish with a lime wedge.