There's a reason the Brewers Association rated Michigan the fifth best U.S. state for craft beer. The mitten-state has 131 craft breweries, and by the time you've finished reading this article, it will probably be 132. Soon, they'll have enough craft beer to fill one of the Great Lakes that surrounds the state.
This doesn't mean that every craft beer fanatic should visit each craft brewery in Michigan. But how do you know which ones are worth visiting?
We've drunk our way through the state so that you wouldn't have to-it's a tough job, but someone has to do it. Our craft brewery guide to Michigan highlights five breweries spouting out rich, creative and satisfying beers. Cheers!
Dark Horse Brewing Co.
Marshall, Michigan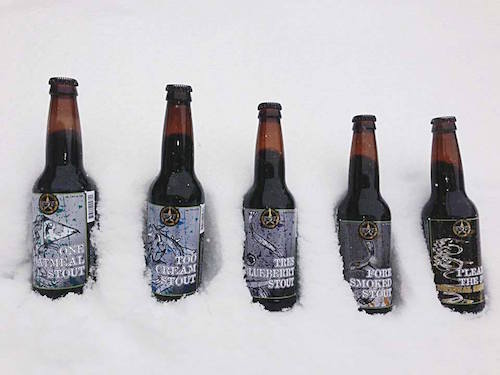 Why you should go: Recognize the name? Located 100 miles from Detroit, Dark Horse Brewing Company has recently become well known in the craft beer world due to their show Dark Horse Nation http://www.history.com/shows/dark-horse-nation
on the History Channel. Despite their recent success, the attention hasn't impacted the brewery's atmosphere; the pub is always filled with locals, prices are cheap and the walls and ceilings are decorated with mugs and photos that honor the local Dark Horse Nation Supporters.
What to try: The best time to visit Dark Horse is in October, because their Oktoberfest is unlike any other. Because of the brewery's growing popularity, you can find some of their beers in stores around the country, but not the Oktoberfest. While some craft drinkers have shunned the traditional varietal due to its lack of originality, after trying Dark Horse's version, you will be desperate for October to roll back around. It pours a dark brown color, has a nose of toffee and caramel, a rich flavor, and it has an alcohol content of 7.5%. What more could you ask for?
Bell's Brewery
Kalamazoo, Michigan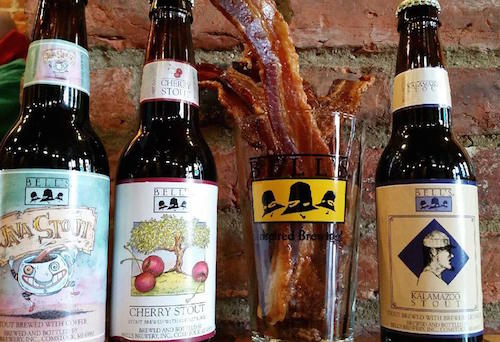 Why you should go: Like Dark Horse, the Eccentric Cafe at Bell's Brewery in Kalamazoo is a local favorite. However, it looks unlike any bar you've ever seen. With stained glass windows, dramatic archways and exposed brick, the cafe resembles a church. Well, it's an eccentric combo. Prepare to be overwhelmed by the tap list filled with beers you've heard about but didn't believe existed. The choices here are strong so you might want to start with small pours.
What to try: While just about everything offered is excellent, check the taps for their special beers or try one of Larry Bell's experimental IPAs. Depending on the time of year, you might be able to catch their Black Note Stout, a barrel-aged blend of their Expedition Stout and Double Cream Stout. Black Note pours a pitch-black color, giving off notes of chocolate, espresso and dark fruits. If you find it on the board at Eccentric, do not pass it up.
Founders Brewing Co.
Grand Rapids, Michigan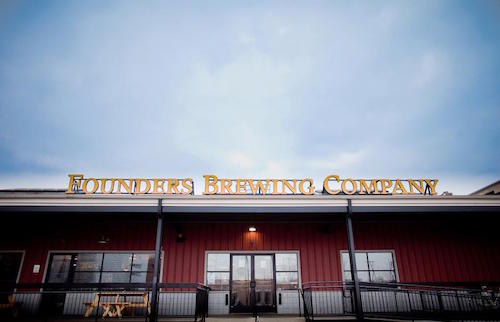 Why you should go: The lively ambiance at Founders Brewing Company : in Grand Rapids is very different from Bell's and Dark Horse's cozy vibes. The brewery is more than three times the size of Bell's with a large indoor seating area¬, a kitchen area and a stage for live music. There's also an outdoor area with more tables, a bar, TVs and a fire pit. The place is usually packed, for obvious reasons, but the experience is worth the traffic jam.
What to try: If you've never tried Founders' porter, there's no better time than when in its birthplace. This rich and smooth beer, which tastes of toasted malts, dark chocolate, bitter coffee and brown sugar might turn into your new go-to. Luckily, it's distributed pretty regularly.
Kuhnhenn Brewing Co.
Warren, Michigan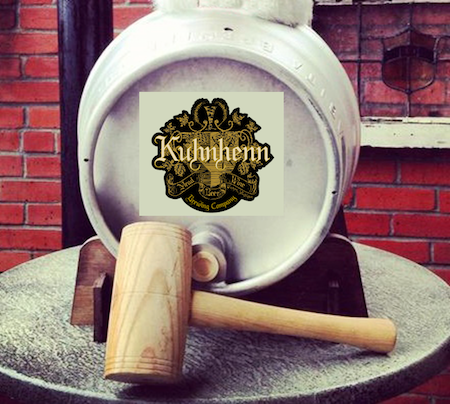 Why you should go: Pop into Kuhnhenn Brewing Co. in Warren where you will find that homey feel once again, but don't be surprised if everyone inside is rocking their best Kuhnhenn gear-staff and customers alike. Sit down at the bar, chat with the friendly bartenders and take in the glory that is the massive draft list hanging from the ceiling. A craft beer drinker's dream.
What to try: The beauty of Kuhnhenn is that when you walk in the door, you never know what you are going to find on tap. It could be one of their many regular offerings or something rare like their Bourbon Barrel Fourth Dementia, or even their coveted Solstice Stout. Never heard of it? The Solstice Stout is a blend of 2010 Solar Eclipse and Fourth Dementia, aged together. It pours like a cup of black coffee and the beer gives off notes of toffee, burnt brown sugar, caramel and marshmallow. The taste follows on cue, which is malty, rich and sweet with a hint of bourbon barrels. Of their regulars, go for Kuhnhenn's Double Rice IPA, which is the perfect combo of rice and hops, and pours cleaner than any beer you'll find.
Odd Side Ales
Grand Haven, Michigan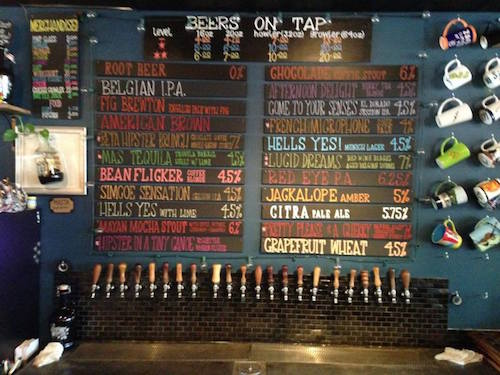 Why you should go: The one brewery worth visiting on the Western side of the state, Odd Side Ales opened its doors in 2010. While they are relatively new to the game, they are gaining respect in the craft beer community for their focus and dedication to creating solid brews. The pub is much smaller than the others in Michigan but what they lack in space they make up for in their 15 taps of creative beers. While the menu¬ (with beers like Java Mint Stout) might resemble that of an ice cream parlor, beer is their only business.
What to try: Their new release Hipster Brunch is a bourbon barrel-aged stout at 10% alcohol content and is brewed with maple syrup, coffee and wait for it…bacon. It pours a midnight black with a maple forward nose. Without overpowering the other flavors, the bacon is smoky, which gives the beer some character.