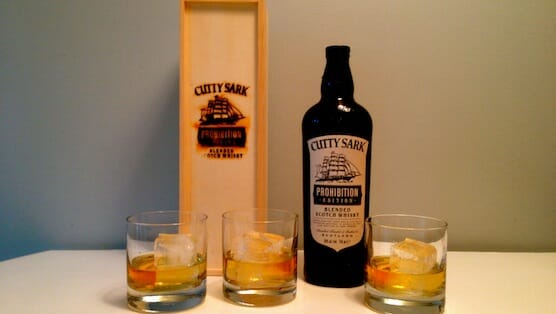 To borrow a phrase from Mugatu in Zoolander, prohibition is so hot right now. Prohibition cocktails, prohibition style speakeasies, hipsters in suspenders with mason jars of moonshine in their trousers…nearly a hundred years after the dark cloud of Prohibition was cast over this country, it's never been more relevant. Scotch maker Cutty Sark pays tribute to that tumultuous time with its new Prohibition Edition, a small-batch blend of single malt and grain whiskies that packs a punch at 100 proof (your standard Cutty Sark, and most whiskies for that matter, comes in at 80 proof).
Don't let the high proof turn you off—Cutty Sark Prohibition is an easy-drinking whisky. From the get-go back in the '20s, the masterminds behind Cutty Sark always intended their whisky to be lighter on the palate, and this Prohibition Edition follows suit. There's a nice mellow nose coming out of the glass with plenty of vanilla that makes you want to bury your nose into the glass and take a deep breath. The color is light, but there's an unexpectedly creamy mouthfeel to the sip that delivers a hint of butterscotch sweetness. It's a smooth drink with a bit of rye spiciness on the backend.
Given the high proof, you expect a bit of burn, but that alcohol heat is really mild. Surprisingly, the smoky peat that Scotch is so well known for is almost non-existent here. If you're a Scotch aficionado, you're going to miss that peat, and probably the burn. But if you're new to Scotch, or a bourbon fan looking to dip your toe in the world of Scotch, this could be the bottle for you. Consider it "the gateway Scotch."
Bonus: At around $30 a bottle, Cutty Sark Prohibition Edition won't break the bank.
Distillery: Cutty Sark
City: London, England
Style: Blended Scotch Whisky
ABV: 50%