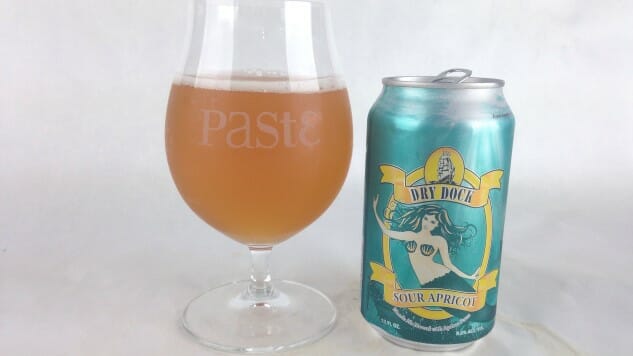 When one thinks of sour beer in American craft brewing these days, it's a little bit too easy to get caught up in contemplation and hype for the upper echelons. Huge, puckering sours from breweries such as Cascade, Jester King, Wicked Weed and Side Project are great for grabbing headlines, but that doesn't mean that similar fruited sour styles can't be executed—and executed brilliantly—in a more modest, less grandiose way that is immediately accessible. After all, it's not like lactobacillus on its own is that hard to come by. Even without the added benefit of barrels to age in, it's entirely possible for breweries to produce great, inexpensive and even sessionable sours.
That's exactly what Colorado's Dry Dock has done with their new, simply named Sour Apricot in cans. It's a simple, fairly gentle sour that absolutely nails the fruit profile it's going for, and really, what more can you ask?
This kettle-soured ale clocks in at a sessionable 5% ABV, and is all fruit on the nose. Ripe with aromatics of candied apricot (think like, Lifesaver candies), one initially worries if it's going to be entirely too saccharine, despite the very authentic stone fruit aroma.
On the palate, however, this beer is moderately sweet without coming anywhere near cloying. It's quite clean, with minimal but noticeable grainy malt that is quickly rushed away by the one-two punch of fruit and tartness. The apricot character here is moderate: clean and expressive but tasteful, authentic and in good balance. The tartness, meanwhile, is fairly minimal—gentle, but just enough to cut the sweetness a bit and infuse the fruit with vivacious freshness. Thanks to this, it's absurdly drinkable. If Colorado had beaches, then surely this is what people would be drinking at them this summer.
This is a pretty delightful, sessionable sour that would surely appeal to the masses, and proof that not every fruited sour needs to be a huge production like one of Wicked Weed's Angel series. Here, the peach pit-like note lingering after each sip is simply an invitation to come back for more, and maybe reach for another.
Brewery: Dry Dock Brewing Co.
City: Aurora, CO
Style: American fruited sour
ABV: 5%
Availability: 12 oz cans
---
Jim Vorel is Paste's resident beer guru. You can follow him on Twitter.