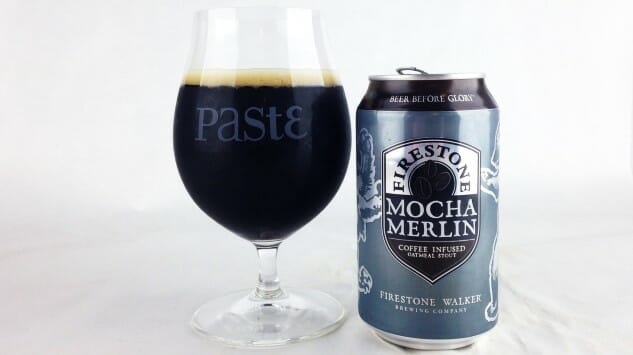 It's basically a craft beer maxim that when you create a great beer, you don't mess with it too much. Has anyone ever enjoyed a pint of Firestone Walker's world class oatmeal stout, Velvet Merlin, and commented "what this recipe needs is a shakeup?" In fact, I'd wager that if the brewery had conducted a poll via social media, with a question somewhere along the lines of "should we change Velvet Merlin, or keep it the same?", the "sames" would have vastly outweighed the "changes."
But … but. If you simply say "should we add some coffee and chocolate to Velvet Merlin?", that's a different story now, isn't it? Thus was born the brewery's new Mocha Merlin variant, which replaces the regular Velvet Merlin in 12 oz cans and draft accounts this fall and winter season. It's the same beer, but with a bevy of additions: Columbian coffee, cocoa nibs from Ghana and a touch of lactose. To quote brewmaster Matt Brynildson: "The inclusion of milk sugar adds dimension to the mouthfeel and helps knit the coffee and cocoa qualities together on the palate."
Alrighty then, let's get to tasting.
On the nose, Mocha Merlin is a bit more subtle and less bombastic than I was expecting, with a lighter coffee character that is nutty and semi-sweet. It smells almost "milky," like fresh coffee with a dollop of half and half and a squirt of milk chocolate syrup. Notable is the fact that I wrote "milky" before reading that this beer incorporates any lactose, as the brewery chose to focus on the coffee/cocoa nibs additions rather than the (oatmeal) milk stout base, at least on the can. In terms of the coffee character, the aroma reminds me of fresh-brewed drip coffee, which is slightly different from the character so many breweries seem to be attempting to achieve right now, which I would characterize as "cold brew concentrate."
On the palate, Mocha Merlin is very, very smooth and easygoing. Creamy and slick in texture, it features flavors of lighter roast coffee, roasted nuts and hints of caramel, although it's still fairly dry overall. I'm also getting a little, unexpected touch of what seems to me like orange citrus, very faintly—a product of the hops perhaps, or of the coffee varietal itself, possibly. The coffee character is fresh and genuine, but not particularly assertive, at least compared with some coffee stouts we've tasted lately—rather, it's very smooth and balanced; no rough edges here. There is zero astringency in this roast character, which makes for effortless drinking. I feel like I could drink about half a dozen of these in a night, which isn't the kind of thing I say very often.
All in all, Mocha Merlin is a very laid-back, inherently approachable take on coffee stout. There will probably be some beer fans that would like to see more intensity of flavors, which would be a perfectly valid request, but I think there's a space in the market for a coffee stout like this with a modest ABV and unparalleled drinkability.
Brewery: Firestone Walker Brewing Co.
City: Paso Robles, CA
Style: Oatmeal stout, /w coffee
ABV: 5.5%
Availability: 12 oz cans, fall/winter seasonal
---
Jim Vorel is a Paste staff writer and resident beer guru. You can follow him on Twitter for much more drink writing.