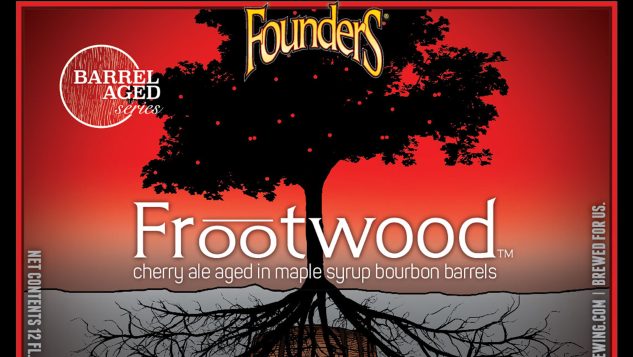 Founders Brewing Co. of Grand Rapids, MI, is celebrating its 20th anniversary year throughout 2017, and they intend to do so in style, with a series of new barrel-aged beers. This series will "celebrate the highly regarded barrel-aging program," according to Founders, and includes popular and sought-after releases such as KBS and Backwoods Bastard in April and Nov. respectively.
Most interesting to beer geeks, however, are the four NEW barrel-aged beers in the series. Leading off that series is Frootwood, "a cherry ale aged in oak barrels that have previously held both bourbon and maple syrup." Wracking my brain for the hazy memories of my last trip to Founders when I attended their raucous Black Party this previous April, I recall tasting an experimental beer that fit this description. As memory serves, it was as sweet and decadent a dram as you would expect with both the fruit and barrel-aged elements in full force. To quote the Founders press release:
Frootwood will be available in some states as early as January, with remaining states seeing it by February. Founders will release it in the taproom on January 13, 2017 and it will have a suggested retail price of $14.99/4-pack and $11.99/750mL bottle. The entire Barrel-Aged Series lineup will be offered in both 750mL bottles and 4-packs of 12oz bottles.
"A light-bodied cherry ale is probably not the first thing that comes to someone's mind when they consider a barrel-aged beer," said Co-Founder and President Dave Engbers. "We love playing with expectations and Frootwood is proof of that."
It's an exciting announcement, but the most exciting aspect of it is the knowledge that we still don't know what the next three releases will be in the 2017 barrel-aged series. And given the expertise of Founders within this field, we're hoping for some truly exceptional beers. You can see the full label below.