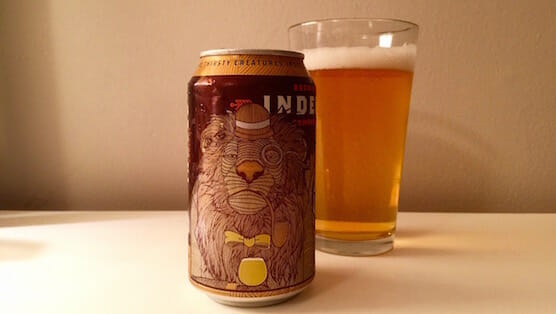 Lions are on my mind these days, what with all the depressing lion talk in the news thanks to douchebag "Great White Hunter" wannabes, which is probably why I reached for Dandy Lager today. I mean, look at the lion on that can. He's certainly "dandy," as the name of the beer implies, with his top hat, monocle and pipe, but he's also, without a doubt, judgmental. The lion on that can looks both bored and disgusted with us, which is a pretty appropriate response from a lion, given recent events. Luckily, there's nothing to be bored or disgusted about in this beer from Minneapolis-based Indeed Brewing.
Dandy Lager is a "pale lager," one of those super-popular hybrid styles that tries to blend the best of two traditionally divergent styles. In this case, Dandy Lager melds the crisp drinkability of a lager and the hop bite of a pale. In the current, wild state of craft beer, this isn't a terribly adventurous trick, but it sure as hell works in this can of beer.
Dandy Lager pours a pure golden with a decent white head the way a lager should, but it's fragrant as hell, emitting strong floral and grassy notes. It's super crisp with a light mouthfeel, but there's also plenty of hop zing (it registers 40 on the IBU scale if that means anything to anyone anymore). Indeed used two strains of German hops in this beer, Hallertau Mittelfruh, which is traditionally used in lagers to add a floral bouquet, and the relatively new Mandarina Bavaria, which is best known for its citrus contributions to a beer. And you're probably expecting Dandy Lion to have that citrus pop that most modern pales and IPAs have these days, but there's nothing particularly fruity or juicy here. Surprisingly, the hop profile is more on the dry, almost piney side of the spectrum—it's even a little spicy on the backend. In the tradition of great lagers, a layer of biscuity malts keeps it all in perspective.
Indeed Brewing only produces three year-round beers (and a hell of a lot of seasonal offerings), luckily Dandy Lager is one of them, because it's the kind of beer that goes well with just about anything. Mowing the lawn, mussels, steak, roller coasters, beaches, après ski…I could see this beer fitting in in all kinds of situations, like a well-dressed friend who went to finishing school, but also likes to party.
Brewery: Indeed Brewing
City: Minneapolis, Minnesota
Style: Lager
ABV: 5.4%
Availability: Year round, 12-ounce cans