John Kimmich of The Alchemist Talks Hazy IPAs and Guilty Pleasure Beers
Photos via The Alchemist
Drink
Lists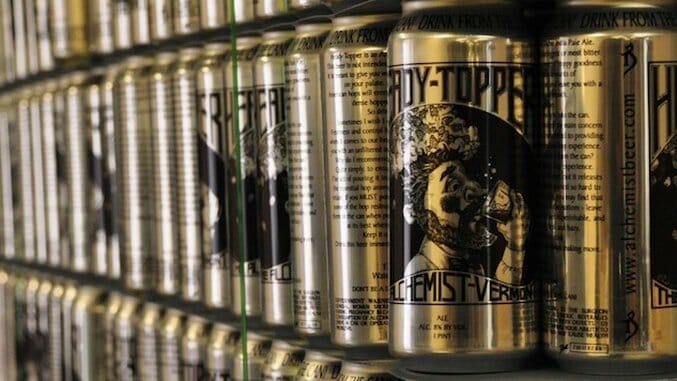 Remember just a few years ago, before beer nerds were lining up for hours to obtain only the freshest hazy hoppy beers? Or back when we didn't begin a countdown once we picked up our favorite IPA, because we knew beer that was made right could last more than a week?
Well just imagine how things were 13 years ago before the term "New England IPA" was a real thing. Back in 2003, John Kimmich first brewed a beer that would change the landscape of hoppy beers forever when he rolled out Heady Topper, a hazy Double IPA brewed with a blend of six different hops. It was something new, something many in the craft beer community weren't ready for. The image of a perfect beer was always clear. But Kimmich would soon prove his doubters wrong, as Heady Topper would become an iconic beer.
In 2011, the Pub and Brewery located in Waterbury was destroyed by Hurricane Irene. Kimmich's drive, however, was never destroyed; Just two days later the first cans of Heady Topper came out of his recently built cannery, and he didn't stop there. Over the years, Kimmich has continued to pump-out Heady as well as other beers that have become favorites. Five years later, Kimmich, with the support of a great community, will finally be opening up a new location for The Alchemist this summer in Stowe, Vermont. While, he never truly left, the beer community is excited to finally welcome back a man with the power to perpetually please our palates.
Paste: What beers or breweries first influenced you to get into beer?
John Kimmich: That is a tough question. My earliest memory of trying beer was a Dixie cup filled with Genesee Cream Ale by my sisters. When I first discovered craft beer, I would probably point to the bottle of Catamount Porter that my brother-in-law received in his Beer of the Month Club shipment. I was so drawn to it that a porter was my first batch of homebrew. I moved to Vermont about two years later.
Paste: Heady Topper was one of the first unfiltered / hazy IPAs. Was there anything or anyone that influenced you to brew this style of beer?
JK: Most of my influence came from brewing for Greg Noonan at the Vermont Pub and Brewery. He taught me how to make the flavors and aromas of hops shine in the glass for the customer. I ran with this knowledge in my own direction from early on. The haziness is something that he taught me to embrace and the resulting flavor profile was something that would lead me to this end. We were making amazing hazy IPA's back in the mid '90s, it just took a while for Jen and I to educate the customers as to what we considered to be a great beer.
Paste: Were there moments when you first started that people rejected the idea of a hazy IPA?
JK: I was never concerned with those people. I knew what tasted the best in my opinion. I feel that we certainly paved the way for a lot of the new breweries that are producing and packaging a hazy beer. Many of them are considerably hazier than what we produce here. In the first two years of Heady Topper being in cans, we took a constant beating from very vocal people online. Heady was called 'ugly' by so many 'experts' that it is extra satisfying now to see the acceptance of something that people just didn't understand. It has taken a tremendous effort to educate these people.
Paste: What are your thoughts on the current boom of hoppy beers we are seeing throughout the craft beer scene?
JK: I couldn't be happier. There were a lot of dark days where there just was nothing exciting and hoppy readily available in a convenient "take anywhere" container. I love getting a delicious IPA from another brewery doing it right. With that said, there has never been a larger selection of crappy IPA"s available. These will inevitably be eliminated from existence by the increase in knowledge of the beer drinking community as a whole.
Paste: Over the past few years have you made any tweaks in the recipe used to brew Heady?
JK: I will never shy away from making small changes to the recipe. We often try new hops in select batches and nobody ever can tell except us. It is pretty steady though for the most part.
Paste: Due to its demand, there are always small stores or bars selling Heady at a huge mark-up. What are your thoughts on this?
JK: It was frustrating for us at first. It actually inspired us to create stickers for our accounts that say" Authorized Heady Topper Retailer." Again, it has taken us years to educate people of the danger in buying Heady from ANYONE without this sticker. We go through extreme efforts to get our beer to our customers in perfect condition. If you are foolish enough to buy it elsewhere, do so at your own risk. I only care when it is not handled properly. If it is kept cold AT ALL TIMES, it will be a beautiful drinking experience for a long time.
Paste: Luscious, your Russian Imperial Stout was a big hit. Are there plans to brew this beer, or any other stouts, when the new facility opens?
JK: Luscious is something that will occasionally be available in cans at our new facility in Stowe. We will have the ability to brew many of my beers from the days of the pub. We are not planning on having any kind of schedule or prediction of what will be available. I want to keep it fun and somewhat unpredictable for people. No expectations.
Paste: Do you have any plans for a barrel program at the new facility?
JK: Nope. Waterbury is where I will always do that kind of thing.
Paste: After the damage from Hurricane Irene, was there ever a doubt in your mind on whether you would reopen?
JK: Never.
Paste: Will you sell strictly cans to-go at the new facility, or will growler fills be available?
JK: Only cans, no growlers will ever be sold.
Paste: I noticed that Hen of the Wood in Waterbury is the only location you can get Heady on draft. Is there any reason behind this?
JK: It is one of our favorite restaurants and we wanted to have draft Heady when we dine there.
Paste: If you could brew a collaboration with any brewer, who would it be with, and what would you brew?
JK: That's easy. It would be with my late-friend Greg Noonan. It would be a very green occasion…
Paste: What is your guilty pleasure beer?
JK: Iron City Beer, but I don't feel guilty about it.
Paste: If you could change anything about craft beer today, what would it be?
JK: Nothing, it is an amazing time to be a brewer.
Jason Stein is a New York-based beer nerd. You can find more of his writing on NYC Beer Society.